Ms. Mary Dolan – An Independent Woman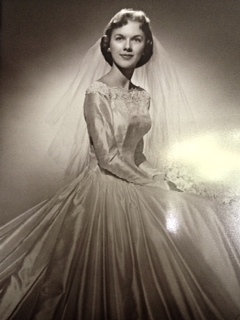 Mary Radich once dreamed of being Mrs. Mary Dolan, but once she became a full time stay-at-home-mother of five children, her perspective on what it means to be an independent woman was never the same again.
In 1952, Dolan graduated from Lindblom High School, which is in the South Side of Chicago, Illinois. The total enrollment at Lindblom was about 2,000 students. This was a significant change for her, since she came from a grade school with a total enrollment of only 100 students. She absolutely loved her high school experience. Dolan enjoyed learning and going to school. She was a part of many activities and clubs, and even formed one of her own. Her club was called The Flames, and there were eight original members but they ended up with 22. They wanted to call themselves The Flames because they all loved the color red and they wanted to order red jackets. The club organized dances and fundraisers for the school, and raised money for charity. The Flames still meet once a year, and take a trip together so that the original members can catch up. Dolan always felt very fortunate that she was able to attend Lindblom because it opened up her world.
Although her grade school and high school experiences seemed impeccable, there were times where they were not completely flawless. Her brother, Joe, served in World War II when she was about 6, and she missed him while he was away. He did not see action of any kind because he was in training school, so he came home safely. When Dolan was 16, her father died of cancer. He had cancer twice and he was 56 when he died. Dolan always referred to her mother as a "survivor" because she was only 46 when she lost her husband, and she almost couldn't get through it. This event in her life mostly affected her mother more than her. "I was in high school, I was sixteen, I had a boyfriend, I had a great social life, I had an older brother and sister, my older brother kind of took over the family in a way. We were financially able to make it, so it did not affect me a lot," Mary Dolan said.
Once graduated, Dolan decided to go to college at the University of Illinois at Navy Pier (which no longer exists at that location). Unfortunately, she did not do well her first semester, and she was put on probation because her grades were not as satisfactory. Dolan figured the best thing for her to do at the time was leave school, and get a job. She became a secretary at Ford Motor Company, and that is where she met her husband, Jim Dolan. They met on a company ski trip because Ford had a great recreational department, so the first time they spoke was on a ski slope in January in 1952. Jim and Mary were married in November of 1952, so they were only engaged for a short amount of time. Mary Radich became Mary Dolan in just 11 months.
Dolan resigned from her position at Ford after she was married because she and her husband agreed that she would have children, and she would stay home. This was very common in the 50s. Her husband and her moved to Ann Arbor in 1957. She was lonely at first because she had to stay home, but then she had her first born, Morine, in 1958. Dolan had five children in eight years, so this was a drastic change in her life style. During this time, she and her family moved to the house that she lives in today.
Right when women began to join the workforce in the 1970s, Dolan decided to go back to school part time when her youngest, Paul, was four. She started at Washtenaw Community College, and her husband was very supportive of this. Dolan had always loved learning, and when she first got married she thought that being a stay-at-home-mom was what she wanted to do, but she changed her mind.  "When I first married Jim I was interested in being a housewife, and being Mrs. James Dolan," Mary Dolan said. "But as time went on…I sort of became my own person, and I thought why would anyone want to be Mrs. James Dolan. Why bury your name?" She transferred from Washtenaw to Eastern Michigan University to get her fine arts degree.
She had always been interested in art since she was young. "People ask, 'Are you an artist?' It's hard to say, I guess I am. I think I'm pretty talented, but I don't have enough passion to do it everyday," Dolan said. "And, if you're going to be an accomplished anything you're going to have to work at it." She was not planning to become a full time artist when she went back to school, even though she is a exceptionally talented artist.
Once she received her degree in 1977, she had many part time jobs until she got a full time job working for a company called ERIM that did research for the government. She was a technical illustrator there. Dolan felt that going back to school was one the best things she ever did, and she is so grateful that she had a husband who supported her viewpoints.
Sadly, in 2010, Jim Dolan passed away. Mary and Jim always went down to Florida during the winter. They always had a wonderful time there seeing family and playing golf, and Jim was fine until he had shortness of breath. Dolan took him to the ER and he was diagnosed with Pneumonia, he had suffered from a heart attack. Jim had a second heart attack in the hospital and was put on life support. Dolan was able to call all her children and all his sisters, and they were there with her when she had to make the decision to take him off life support. "So really, he passed away rather quickly, a 10 day period, so I think that's a blessing," Mary Dolan said. "And, I think, he had a good life, and he would be the first to say that. And, he was a very good father, and husband." Jim was nine years older than Mary, and she always wondered why she chose a man that was so much older than her. She feels that it may have been because she needed a father figure in her life, since she lost her father at such a young age. She has thought about it for a long time, and now she realizes that her father's death could've affected her more than she thought it did.
Without Jim, Dolan felt lonely, but she found comfort in going out with friends because she is very extroverted. She joined an organization called Viva and met many new friends there. Dolan also met a man named Patrick through this organization, and began a relationship with him. They went to Europe together last summer to the Island of Kirk where her mother grew up. She is proud to say that she is 80 years young and goes to extravagant places like Europe, and enjoys spending time with friends.
Family, education, and art have all made a tremendous impact in Dolan's life. She says that some of her proudest moments are having children and grandchildren, and getting her degree in fine arts. There have been many times in her life where she could have given up, but she persevered. "It's the way you perceive what happens to you that makes a difference. You can look at it as, 'Poor me,' or you could look at it as, 'Well, it could be worse.' So, it's looking at life with the glass half empty or half full. I look at it as half full," said Mary Dolan. Finding herself as her own person, and not letting life pass her by, was one of the greatest things she ever did for herself. This gave her the opportunity to have a second chance in becoming an independent woman, and she is truly grateful for that.