For Michigan's Playoff Hopes: A Changing Game Vs Notre Dame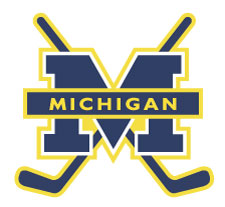 Michigan ice hockey needed a win to keep from sinking into last place in the Central Collegiate Hockey Association (CCHA). Now with a 4-1 win over 18th ranked Notre Dame, Michigan looks to turn its season around in time to make playoffs.


Michigan took an early lead with Junior Carl Hagelin scoring a backhand goal midway through the first period. This was followed by an early goal in the second period by senior Brian Lebler. Notre Dame started a comeback with a power play goal in the second period, but Michigan stole any momentum Notre Dame gained with a power play goal of its own less than two minutes later by defenseman Lee Moffie. Louie Caporusso sealed the game just over a minute into the third period. After crossing the blue line Caporusso fired a wrist shot over the goalie's left shoulder worthy of any highlight reel.
Aside from the hockey game, Yost Ice Arena hosted its annual teddy bear toss. Stuffed animals of all variety began to fly over the crowd and onto the ice as the announcer started to explain what the fundraiser was for. However, as teddy bears continued to fly around the arena, the speakers quickly grew silent as the countdown appeared useless. Volunteers ran around the ice collecting stuffed animals for Mott Children's Hospital. According to Jeff Arnold of annarbor.com, 1,383 stuffed animals were donated that night.
Michigan began the season ranking towards the top teams in the nation but has lost close game after close game leading to a disappointing start to the season. Hopefully Michigan will be able to use the win to gain momentum. "This year, we don't have much to use for confidence boosts. Anything we can get, we've got to use to the maximum" said junior Louie Caporusso. (Quote from Jeff Arnold of annarbor.com)
With a 5-7-0 record in the conference Michigan is only one position out of dead last. With a slightly better record of 500 going 9-9 over all, Michigan has shown moments of being a very capable team. With an early win over number 1 ranked Miami, capability is not the question for Michigan. Consistency has plagued the team this year, swinging from hot to cold within such small amounts of time as a period. With a convincing win over Notre Dame, Michigan looks to build speed, as they look further down the stretch.