She Does What She Loves
Being social is something that Marin Scott enjoys and excels at. This interest and talent has played a big role in the creation of her most recent and extensive hobby: blogging.
On July 27 2013, "The QWERTY Blog" was born. The fashion, discussion, and lifestyle blog did not start out its life with this title however. Scott picked numerous names, tried them on, and peeled them off before she finally found the one with the golden fit. Scott settled on this title "because 'QWERTY Keyboard' is the standard keyboard for the United States." The fact that it flows off of the fingers when put into the search bar did not hurt either.
Scott has always liked to play around with different ideas of where she will end up in the future. Some completely rational and others downright outrageous, she enjoys the endless possibilities. This particular pastime contributed to the idea for her blog. "I just thought why not make it a blog when I'm 16 instead of a bookstore when I'm 80," Scott said.
When it comes to the truth, Scott is a true believer that honesty is the best policy. Beauty reviews are an aspect of her blog that some people may rely heavily on when debating what products to purchase. "I give my complete honest opinion… I display the negatives and the positives. It's not going to be false advertising. It's not going to be this shimmering, amazing product. I'm going to be like: 'If it smells bad, it smells bad. But it works very well'," Scott said. "I definitely want to stay completely true to my viewers and they are the most important thing to me in my blog."
Patience is a virtue that Scott battles with when it comes to school. More specifically, when it comes to being interested in the required topics and subjects. "We're [students who are] just kinda ready to just go do what we love doing, [and] not so much learn about all of this other stuff that we're not so passionate about," Scott said. One of her current classes is a CR for her blog. Regardless of the fact, she struggles regularly with the temptation to turn homework time into blogging time. "It's hard trying to blog and maintain that part of you while getting good grades in school," Scott said. "My parents have told me that no matter what school is a first priority." Since she started her blog, Scott has stayed true to her parents' rule.
Even though school takes up a lot of her time, Scott remains determined to continue blogging. She stands by doing what makes herself happy, saying, "Do what you love and love what you do." Scott believes that when a person discovers something that they truly enjoy, they will find a way to keep it constant in their life. Despite the fact that she has a busy schedule, Scott makes sure to keep up with her posts. The blog is not only for herself but for all of the people that share her interests. "This is something that I love doing and I love when people appreciate that," Scott said. "It's my life, I'm married to it."
About the Contributor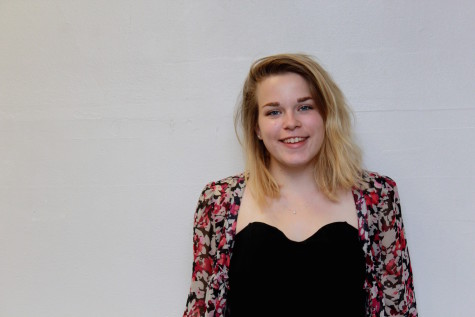 Grace Koepele, Managing Editor
Grace is a senior at Community, enjoying her second year working on the Communicator. Outside of school she loves to read, listen to music and socialize with others.