A Disappointing End to a Great Lions Season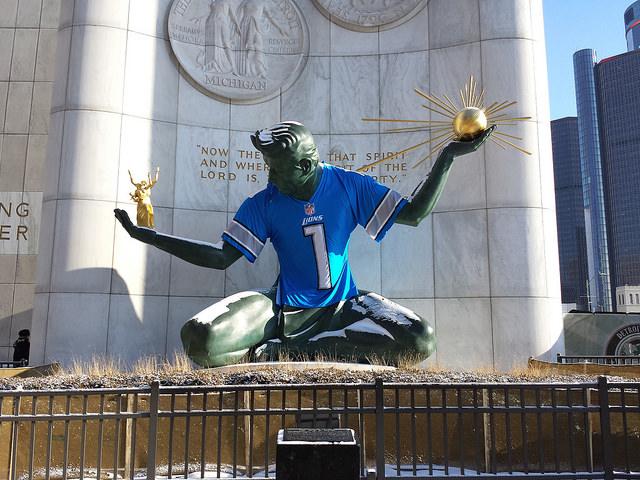 Amidst 91,000 fans, in an 84 degree stadium, on Jan. 4, 2015 the Detroit Lions played their first playoff game since 2011. With the world's largest video screen overhead and Cowboy's fans all around, the Lions started out playing a great game.
The Lions went into halftime with a 17-7 lead. After halftime the Lions scored a field goal. But the Cowboys were able to score a touchdown and a field goal, making the score 20-17 going into the fourth quarter. On the next drive the Lions were rolling with a 44 yard drive, when on third down, there was a pass interference flag thrown, penalty called and then the flag was picked up. The flag would've resulted in a Lions first down, extending the drive. But since the flag was wrongly picked up, they were forced to punt. Lions head coach Jim Caldwell said Monday Jan. 5, "I think, without question, it was probably not officiated correctly in my estimation."  The punt resulted in the Cowboys getting the game winning touchdown on the next drive, and ending the Lions season.
The decision to pick up the flag was wrong and the NFL has since apologized for the call and admitted to missing another. The league can apologize, but both the pass interference and holding calls that should have been made in the Lion's favor weren't. Lions Defensive Tackle Ndamukong Suh emotionally said,"It doesn't make sense, but that's part of life." The NFL's apology can't change the result; a disappointing end to a great Lion's season.
The Lions have struggled in recent years and last year fired their Head coach Jim Schwartz as a result of a 7-9 season. This year with a new coach, Jim Caldwell, hopes for the season were high. The Lions went 11-5 this year under Caldwell, their best record since 1991 when the Lions went to the conference championship with Barry Sanders. They made it to the playoffs for the first time since 2011 and were picked by many as a team that could surprise a lot of people. The Lion's hopes and dreams were the highest they've been in a few years and  they were killed by some bad officiating. Lion's Linebacker, Tahir Whitehead talked about an apology from the NFL, he said, "It would mean nothing, Absolutely nothing. Because at this point, we're out of the tournament and we can't do anything about it."
Sources:
http://www.pro-football-reference.com/teams/det/
http://scores.espn.go.com/nfl/drivechart?gameId=400749514
http://stadium.dallascowboys.com/guests/guestInfo.cfm
https://www.flickr.com/photos/nelsensc/15595280203/in/photolist-qqBPyb-qGYjm6-pL6Ttr-pKqY5u-qGqSPa-qE9fub-qGqzpR-qGe6i8-pKxR3D-qpDy7E-qpJpG4-qG6Lqr-pKjUgt-qpFx7D-qpxDoq-qG2Cns-qpwQ1h-qG6KNz-pK6Luo-qDPoif-qpwLcA-qpDZrZ-qpDYZB-pKjZsR-qG2BaC-qpwKgC-qpDWTT-qFWcNM-qFWe9H-qDPfpu-qpxAXy-qG6PPR-qpxxWU-qG2BxS-pKjXAe-pKjYvv-qG6JZa-pKjXoa-qpwMD3-qpFvhX-qpFyP6-pK6NUy-qDPjLq-pK6Npq-qG2D3L-qFTR1i-qpCVB4-pKh7x8-pK4eSL-qpv6N5
http://www.detroitnews.com/story/sports/nfl/lions/2015/01/06/nfl-issues-apology-lions-missed-call/21353341/
http://www.nytimes.com/2015/01/06/sports/football/nfl-official-says-referees-missed-call-in-lions-cowboys-game.html?_r=0
http://www.freep.com/story/sports/nfl/lions/2015/01/05/detroit-lions-pass-interference-nfl/21285073/
http://fantasynews.cbssports.com/fantasyfootball/update/24938799/jim-caldwell-still-angry-about-pi-call-supports-replay-review
http://www.nfl.com/news/story/0ap3000000454744/article/lions-lb-apology-for-blown-call-would-mean-nothing