Eagle Hunt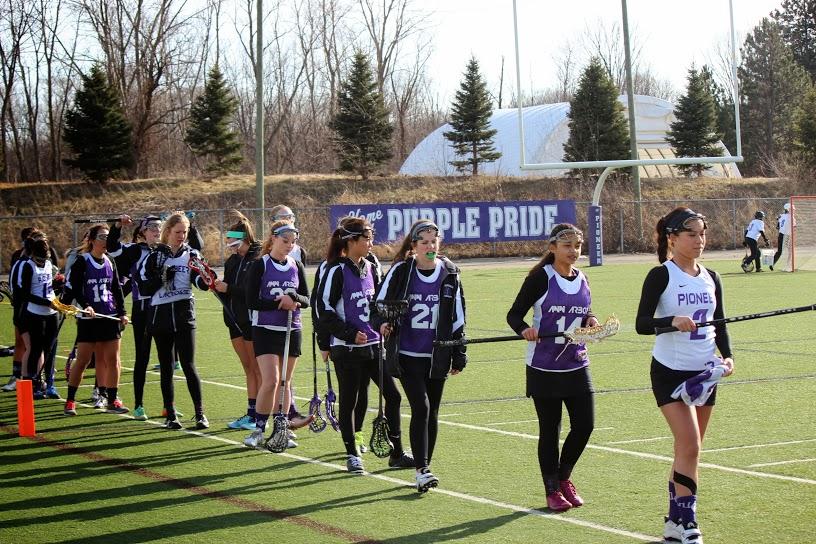 Pioneer Varsity Women's Lacrosse faced one of their cross-town rivals, the Skyline Eagles, on Friday, April 17, 2015. Every year, one of the first goals Pioneer's team makes is to beat both teams in their region: Huron and Skyline. This was an essential game for both teams, ending in a victory for Pioneer over Skyline.
The Pioneers came out strong and confident. Skyline was struggling from the first draw, the face-off in the middle of the field, to gain possession. It took Pioneer a few tries to get the ball in the net, but once senior Erin Foster scored the first goal, the goals kept coming. Pioneer dominated the field for the entire first half, going into halftime with a score of 6-1.
In the second half of the game, Pioneer continued their "eagle hunt," and kept the intensity sky-high. It was clear, after Pioneer's tenth goal was scored, that Skyline had given up and their defense was getting tired. Pioneer was relentless and kept the pressure up. It was obvious that they wanted to slay Skyline, especially since they have only won a few games this year. Pioneer has a fairly young team, since eight seniors graduated last year and there are only two returning starters this year.
Although they have been struggling against teams with mainly seniors as starters, their effort and perseverance has not faded. They start every game with a clear slate in their minds: ready to play exceptionally. The head coach of the Pioneer Women's Lacrosse team, Zachary Maghes, is proud of his team for rushing to every ground ball and keeping their energy and concentration strong. He's also very satisfied with the final scores of 16-4 in the Varsity game and 16-5 in the Junior Varsity game.
Pioneer's eagle hunt was a success in 2015, and hopefully will be in years to come. The Pioneers take on their other cross-town rival, the Huron River Rats, on Wednesday, April 22.