Skyline Representatives Place Well at Head of the Charles
Kate Burns, a rower for Skyline Crew, shivered as she sat waiting for her boat to be called up to race; any warmth she previously felt had disappeared, and she feared pulling a muscle in the cold weather. The Skyline boat was number 37 and by the time it was named, she was overcome with tension. This was the moment that had been on her mind for the past two days, the moment the pressure truly began, and after hours of practice, she finally felt ready.
Five members of the Skyline team made the trip from Ann Arbor, Mich. to Boston for the Head of the Charles Regatta on Oct. 16. While there are about 60 members of the team in total, only a few qualified for the regatta. To qualify, a boat must finish within the top half placing time of the previous year or win a lottery pool for the race. Skyline had made the top 40 percent in 2014, thus giving them a chance at winning the HOCR.
"Coming back made me feel like I had more control over the race because I knew what to expect," Burns said. This was her second year at the HOCR and her third year on the Skyline Crew team.
The other four members who went this year, Natalie Lakin, Sophia Klein, Morgan Eddins and Lukas Jackson, along with Burns, set a high example for Skyline as they came in 19th place overall out of 85. Four other teams traveled to Boston from Ann Arbor as well, including Ann Arbor Rowing Club, Huron Rowing Association, Michigan Rowing Association, University of Michigan Women's Crew and several of these team's alumni boats.
Being the largest regatta in the world, there were 2,222 entries and 10,160 athletes competing. Ann Arbor Rowing, a local club that mainly is made up of Master rowers, accounted for four of those entries. They requalified all of their boats for next year's Head of the Charles. Huron Rowing Association had 18 athletes competing in men's and women's youth eights. The men's eight placed 61st, and the women's placed 46th, both out of 85 entries.
The Skyline members, both those who did not travel to Boston and those who qualified, are in no doubt dedicated rowers. Burns' family, for example, all made the trip to Boston her first year at the HOCR. The teammates returned to Ann Arbor at 1 a.m. on Monday, Oct. 19, just one day after racing. Despite lack of sleep, Burns still went to all of her normal classes throughout the school day.
Burns believes the camaraderie of the team is worth the extra hours crew demands in her life. Many teammates are her best friends.
"[Lukas] was basically like our little brother," Burns said, even though he is just a year younger than the girls. "All of the rowers have known each other since freshman year and we hang out in our free time."
The Skyline representation was small this weekend, but it did not affect their motivation to place well at the Head of the Charles Regatta.
About the Contributor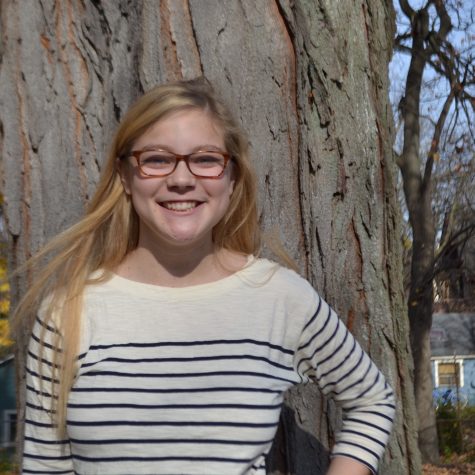 Alexandra Hobrecht, Print Editor-In-Chief
Alexandra is somehow a senior this year. Much to the concern of her friends, she likes having unread messages in her email inbox (7,484 so far). She enjoys pretending she is in a lifelong music video and impresses people with her singing skills. Someone once even compared her to the Muppets, though she has yet to audition. She quotes The Office daily, is currently learning sign-language and loves peanut butter toast.