High Scoring Rivalry Game proves the Pioneers as One of the SEC's Top Contenders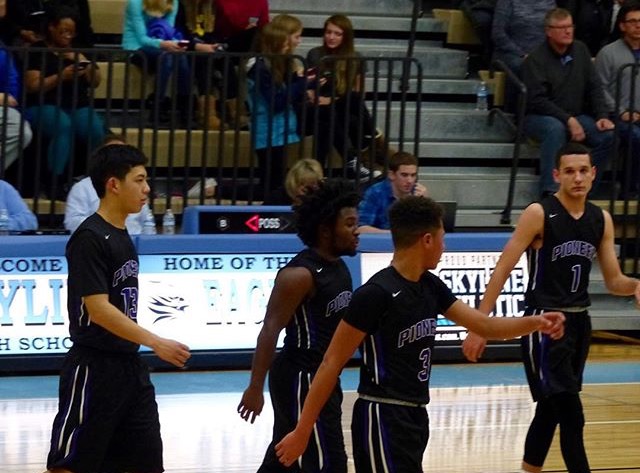 Friday night was the second battle between Ann Arbor rivals, Pioneer and Skyline. The basketball game was packed from start to finish, filled with parents, students and fans excited to see MLive's "game of the week." Pioneer was undefeated 9-0 coming in, versus the 4-2 Eagles, yet Skyline was still projected to win. As the starting lineups were announced, the hype was beginning to rise in the air as two great teams prepared to showdown.
Both teams got off to a quick start, especially Pioneer's senior guard, TJ Roberts. After the defensive jitters subsided, the scoring slowed almost to a halt. Skyline's 16 first quarter points were highlighted by four three-pointers from four different shooters, and they had a lead over Pioneer's 15.
Skyline owned the first few minutes of the second quarter, and their student section was screaming with enthusiasm. From there, Pioneer took over. Their burst was led by Cedric Benton and freshman Drew Lowder. The Pioneers shut down the sharp-shooting Jack Ammerman of Skyline and converted with their half court offense, and fast break scores, including a slam dunk by junior forward, Noah Osebor. Pioneer took a 43-28 lead heading into the half.
At halftime, the game took a short break, but the Pioneers refused to slow down. Junior guard Chris McGaughy banged in a pair of threes to push the Pioneer lead above 20. Their defense proved too strong for the Eagles to push through. This quarter also featured a dunk from the high-flying Osebor, and the Eagles trailed by 23 points.
As the fourth quarter rolled around it seemed as if the game was over, but sophomore Brandon Wade and junior Kayron Rodgers of the Eagles had second thoughts about that, and had a combined total of 56 points. They led the comeback that had Pioneer coach Rex Stanczak screaming. Skyline had a great push that brought them within nine points, but late free-throws kept Pioneer ahead and pulled them to a 90-81 victory.
The dynamic duo in Pioneer's backcourt, McGaughy (18 points) and Lowder (21 points), were the key to success. Pioneer remained undefeated while Skyline retained a winning record of 4-3. The Pioneers are most definitely contenders for the SEC title this year, and are looking ahead to their battle against the Saline Hornets on the 15th.