"The Hateful Eight" Review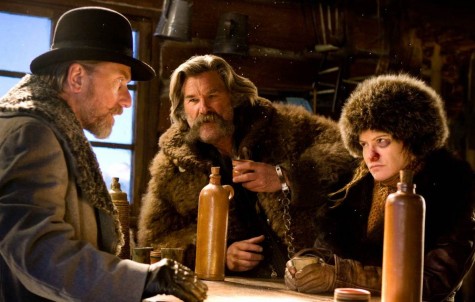 In the cold, harsh mountains of Wyoming, a group of strangers are stranded in a cabin due to a snow storm. Tensions are rising over a $10,000 bounty on one of their heads, and a night of chaos and bloodshed ensues: "The Hateful Eight," directed by Quentin Tarantino, follows a bounty hunter named "The Hangman," while he's transporting Daisy Domergue into the nearest town to claim her bounty. The Hangman finds himself stranded in a local cabin with seven other strangers, all them have their own agendas.
"The Hateful Eight" is a bit more tame compared to Tarantino's last two movies ("Inglourious Basterds" and "Django Unchained"). The movie still has a ton of violence, but it is more concentrated violence. The best comparison I can make is the violence is similar to that of a volcano: sooner or later it's going to explode and when it does, the aftermath will be undoubtedly messy.
The film has a great cinematic feel. Every scene in this movie looks as though it belongs in an art exhibit, especially in shots where the characters are in snowy environments. The actors in this all give great performances; Kurt Russell plays a excellent bounty hunter throughout the film. But the biggest stand-off of the film had to be when Walton Goggins's and Samuel L. Jackson's characters played off each other like yin and yang. Jackson's character is a Civil War veteran who fought for the north, while Goggins's character fought for the south. The interactions between them are always very tense, which gives some really interesting scenes.
In a bold move, Tarantino decided to film the movie in a glorious 70mm, making the viewing twice as big as the typical 35mm projections typically used at the movies. The 70mm filming allows the audience to be more immersed into the movie, as well as a higher resolution than typical films. However, since only a few theaters are outfitted to show the 70mm version of the film many will miss out on an opportunity that.
Overall, "Hateful Eight" is a recommendable movie, with some very memorable scenes throughout and some vicious shootouts. Though this movie is more relaxed than Tarantino's last two movies, it is still something that should be experienced.
Grade: A-