Second Time's The Charm
Community's Robotic Team Looks to Improve This Coming Season
The arena gates for the FIRST (For Inspiration and Recognition of Science and Technology) Robotics Competition field open and students carry in six robots. Three on the red side form the Red Alliance and three on the blue side form the Blue Alliance. After placing the 120-pound metal robots in exact locations, the student drivers head back to their control stations and the gates close. A buzzer sounds and the robots spring to life following pre-programed instructions, without any control from the drivers, who are standing back from the controls. Some of the robots pick up game pieces such as plastic totes, recycling containers or pool noodles, but most just move a few feet.
After the 15-second autonomous time ends, all the robots stop moving and a second buzzer sounds. The drivers spring into action with the robots. For the next two minutes, the red team's robots compete against the blue team's robots to gain as many points as possible. Two drivers control each robot, stacking and arranging plastic totes and bins, while the third rushes from place to place, sometimes throwing pool noodles to get points, other times loading extra totes into the field. Each gray tote is worth two points. The bins are worth four points for every tote that is stacked beneath.
As the match continues, a robot picks up two yellow totes, instead of the usual gray and places it onto a platform in the middle of the arena, where both teams can reach. A robot from the other alliance places a third yellow tote on top, a bell sounds and there are wild cheers from the crowd as both teams earn an extra 40 points in a shared activity called coopertition, boosting their rankings in the competition.
Last year, the Community High robotics team—Zebrotics, team 5708—started off with several difficulties: lack of time, space, members, mentors and funds. The build season, which is the six week period in which the teams can build their robot, starts in early January, while the Zebrotics team was founded in December. This greatly reduced the time they had to train and prepare for the season. A difficult task for even an experienced team, a rookie team such as the Zebrotics faced even bigger hurdles, as Christia West, science teacher at Community, and lead mentor for the Zebrotics said: "We didn't have mentors, we didn't have team members in December. We had just our grant money. We had no other funding and it really takes more than just the grant money to build a competitive robot."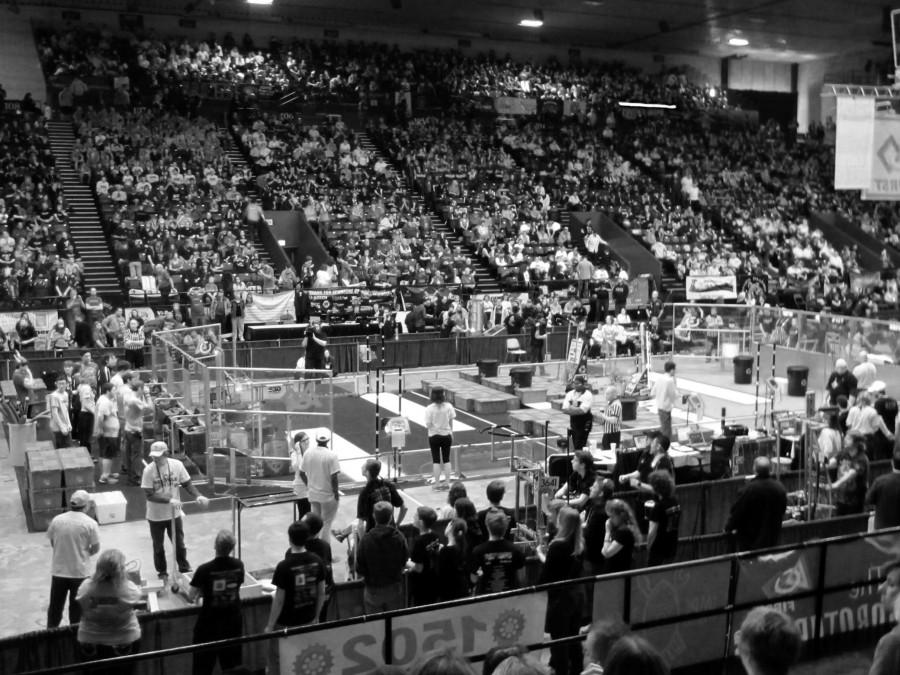 To compete, a team has to build a robot and recruit members, which requires time. One strategy to complete both of these tasks is to do most of a team's recruiting during the preseason, when not building or competing. Team 5708 had to balance both at the same time, although they got reasonable results
"We actually have almost 23 students on our team now which is a pretty good sized team for the size school we are," West said. But having a smaller team is not entirely bad: "We were like 'We're not gonna win anything,' so everyone got to drive who wanted to drive in competition so it was kind of fun."
Despite these challenges, Zebrotics designed, built and programmed their robot within the time limit, and competed in tournaments in Livonia and Bedford. "We had no mechanical or software failures on the field and we thought just doing that from where we were," West said. "We thought that was really an awesome success."
One big concept that FIRST strongly emphasizes is cooperative plus competition, or "coopertition." According to FIRSTS site: "Coopertition is founded on the concept and philosophy that teams can and should help and cooperate with each other even as they compete." Team Zebrotics plans to engage in coopertition by joining the Huron Ratpack Robotics, Pioneer's Pi Hi Samurai and the Dexter Dreadbots at a shared working space, known as "3808" and joining MakerWorks, a nearby workshop. "If we want to do any machining, anything that's going to require anything more than hand tools, [we will] really need access to bigger tools and so that's part of why we decided to go and get a membership at Makerworks," West said.
As Logan Hayner, student and head of programming, put it: "Last year it was really pretty disorganized as it was all our first time. This year we're getting more into different groups, and we had some adults who were good at individual things. It was also partly run by us to some degree, so they were backing [us] up, as they really wanted it to be student focused."
This year, Zebrotics hopes to increase organization by adding more official roles and doing more planning before working on the robot. They also plan on spending the time before January on training new and existing students, as well as creating a more stable financial situation. "We need to focus on fundamental things, we need to get money, we need to get some things put in place," West said. "I want to use the pre-season for fundraising and getting the team up to speed understanding their roles within FRC (FIRST Robotic Competition)."
About the Contributor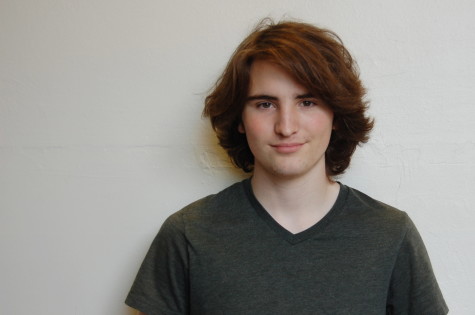 Alex Shaw, Journalist
Alex is a junior at Community. This is his first year working on the Communicator. He does crew for Huron, and enjoys reading and listening to a somewhat random collection of music.