21st Century Musical Revolution
Why "Hamilton" is Important for Theater and the Country
In August 2015, "Hamilton", a musical about founding father Alexander Hamilton, opened on Broadway to resounding success, breaking records and selling out for months at a time. "Hamilton" has been an instant hit, but the sheer genius of "Hamilton" is more than the fact that it sells tickets; it's what this show's success means for this era of musical theater, and, to a larger extent, for America's political climate. The key difference between this show and all of the other Broadway shows currently playing? The songs are almost entirely rap and hip-hop, and the creator and most of the main cast are people of color.
Alexander Hamilton was an immigrant. He was born on the small Caribbean island of Nevis. His parents never married, and when Hamilton was very young, his father abandoned him and his mother, who died shortly after. A few years later, when Hamilton's town was destroyed by a hurricane, he wrote a poem about the experience. His incredible writing impressed other members of the community, who rallied to raise money in order to send Hamilton to America. He was only 17 years old.
Once in America, he became George Washington's aide-de-camp during the Revolutionary War. After the war ended, he became a lawyer, a proponent of the abolition movement, the founder of the Coast Guard, the first general of the U.S. national army, one of the three authors of the Federalist Papers, and the first Secretary of the Treasury. In 1804, when he was only 49, he was shot in a duel with Vice President Aaron Burr.
About 200 years later, in 2009, Lin-Manuel Miranda, the writer, composer and star of "Hamilton", tookma hardearned break from performing in the Tony award winning "In the Heights", his first Broadway musical. Set in Washington Heights, a poor neighborhood in New York City very near to where Miranda grew up, "In the Heights" followed a group of Hispanic and African American people and their lives. Miranda went on a vacation andmhappened to pick up a biography of Alexander Hamilton by Ron Chernow.
In an interview with Charlie Rose for 60 Minutes, Miranda shared how lucky he felt to have randomly selected Chernow's book. "I was just browsing the biography section," he said. "It could have been Truman."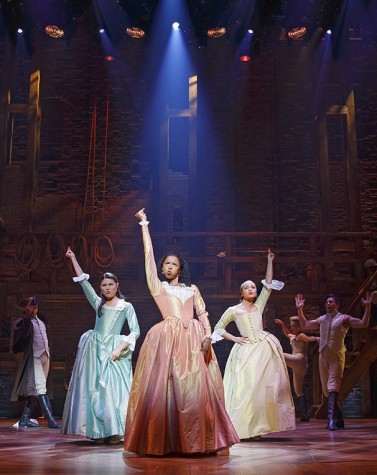 As Miranda read the biography, he was immediately struck by how familiar Hamilton's story was to those of popular rappers. In that same interview with Charlie Rose, he said, "I drew a direct line between Hamilton's writing his way out of his circumstances and the rappers I'd grown up adoring." They "started from the bottom"and eventually attained monumental achievements.
Miranda started searching online to see if anybody had written a musical about the man yet. When he found nothing, he immediately started writing.
In 2009, Miranda performed the first draft of what would grow to become the opening song in "Hamilton" at the White House for President Obama, the First Family and a number of other high-ranking government officials.
One of the most important aspects of Hamilton's story is the fact that he is an immigrant. Throughout the musical, he is shown to be almost unfathomably hardworking and committed to making the most out of the opportunities he is presented with in America. This directly contradicts rhetoric we hear from politicians and in the media far too often, which asserts that immigrants are lazy people here to steal work from what the founding of America looked like, and it has always been dominated by older white men. But "Hamilton" in no way adheres to that image. Miranda, who plays Alexander Hamilton, is of Puerto Rican descent. Aaron Burr, Thomas Jefferson and George Washington are played by young black men, despite the fact that the latter two historical figures were slave owners themselves. Phillipa Soo, who plays Eliza Schuyler Hamilton, is of Chinese de- scent. In fact, all but one of the main cast members are people of color, the one caucasian playing King George III.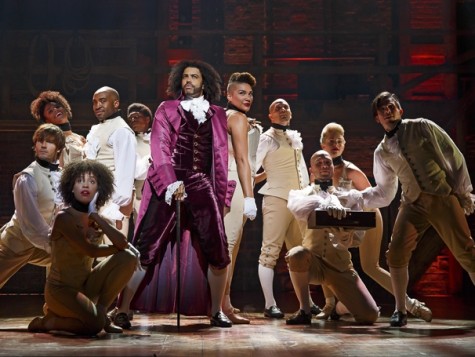 Leslie Odom Jr., who plays Aaron Burr, said in an interview for 60 Minutes, "[Miranda] has made these dead white guys make sense to a bunch of made an incredible effort to make the show accessible to all, especially to people that might not otherwise be able to afford a Broadway production. The Rockefeller Foundation has arranged to buy $70 tickets for 20,000 high school students in New York to see "Hamilton", the students only paying $10. This will open this unique view of American history to thousands of children, many of whom are racial minorities, who will now be able to see somebody who looks like them in a part of history they hadn't been featured in before.
The cast album has also been made available to listen to for free online. The rap-rich songs pretty much tell the entire story by themselves, so anybody can hear the vast majority of the show and hard-working Americans. Not only is America a country of immigrants, but Hamilton, possibly the man who shaped our current government more than anybody else through his support of Federalism and creation of the National Bank, was born in the Caribbean. This point is cleverly accented by lines throughout the show, such as "Immigrants: We get the job done", delivered by Hamilton and Marquis de Lafayette, a French leader of the American Revolution and a close friend of Hamilton's in the show and in real life.
In addition to highlighting immigration, the musical "Hamilton" puts African Americans and other racial minorities in starring roles as founding fathers. There has always been a picture of black and brown people. He's made them make sense in the context of our time with our music."
That is key to why "Hamilton" is so important; it takes the image of old white men founding our country and turns it on its head. Much of the American Revolution was built on the backs of slave labor, but history books give white men the credit for being our "founding fathers". "Hamilton" not only draws attention to the fact that minorities are ignored in history, but also gives those minorities an ability to view themselves shaping that era of American history, something they very rarely get the opportunity to do.
It is one thing for the actors to be people of color, but Miranda has also fully follow its story. Miranda, who grew up listening to cast albums without the means to see many actual productions, made sure to put as much effort as possible into the soundtrack so that anybody could listen and enjoy the story that he created.
"Hamilton" is a groundbreaking show. Its music has the potential to usher in a new wave of musical theater technique through its fast-paced raps and hip-hop-styled rhythms. Its social commentary is certainly relevant now, and will likely continue to be relevant for years to come. Finally, its representation and accessibility could change a large portion of an entire generation's perspective towards America and American musical theater.
Far Upper Left From left to right: Marquis de Lafayette, Hercules Mulligan, John Laurens and Alexander Hamilton during Act 1 Upper Left From left to right: Eliza, Angelica and Peggy Schyuler during the song "The Schyuler Sisters"
Upper Right Character Thomas Jefferson and the ensemble in the Act 2 opening song, "What'd I Miss?"
Photos Courtesy of Joan Marcus