Where Ingredients Matter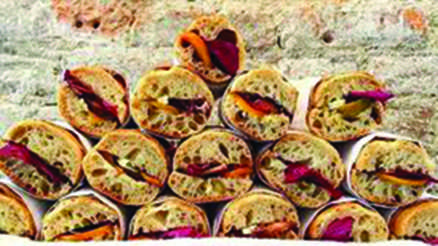 Steve Hall, Abby Olitzky and their staff only have two hours to transition their kitchen from making mac and cheese to fennel pork ribs.
"I'll be honest, I have not gotten too much sleep lately," Hall said.
Hall, a former Community High Student, is experiencing firsthand what it is like to turn your passion into your profession.
Hall was a student at Community during the same time Paul Saginaw's, the co-founder of Zingerman's, sons went there. He recalls going to Zingerman's almost everyday after school where Saginaw's oldest son Zach, who worked behind the cheese counter, would tempt him with samples of exquisite cheeses from across the world. It was from these daily commutes that Hall's passion and deep knowledge of cheese was cultivated.
After college, Hall moved out to San Francisco, where he had a performing arts internship. When this did not turn into the job Hall thought it was going to, he had to find another way to make money, so he got a job at a cheese shop.
Even though Hall was glad to be constantly working with his favorite food ,he desired something more out of the job. "I was very interested in organizing things and interacting more with people," Hall said.
It was with this goal in mind that Hall and his wife, Olitzky, decided to open up their own food business. Olitzky and Hall realized that it would be too expensive to open up their business in San Francisco, so they decided to move back Hall's home state, Michigan. "The original plan was to open up a specialty food market in Detroit," Hall said. "There is just a lot of urban agriculture and excitement around food there. But we realized in terms of a long-term place to live it was not our best option."
So Hall and Olitzky moved to Ann Arbor in 2012 and opened their business under the name Central Provisions. With Central Provisions, Hall and Olitzky would teach classes and make special event dinners as a pop-up restaurant. This allowed them to get their name out so that when they would decided to open up their own permanent restaurant in 2015, Spencer, they would not be completely new to the business.
With Spencer, which means "One who tends to a pantry," Hall and Olitzky want to use local ingredients and support local food producers. "It can be hard because unlike California where stuff is always in season, Michigan has four distinct seasons, so that can restrict what we make but at the same time that's what makes it so fun," Hall said.
This seasonal aspect allows Hall and Olitzky to be constantly changing their menu, something that makes Spencer unique. "There are many great restaurants in Ann Arbor, but a lot of them have the essentially the same menu every time you go. With Spencer, we change our dinner menu every other day and working with local farmers allows us to do that. So for example, if I get a great batch of radishes in, I am going to run radishes that week."
Apart from just knowing that his ingredients are wholesome and fresh, Hall also likes working with local farms because he gets to talk to the people who actually produce the food. It was very important to Hall and Olitzky to have these relationships with their farmers before opening Spencer.
"Having a farmer going to get his animals processed and asking us how we would like our meat cut or is planning on planting herbs and asking us what type of herbs we would like them to plant is much better than calling Gordon Food Services and asking for white onions," Hall said.
These personal relationships Hall and Olitzky have developed with their food producers is also a relationship they want to have with their diners. At Spencer, instead of having a waitstaff, the chef who prepared your food brings it to you. Only having 37 dining spots available at any given time also allows Hall to get feedback directly from his customers on the food.
This deep empathy Hall and Olitzky have for the food they provide is not just in their prepared dishes but in their cheese and wine that they sell retail and in flights. "I traveled all over the country visiting different dairy producers and learning about different cheeses before we opened up," Hall said.
Hall looks for the same passion of quality cheese he has in the producers he orders from. "One of our cheeses, Pleasant Ridge Reserve, has won best cheese in America three times in the past decades and part of what makes this cheese so special is that they only use summer dairy when the cows are eating fresh grass. So I asked the farmer how do you know when the cows are ready to be milked? He told me that he goes around to each individual cow and smells their breath because when the cows breath is really bad he knows that the grass has started to ferment in their fourth stomach," Hall said.
In the future, Hall hopes to potentially move to a larger location, but as of now, he could not be happier finding high quality ingredients and then turning them into high quality food for his diners.
About the Contributor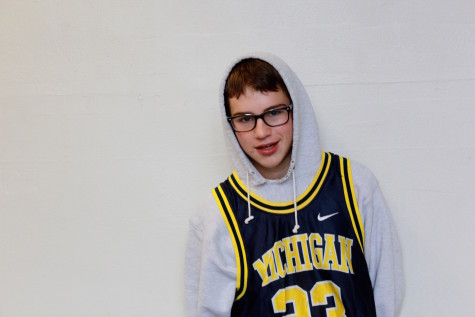 Abe Weiner, Business Manager
This is Abe's third full year on The Communicator. As the business manager, he is looking forward to maximizing The Communicator's financial intake.