Skyron
In Its Second Year, the Skyline/Huron Women's Ice Hockey Team Continues to Break the Ice Between the Schools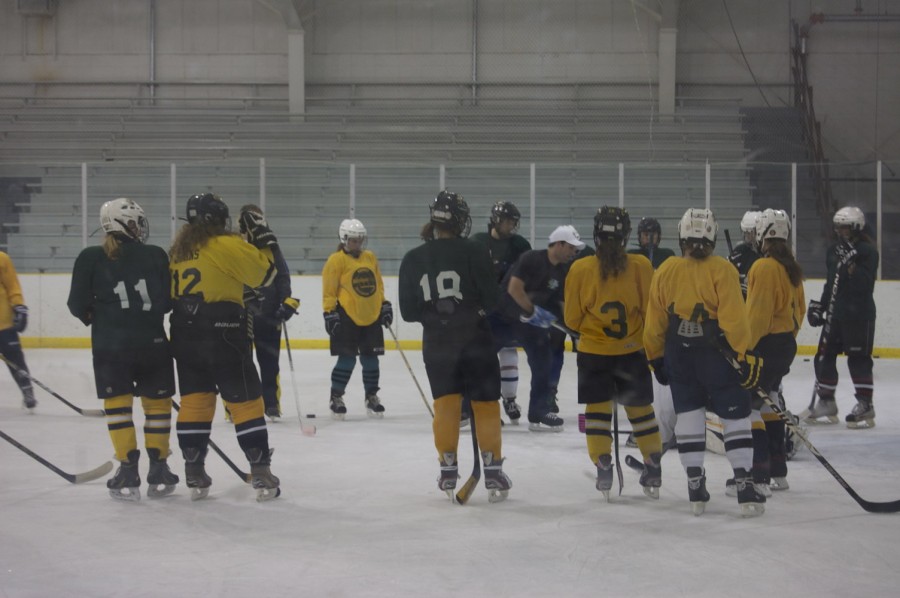 From last year's 2014-2015 season to now, the Ann Arbor Skyline-Huron (Skyron) women's hockey team has changed and grown significantly.

"I think that last year a lot of people took it not as a joke, but more of just a fun thing to do," said Catherine Nicoli, Community sophomore. "This year it's taken as more of a real sport, a real team, and we actually have chances to win so it's being taken a lot more seriously."

One of the largest differences this season is the amount of experienced players. Last year, there were many girls that were new to hockey or even skating, but this year more players with more talent joined, making it much more intense and competitive.

"I feel like this team has a lot of potential in terms of chemistry," said Emily Letke, one of the Skyline-Huron team's alternate team captains. "A lot of us work on the ice really well together or have the potential to because we're all trying so hard."

Spending a large amount of time at practices, conditioning and games has made the team become much closer this year.

"I've never been so close with a team in any other sport," Nicoli  said."I think it's the fact that we spend so much time together. It's like a family."

Unfortunately, all the time that is put in improving skills, working out, and bonding with the team can make time management very difficult. Conditioning and practices can range from one to two hours, and on top of the drive to the ice rink and having to arrive 45 minutes early to practice and games, it all becomes very time consuming. With school and other extracurriculars it can be hard to keep up with it all.

"I feel like time management is a huge part of it and time management is something that I'm not very good at necessarily," Letke said. "So I really have to balance it with homework and staying eligible to play and keeping my grades up."

The coaching staff has made a big impact on the team and its growth. The Skyron team's head coach, Patrick Buckley, is the assistant coach for the University of Michigan women's hockey team and has pushed the Skyron girls a lot the past two seasons to work to be their best.

"He's very encouraging and supportive," said Mairead Erhardt, a sophomore on the Huron-Skyline team. "But he knows when it's time to have fun and when it's time to buckle down." The team of staff is dynamic because they all have skills in different areas, but work really well together as a whole. This is helpful to the team members because they can go to different coaches depending on what they need.

Some of the current team members were new to the team last year and said it was a great way to meet new people. Since the team is combined with both Huron and Skyline, it gives the team members a chance to meet new people that they might not have met otherwise. Being with this group of people almost every day creates chances for really strong friendships.

Not only were some of the girls new to the team last year, some of them were also new to hockey, or were stepping onto the ice for the first time.

"The first time I touched the ice, even though I was really scared, I knew I had the drive and that I wanted to be the best," Letke said. "I've worked as hard as I can to be the best at what I do, and hockey is really a sport I love."

Last year's team was relatively small, so it gave new players a chance to take on leadership roles and grow significantly.

"We had a very small team, with a total of only three defenseman so I had to take on a large role and I was a starter," Erhardt  said. "It was my first time playing hockey so I kind of had to step up which I loved." The Skyron team gives girls the chance to try something new and gives them an opportunity to discover something they love.