Community's own Tempus Fugit jazz band wins Downbeat Award
The BSU talent show was yesterday afternoon. The show opened with the Tempus Fugit jazz band from Community's jazz program. After wrapping up the intro to the show, music teacher Jack Wagner hopped up on stage to end their part of the show.
Wagner expressed how hard this band has been working, and its hope to win a very prestigious award from the Downbeat Magazine. He then surprised the band along with crowd, officially announcing that the band has won The 39th Annual Downbeat Magazine Outstanding Performance Award in the high school combo contest. Tempus Fugit celebrated a great achievement accompanied by a roar of applause from a large crowd of community students.
"I am truly happy for these terrific students. They are so dedicated and hard-working, and they have a wonderful chemistry in the classroom and on the bandstand. It's been a pleasure working with them and watching and hearing them grow so significantly," Wagner said.
"We have to thank Jack Wagner for all he has done for us, and this program. He is a brilliant music teacher and an incredible man, and we all owe him very much and wouldn't be here today without him," said Seamus Lynch, bassist Tempus Fugit.
The band will be featured in the June issue of the Downbeat Magazine, and go see Tempus Fugit play on May 16th at The Ark in Ann Arbor, at 7:30 p.m. to celebrate their award.
Tempus Fugit members are:
Erez Dessel, Piano
Danny Freiband, Guitar
Seamus Lynch, Bass
Jonathan Lynn, Alto Saxophone
Aidan Wada-Dawson, Alto and Tenor Saxophones
About the Contributor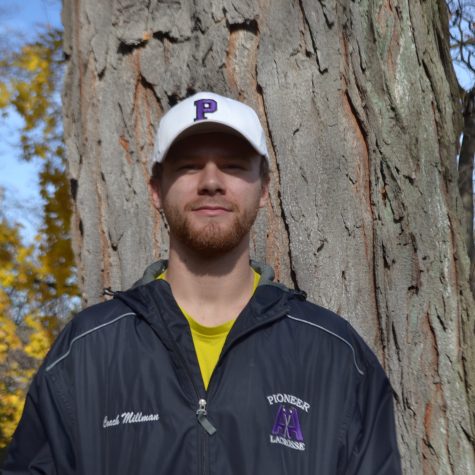 Sam Millman, Journalist
Sam is a senior and this is his third year on staff. He is captain of the Pioneer hockey team and enjoys the sport very much. Sam loves to ski with his family in Park City Utah over all of the school breaks and it's a long time favorite vacation spot for him. He's a big car guy, and loves working on cars with his friends, and driving them when they actually run. Sam Plans on studying construction management next year or engineering.