Skyline Varsity Volleyball Defeats Adrian 3-1 In The Teams First SEC Matches of the Season
[vimeo]https://vimeo.com/183416295[/vimeo]
On Sept. 13, Skyline and Adrian volleyball teams, fans and parents gathered in the gym at Adrian High School to play and watch the first SEC match of the season for their varsity teams. The national anthem was played, the varsity players were announced, the teams shook hands and the starters went to their places on the court.
Skyline's starting lineup was junior Ella Eliason, senior Megan Sackman, junior Livv Baugh, junior Margaret Armbruster, senior Tylar Benion and senior Jennifer Brightmon.
Adrian's starters were junior Gracie Bosquez, senior Janessa Burk, senior Sidny Yatzek, senior Allison Hoffander, senior Ryleigh Jacobs and junior Ashley McCutchan.
GAME ONE
The first two points of the match went to the Adrian Maple Leafs, but their run was stopped when Benion got a kill. The teams fought back and forth to keep the serve until Adrian was able to make a three point run with the help of Lauryn Griewahn, who served two aces during the run. Skyline's Baugh was able to stop Adrian's run before going back to serve. Skyline freshman Kendall Murray got a kill, and Baugh kept her serves in the court to bring the score to 9-8. Their run was stopped by a kill from Adrian senior, Tayla Horn. Down by three points Eliason served for Skyline, and with the help of a tip from Brightmon, a save from Armbruster and a hit from Benion they brought the score to 21-20. Up by only one point with Skyline gaining on them Adrian was forced to call a timeout. Coming back onto the court after the timeout Adrian won the point. McCutchan served for Adrian and brought the score to 24-20, just one point from winning. Brightmon saved the ball and Skyline got a point. Brightmon went back to the service line and was able to serve an ace; Livv helped continue the run with a kill, Armbruster and Benion got a block and a hitting error from Adrian brought the score to 24-25. Adrian got the ball and Jacobs went back to serve but was stopped right away by a kill from Benion. Benion served an ace bringing the game to an end at 25-27 with Skyline on top.
GAME TWO
Adrian's Bosquez served the first point of the second game, but the point went to Skyline after Adrian was not able to pass Benion's hit. Neither team could keep the serve until Adrian's Griewahn served three points in a row, two points won after Caitlin White's hit ricocheted off the block, bringing the score to 11-7. Adrian had the next serving run of the match when Bosquez served five points in a row. Skyline was forced to call a timeout after four serves from Bosquez, a kill from Hofflander and a tip from Jacobs. Adrian's Hofflander got one more kill before Skyline's Benion got a kill. Eliason served the ball for Skyline but the team was not able to keep the serve after Hofflander got another kill bringing the score to 18-10. Murray got a kill at 23-14 but Adrian won the ball back right away with a kill from Horn. Griewahn served the last point of the game that ended with a net violation by Skyline giving Adrian the last point they needed to win the second game 25-15.
GAME THREE
After splitting games, the teams started the third set battling to keep the serve. Skyline had a three point serving run at 7-6 when Murray served, starting with an ace. During the run Benion was able to save a shanked ball and set Murray leading to another point for Skyline. Armbruster served next for Skyline and the team was able to keep the serve during an out of system ball with an assist from Sackman, and a kill from setter, Eliason. Neither team was able to keep the serve for more than two points at once until Jacobs went back to serve. Two hitting errors from Skyline and a kill from White caused Skyline to call a timeout on game point at 24-23. Skyline was able to win back the ball and caused Adrian to call a timeout after a tip from Murray at 24-25. The third set ended after a double touch was called on Adrian.
GAME FOUR
  The fourth set of the match started again with the teams battling to keep the serve. Skyline gained a two point lead, the largest lead so far in the game, at 9-11 after a perfect pass by Baugh, kill by Benion, and assist by Eliason. Adrian was forced to call the first timeout of the match at 10-13, Skyline's lead. When the score reached 16-17 Burk served for Adrian, gaining one point off a Skyline hitting error, and another off an ace forcing Skyline to call a timeout. When the teams returned to the court Skyline was able to side out after a block from Benion and Eliason. At 18-18 Eliason was up to serve but Skyline lost the point after Jacobs took advantage of a free ball, getting a kill off of it. The teams kept the score close until Benion served three points in a row, bringing the game to match point. Adrian called a timeout at 21-22 after a block from Armbruster and Murray. During the timeout the crowd started chanting for their respective teams trying to out-cheer the fans of the opponent. "The last two points were pretty exciting when everyone was being really loud and both teams were trying to get really loud and the stands were getting pretty loud. It got really intense," said Armbruster. An out of system play featuring a kill from Baugh and an assist by Murray brought the score to 22-24 before a sideout. Jacobs served the last point of the match for Adrian that ended after a kill from Murray.
The match ended with celebrations by the Skyline Eagles after defeating the Adrian Maple Leafs in four games with a final score of 1-3. Kerry Watkins, the varsity volleyball coach at Adrian was proud of how her team played. "I think overall we played well," Watkins said. "We gave a few points away and it was close the whole time. I was happy with how we played; it was a fun match to play and to watch. It was exciting all the way to the end, so I'm glad and we can learn from there." She recognized that the team could have done better blocking but was proud of how her team played offensively saying the team kept swinging and stayed aggressive.
"Of course [when the crowd is loud and energetic] it helps us because we are all feeling it and momentum is a big key in volleyball," Armbruster said of the last points of the match.
   view more videos of the match:
[vimeo]https://vimeo.com/183416418[/vimeo][vimeo]https://vimeo.com/183416303[/vimeo]
[vimeo]https://vimeo.com/183416322[/vimeo]
About the Contributors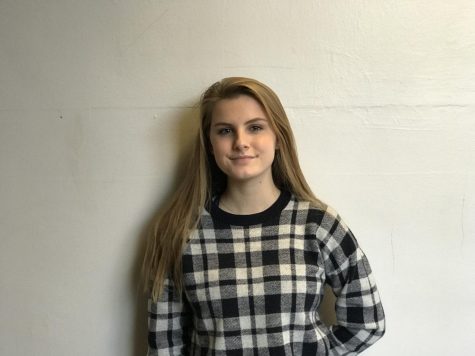 Sophia Rosewarne, Managing Editor
Sophia is a junior at Community. This is her third year on staff and she is a managing editor this year. In her free time she works at Sparrow and tutors at Peace Neighborhood Center. She plays tennis at Skyline in the spring and likes to snowboard in the winter.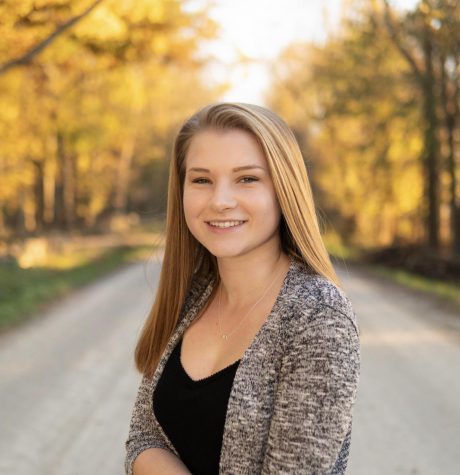 Madie Gracey, Copy Editor
Madie Gracey is a senior, and this is her fourth year on staff. She enjoys being playing volleyball and spending time with her friends. Recently, she started a journalism club at King Elementary School for the fifth grade class and she plans on attending WMU or KZOO for psychology this upcoming fall.