Skyline Eagles Field Hockey Team Takes on the River Rats
The first of two matches between the schools.
On Sept. 15 families gathered on the auxiliary field at Huron High School for a Varsity showdown between Huron and Skyline. Players from both teams huddled together before sending 11 people onto the field. The play began when the referee blew the whistle.
Skyline head coach Nicky Barrett looks back on their strategy for the game.
"Just to execute, do all the little things with precision, eliminating mistakes, making sure we also played with intensity and we played with confidence," Barrett said. "Warm-ups were a little shaky. I think we had a great warm-up the game before and one of our discussions had to do with making sure we have a strong warm-up because we felt like that contributed to how well we played, and we didn't have a good warm-up."
"I think Huron came out with a lot of power, and a lot of energy and I think that startled us a little bit just because they were so strong and able to pass so quickly between us, but I think their mental energy kind of pushed us back a little bit because we were a little intimidated by it," said Grace Gagliardi, junior captain on Skyline's team. "I 100 percent think we could've played better; we weren't ourselves, and we're a much better team than we played so we have a lot to improve on. I think next time we play Huron we'll be motivated and we'll know what we need to do and what we need to get done and there will hopefully be a different outcome."
"I just think Skyline's really good competition but we took them this time, and I'm excited to play them later in the season to see if they've improved or not," Huron player Minna Tremonti said, "Hopefully the outcome won't be different because I want to win again, but it will be nice having good competition with them. Our goal was really to play hard because last year we lost to them in post season, it was overtime and it was a really hard loss so I was just trying to be really aggressive because I know they have really good players. Basically just to be really aggressive on the ball, pass, we weren't playing on the stadium and the stadium turf's a little shorter and the turf we played on was just longer so it was a little slower game."
Huron scored two goals in the first half, and one in the second. One goal scored by Tremonti was a push pass into the net. This game between Skyline and Huron was difficult because the the referees were being very strict on their calling of feet and third party obstructions.
"I'm not trying to blame it on the refs but they were calling a lot of things and I was getting really angry at myself when I could have calmed down and played a better game, I could have passed better and I mean you can always improve," Tremonti said. "I could have called for the ball. Our communication was a little rough and I was open most of the time through but I never really called for the ball and the mid-fielders could've gotten it to me. It's just something to work on for next time."
"I absolutely think we can beat Huron next time," Barrett said. The two teams will face off again on Oct. 5, this time on Skyline's turf. Skyline searches for a win, while Huron will try to defeat the Eagles again.
Leave a Comment
About the Writer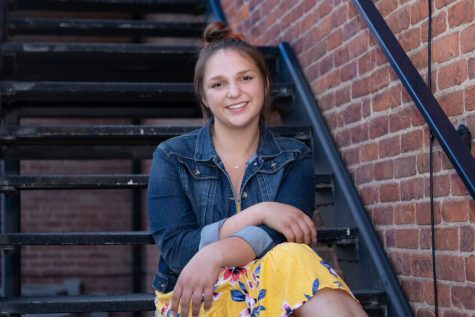 Isabel Espinosa, Managing Editor
Isabel is a senior at Community High School and has been on staff since her sophomore year. Through her stories for The Communicator, she has found a love for writing (especially with the Oxford comma) and photography. She spends most of her time, when she isn't in Tracy's room, either in the Theater working on the latest CET show or with her Yellow Lab, Nala.