Dancer Domingo Estrada Comes to Community
Mark Morris formed the Mark Morris Dance Group (MMDG) based out of New York City in 1980. Since then, he has created close to 150 works for his group. The New York Times has regarded Morris as "the most successful and influential choreographer alive."
MMDG and the Silk Road Ensemble made its way to Ann Arbor on Oct. 13 to perform the drama of "Layla and Majnun", a Persian love story that originated in Arabia. This story was performed in five acts and also included two mugham vocalists, Alim Qasimov and Fargana Qasimov, who performed folk music that originated from Azerbaijan during the dances.
On Oct. 14, the day after opening night, the Community High Dance Body and the Community High Jazz Band assembled for a master class during block seven in the dance body room from Domingo Estrada, one of the 19 dancers currently in the MMDG. The master class was centered around modern technique, but Estrada explained that MMDG does not focus on any particular style of dance but rather incorporates many techniques. "Whether it's from ballet, modern, jazz, or from other world cultures and countries, folk dancing, he likes to incorporate that," Estrada said referring to Mark Morris. "You can't say specifically that we do one particular technical style, but it is Mark's style and it is very influenced by all these modes of dance."
The dancers were also able to experience live music from the Community High Jazz Band which offered a taste of what it is like to collaborate with other artists as is done in "Layla and Majnun".
The complete work took about one year of rehearsals from the dancers before they came together with the musicians. Rehearsal and classes for the dancers are held five days a week and about six hours long. "It's very fun but it's also very physically active," Estrada said. "There is so much to learn about your own personal body as an instrument and the world of dance and art as a culture."
For anyone who may be thinking about a career in the arts, Estrada, who begin to dance in high school provided some insight for those who believe they can not pursue a career in what they love. "I absolutely disagree. I am a product of the exact opposite. I had no idea that dancing as a career was even a possibility. Much less did it as a hobby of any kind, but when I was introduced and got all of the information it just opened up a new world and also new challenges," Estrada said.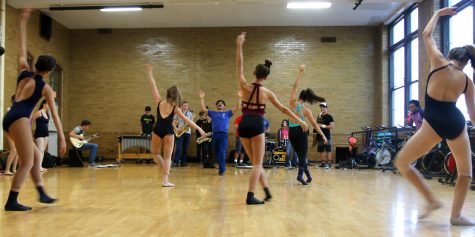 Like any other physically demanding career, there comes a time when one may decide to stop dancing due to their age or a career-ending injury. However it is important to realize that although being a dancer may not be lifelong career it can open up many new options in the future. A choreographer, teacher or physical therapist are just a few of the many choices available. "I plan to hopefully do some teaching," Estrada said. "It's definitely been a new world for me in terms of the anatomy and physiology aspect especially with biomechanics and exercise science. I want to become a trainer and maybe even eventually become a physical therapist. Or just do some therapy of some sort."
Being a professional dancer, musician, or athlete may seem like a very distant and daunting career to some but Estrada's advice would be: "Continue to challenge yourself in any way possible, learn something new, do something new, be adventurous and always push yourself to the limit because nobody else is going to."