Pioneer Field Hockey Takes on Skyline Field Hockey in a Cross Town Rivalry Match
The evening was cold and foggy, leaving spectators wrapped in blankets with their eyes glued on the field. Players from both teams were announced, followed by team huddles before the start of play. A single whistle from a referee began the game.
On Oct. 13, 2016 people from across Ann Arbor gathered to watch the Pioneer and Skyline Varsity Field Hockey teams face off.
The game was fairly even, with the ball mostly hovering around the 50 yard line. However, in the end Pioneer was victorious, beating Skyline by two goals scored in the second half of the game. Focus and intensity were common themes among both team's coaches and players. After weeks of preparation and playoffs just days away, it was no surprise you could feel the intensity radiating from the sidelines.
Skyline Captain Grace Gagliardi knew her strategy for this game was to come in with a strong start and to focus on all the basic skills that she trusted her team knew how to do. "It was really just play our game and don't let them get into our heads," Gagliardi said.
Before the game, Gagliardi felt that her team practiced a lot of defensive footwork and pressure, because those were the little things that could affect the outcome of game. "We practiced with the intention of winning, and just doing everything we can to just be ready," Gagliardi said.
"Going into the game we wanted to strive as a team, we wanted to win the moment and we wanted to control the controllables," Pioneer head coach Jane Nixon said. After two weeks of practice without any other games, Nixon said her players were hungry and excited to step back on the field.
"We are really united and working really hard; trying to pay attention to the details because they really matter, and take care of the moment," Nixon said. "It's a team effort and we are in this together." Pioneer demonstrated strong mental toughness until the last second by keeping their energy up until the very last buzzer.
"No matter who our opponent is, we still have to do our job and leave everything on the field." said Skyline head coach, Nicky Barrett. She felt that her team mainly focused on tempo and execution because it helps her team to play within themselves and try not to outrun the other team.
Leading up to the game, Skyline worked on maintaining focus and making sure that practices mimicked what they wanted to see in the game. The entire team made sure that everything was at full pace and they played with intensity and fire. Skyline knew this game would be against their toughest opponent and they would need everything they could bring for the game.
"I learn a lot from every team we play against, and I like playing against [Pioneer] because I like learning new techniques as far as motivation, skills and strategies," Barrett said. She knew Pioneer was a well-coached, well-disciplined team and she knew her team had to make adjustments. Skyline acted upon this need for adjustments at halftime, as they put players in different positions and worked out some problems they had seen during the first half. "I think the second half we put them on their heels." Barrett said.
"[Skyline] always comes out with their 100 percent, but I think that we countered them well and we adjusted well to what was happening," Senior captain for Pioneer, Maya Gompper said. Pioneer had been focusing on channeling their competitive energy into each individual moment and making the most out of every second they are on the field.
Gompper stressed that as a team, Pioneer has been working on positivity and keeping the intensity high. "I think we did that tonight, and that is why we were successful," she said.
Skyline Senior and Captain, Abbey Hutton said that her team mainly focused on their defensive tactics and transfers during practice leading up to this game. Hutton believes that they are constantly working hard during practice to improve their game and that the preparation for this match was no different. "We focused on being positive and confident in our play, and also trusting our teammates to do their job." Hutton said.
"I think that we have been consistent, and I think that right now we are in the right place where we have got a really good surge coming on," Nixon said about her team over the season. Nixon said that Pioneer has been working hard all season but is coming to a turning point where they are working hard together which will lead to even greater success.
Barrett talked about how she felt her team did the best they could. "I think we had just one or two breakdowns," Barrett said. "I would consider this one of our better games, especially against Pioneer. Of course I wish we would've won but I think overall we played well."
Gompper said she and her team have been training for playoffs all season and are, "Super excited!" and "Super ready!" for the weeks to come.
On Oct. 19, the statewide playoffs began, with Pioneer in first place and Skyline ranked number four. "I think we've faced everybody that we can possibly face in states and I'm confident we can beat any of
them," Barrett said regarding the playoffs.
"I think it's best that we go in as the underdogs because we have nothing to lose, you know, you just [have] to give it your all and do whatever you can," Gagliardi said. This year, Skyline is hosting the Division 1 State Championship match. Gagliardi feels that this motivates her team even more. "We want our seniors to be able to hopefully play their last game on our home field and bring home a huge win," Gagliardi said. Hosting makes the team work even harder because they want this postseason to be special. "We are going to give it our absolute all to get what we deserve and all I hope is that is the championship game."
According to the Michigan High School Field Hockey Association (MHSFHA) schedule, the two teams will face off on Oct. 27 if both teams beat their other opponents.
Leave a Comment
About the Contributors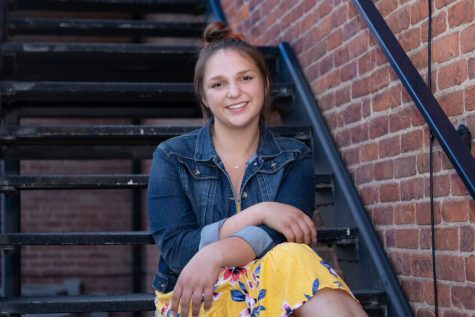 Isabel Espinosa, Managing Editor
Isabel is a senior at Community High School and has been on staff since her sophomore year. Through her stories for The Communicator, she has found a love for writing (especially with the Oxford comma) and photography. She spends most of her time, when she isn't in Tracy's room, either in the Theater working on the latest CET show or with her Yellow Lab, Nala.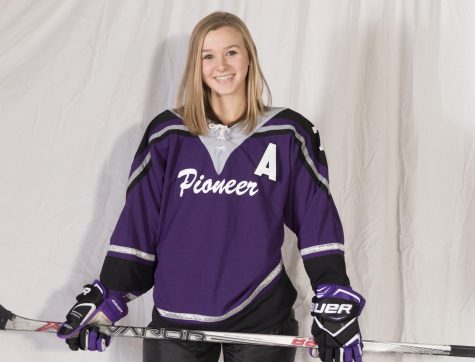 Ava Millman, Print Editor-in-chief
Meet Ava. Ava enjoys playing ice hockey, doing CrossFit, baking and journalism. She has been on staff for three years and is now an Editor-In-Chief for The Communicator Magazine. She can talk about fonts forever and firmly believes that Helvetica Neue is superior to everything else. When not working on the Communicator or at practice, Ava spends the majority of her time in the hot tub in her backyard. A few of her favorite things include Diet Coke, LuluLemon and her overweight puggle named Tanner.