Life in Detroit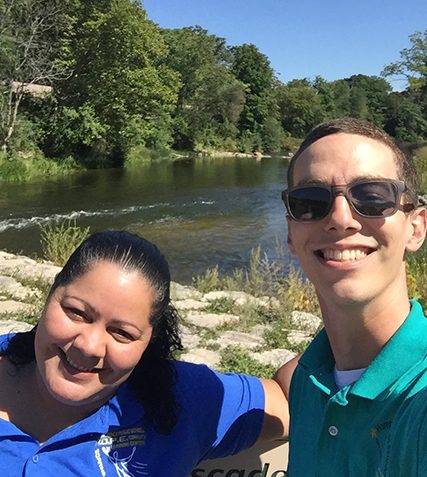 Lisa Dungey and Blair Arbaugh sit side by side outside a restaurant with matching H.O.P.E. logos above their hearts.
The two were visiting Ann Arbor with their students for a field trip down the Huron River. They are both after-school side directors for schools in Hamtramck Michigan and part of the Hamtramck Odyssey Project for Excellence.
"I was born in Detroit, and still living in Detroit," Dungey said. Arbaugh on the other hand has been living in Detroit for four years.
When asked about thoughts on Detroit's "comeback" Dungey said, "I feel good about it. Throughout the years of me living in Detroit I've seen it gone significantly down with all the abandoned houses and all the burned down houses and things of that nature but I like the fact they are trying to rebuild and make the city look much better like it used too."
Arbaugh on the other hand quickly challenges the idea of a "comeback". "There's always been life in Detroit. It's never left," Arbaugh said. " I think it's important to have this analysis and really ask who the change is for. I can't speak for others on being overshadowed but as someone who identifies as a blue collar worker, yes, I don't have money for a downtown condo or for a new car. I have to grow my own food, you know what I'm saying."
So what is keeping these two in Detroit?  Dungey and Arbaugh work together with elementary and middle school students. Dungey going on her 17th year as a side director, loves her students and the families she meets. "I've had the opportunity to meet different families from different ethnic backgrounds and diversity, just people, wonderful people and I feel like there's a need for Hamtramck students to get the assistance they need, especially with the after school program, because they need an outlet. The population of my students is mostly African American students who live in housing programs, a lot of them don't have the resources to help them with their homework or the people to help them," Dungey said.
Arbaugh works with the middle schoolers in Hamtramck. "Personally I like to view myself as a lifelong learner and one of the easiest ways to do that is surround your adult mind with the youth. It allows you to center yourself with gauging the future. It takes you outside of yourself as an adult. You're there for others. When we talk about development and working with youth, we talk about bringing that spirit in."
The cars continue to speed past the pair and dogs bark in the background. They remind themselves about their happiest moments working with the students. Dungey lights up for the comeback stories and the relationships of her students.
"Just seeing them everyday. " Arbaugh said. "There's a sense of communality in Hamtramck." Although the two teach mainly African Americans, Hamtramck itself has a population consisting largely of Muslims. Call of prayer is announced five times a day over speakers throughout the city.  
"Even when I hear it it's like oh well now I'm going to pray," Dungey says.
With their drinks almost gone and their food plates empty, Arbaugh and Dungey reflect of Detroit being home. Only living in Detroit for four years Arbaugh goes with the flows and controls only what he can and that's the people he surrounds himself with. "For me I think Detroit will always be home for me. Yes there's crime and theft but there's positive things too." Dungey says. "Even though you taxes are higher," Dungey said.
"Oh indubitably higher," Arbaugh said. They both laugh.