Behind Huron Field Hockey
Huron High School Field Hockey has gone through several changes over the past couple of years, but now they have a new coach, a young team, a strong record and the respect of their rivals. Best of all, they seem to be having the time of their lives.
In June of 2016, Lauren Hall took over as the Head Varsity Field Hockey Coach for Huron High School. She played a myriad of sports in high school and college including field hockey and basketball at Northwestern University. This was until she decided to play field hockey on scholarship at Eastern Michigan University. Coach Hall came from Pioneer High School, where she coached the junior varsity team for the past five to six years. "I wanted the opportunity to coach a varsity program and to see the varsity program at Huron stabilize," Coach Hall said.
It was hard for Coach Hall to leave Pioneer because it meant leaving her field hockey kids. She usually coached the freshmen and then would help out for the rest of their high school careers, so she knew them all. The upside is that at Huron she has her own kids and she said, "The easiest part of being here is having more kids, and my kids are just mine."
Early in the season Huron traveled across town to play Pioneer and came away with a sweet 2-0 victory. Coach Hall said, "Oh, it was fantastic I have to say, because this is my team now and I'm very competitive." When she coached at Pioneer she found that all the coaches were very competitive. They would have heated discussions about all aspects of field hockey including strategy and where to play certain kids, and they all enjoyed it. "I loved working with that group of people, so for me to have my team beat them was fantastic," she said.
Huron has experienced a lot of turnover in the coaching staff the last few years and Coach Hall wanted to change that. She has lived in this area for many years and has no plans to leave. "Huron's a great team," she said, "and it was disappointing to have Huron look like it was starting to fall off." Coach Hall loves competition and feels that Huron has been a formidable team in the past. She is determined to keep the competition at the highest level in this area.
Coach Hall's team is a little unconventional in several ways. It consists of one freshman, eight sophomores, who are all veteran varsity players, three juniors who have all played at Huron for three years and six seniors, one of whom is on injured reserve. Four of the six seniors have played field hockey at Huron for four years.
Out of the 18 total varsity athletes, 10 play year round on travel teams. There are two sets of sisters and one pair of twins. Two hail from Washtenaw International High School, three from Community and 13 from Huron. As they started their season, the players only had their black away jerseys with no home jerseys or skirts due to a delay in the order for new uniforms. Their opponents were gracious enough to let them wear their away jerseys for all the early games, and they played in their own black shorts. That has become their signature style, and they sent the skirts back when they finally arrived. They do dress in white jerseys bearing a little River Rat when they play at home now.
Huron's lean varsity team is a scoring machine with incredible defenders who rarely let the ball anywhere near the goal. So the goalies may go through an entire game and not touch the ball. Huron scored 75 goals during the regular season, followed by the next closest team with 43 goals. Only nine goals have been scored against them.
Coach Hall has faced some challenges in her first season. One of the biggest has been the low numbers of players on the team. However, she also feels strongly that the more touches you have on the ball the better. The Huron athletes play almost every minute of every game because there are only five substitutes on the bench.
The skill level of her team is very high. "I could probably take my team and match them one-to-one with any other team's starters in the State and I would have a better team," she said. Coach Hall also sees maturity as a challenge. "Sometimes we overplay and we're over-anxious," she said. The team is dominated by sophomores, which she also sees as a strength because they are younger and more excited.
Rachel Kerr, senior and team captain, thinks the young players have rejuvenated the team and brought a lot of great energy. "I love the fact that everyone is so young… I think that it makes us a stronger team," Kerr said.
Coach Hall feels there is tremendous value in being on a team because it teaches players that the team, rather than the individual, is the most important. "A championship team will always beat a team of champions," Coach Hall said. "If you grow the whole team and make them all feel capable and competent throughout the season, then pass them the ball when they're open and they'll learn to catch it," Being part of a team also teaches you "to work with and respect and appreciate people that you would not necessarily choose as your friends." Teamwork, she said, "prepares you for life and everyone should participate in something where they are a part of something bigger than themselves."
Kerr said that developing into a team both on and off the field was the most challenging and most rewarding aspect of Huron field hockey. "I think somehow we have been able to make it work better this year by playing as a team on the field, by passing, which is very important."
The players find it challenging to manage field hockey and academics. "It is really hard, I think, especially my junior and senior year," Kerr said. But she feels it has helped her learn time management, so it is worth it.
Coach Hall recognizes this and finds that athletes are often better students during the season because they have so little time they have to manage it very well. She feels that academics are more important than athletics and that's why the student comes first in student-athlete, though you have to have a balance. She has very high expectations of her players as athletes and as students and she checks grades regularly to be sure people are on top of their work.
When asked to name their favorite thing about field hockey or what has been the most fun, the Coach and most players agreed, the team, the team, the team.
Coach Hall: "It's been really fun watching the team become a team."
Senior Rachel Kerr: "Spending the night in Chicago [with the team]"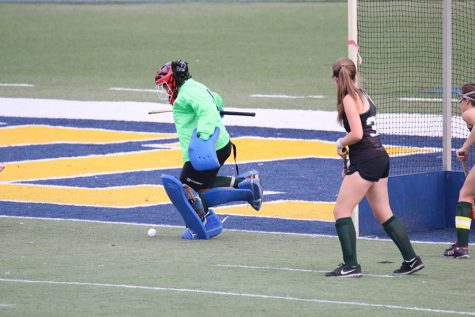 Senior Miah McCallister: "I like the team aspect and hanging out with all the girls and being part of something."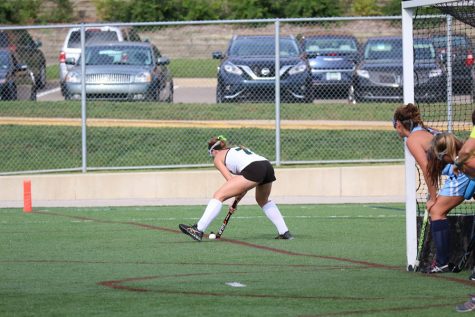 Senior Gigi Guenther: "Being part of a team."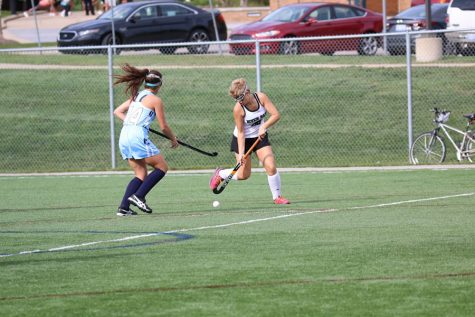 Freshman Cat Guenther: "Being part of such an amazing team."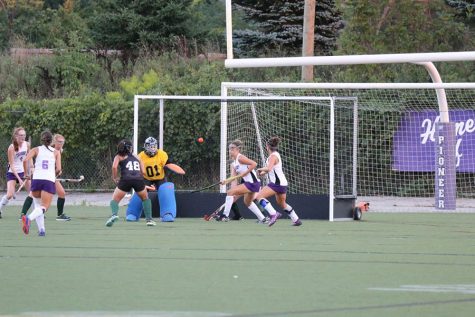 Sophomore Lee Stewart: "The Huron girls."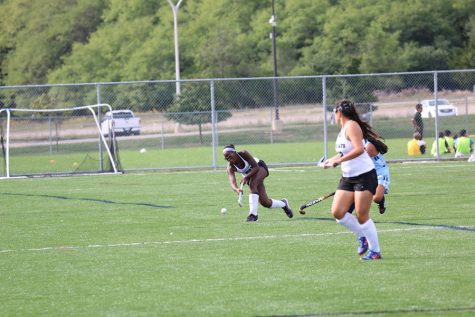 Sophomore Afua Nkansah-Andoh: "The good times that I get to spend with my friends."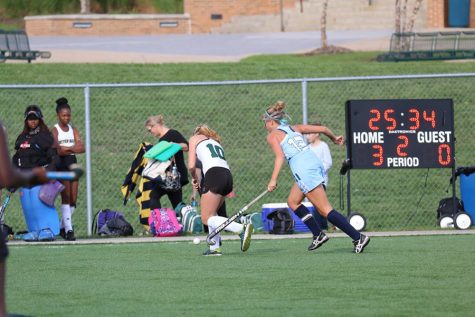 Sophomore Anna Scott: "My favorite thing are the people. I love all my teammates. They're amazing!"
Coach Hall has definitely taken charge and her players admire and respect her. She knows field hockey and she knows high school girls. Her team has had a great season and now they look forward to 2017.
About the Contributor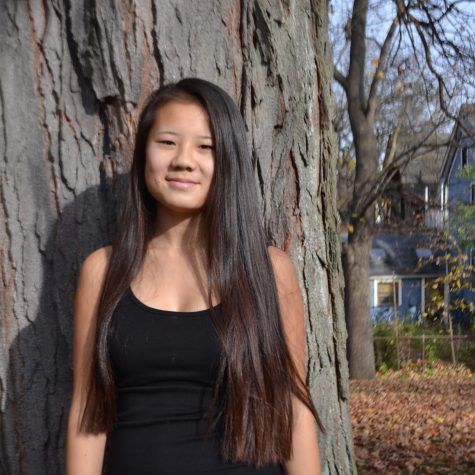 Jackie Mortell, Journalist
Jackie Mortell is a sophomore at Community. This is her first year on the Communicator. She loves playing varsity field hockey and lacrosse at Huron High School. She also enjoys traveling, spending time with her family, friends and puppy and eating fresh fruit.