Fantasy Book Recommendations for Fall
Creature of Moonlight by Rebecca Hahn
I have a list of things I like to see in a fantasy book; a strong female protagonist, dragons, kingdom politics, and not too much romance. This book covers all of the above. The main character is Marni, an outcast princess and the result of a romance between a dragon who can assume human form and the only person to ever return from the forbidden woods. She must choose which of her parents' paths she will follow, or make her own. The writing style is very pretty and flowery, but that doesn't stop it from having an interesting plot.
The Girl of Fire and Thorns by Rae Carson
Listening to this book as audio in the car, I didn't notice the hours passing away, and hurried to read the rest of the series as soon as I got home. The Girl of Fire and Thorns follows a princess and "chosen one" named Elisa. She doubts herself and her ability to perform a great act of service for her country, while her family shelters her from the truth. Everything changes when she is married off to a king, and soon is taken on a fast-paced adventure. She learns about herself, her religion, her new husband, and the complicated history and politics of her kingdom. Elisa becomes a strong and independent protagonist, and her world is an exciting new place to escape to.
Three Dark Crowns by Kendare Blake
A book about three sisters who must kill the other two in order to win the throne might turn some people away, and I'll admit that the plot is a bit chilling. However, the author manages to create realistic and likeable characters in spite of the harsh realities they face. Each sister vying to become queen handles her fate differently. Mirabella, who holds strong elemental powers, has nothing to fear except her own resolve not to harm the sisters she loves. Katherine, a poisoner, trains hard and worries for the day that she will be forced to show her talent. Finally, Arsinoe, a naturalist, spends what she assumes to be her last days with her best friend, because her gift has never shown itself so there is little chance of winning the kingdom. The three girls' stories weave together to create an enrapturing tale.
Leave a Comment
About the Contributor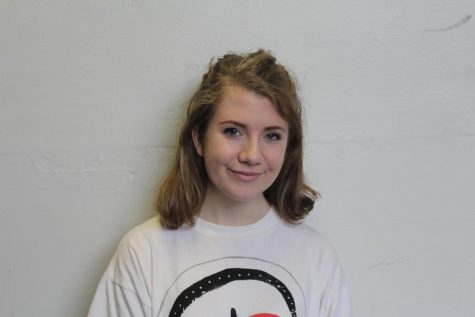 Grace Jensen, Editor-in-Chief
Grace has an odd love for palm trees which makes it especially unfortunate that she lives in Michigan. She did not know how to spell her middle name (Margaret) for the majority of her lifetime. She spends way too much time at Community High School for Communicator, Mock Trial, and Forum Council. She thinks she is better than people who don't like spicy food, and people who think they are better than other people.