Strength in Numbers
While many people struggle through math problems, beating themselves up over mere frustration, Marika Chupp excels through the difficulty.
She did not always succeed in math. Chupp was one of the kids who struggled through math in elementary school.
"I was always behind," Chupp said. "It got to the point where I'd have to stay in at lunch every single day to finish my math."
Since entering high school, she was able to turn her weakness into her strength. "It might have been because of better teachers," Chupp said. "So I actually started understanding it."
After falling in love with geometry her freshman year, she started helping friends with their math homework. When helping her friend study for geometry finals the night before the test, she realized what she was capable of.
"I had all these sheets laid out," Chupp said. "I was pointing to each of them, and I was like 'okay, use this formula here! And this here! And this is how you remember this!' And I remember she said 'Wow! I actually get it now!'"
She started volunteer tutoring in Math Support at the beginning of sophomore year, bringing with her a great love and enthusiasm for math that she hopes to share with her peers.
Chupp credits her persistent work ethic to her two older brothers, Theodore (21) and Ethan (19). "They really keep at it, they are persistent," Chupp said. "They are always doing something, and I love that."
Ethan was able to skip first grade and is currently in his junior year at Wesleyan University, in Connecticut. Theodore just graduated from Michigan State University.
"Even my dad is a college professor, and he teaches physics, and is really into science and math. We really like to be busy. When there is something that we love to do, we just do it."
Leave a Comment
About the Contributor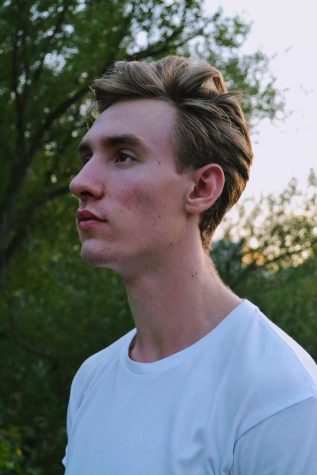 Sacha Verlon, Opinion Editor
Sacha Verlon is in his third year on staff for the Communicator. He has an attention span of one minute and is Literati Coffee's biggest fan. Verlon enjoys playing guitar and using his musical skills as a means to procrastinate doing his homework. He loathes the cold and hopes to go to college somewhere warmer, possibly in California. You can find him zipping around Ann Arbor on his red Vespa.