Bright Colors, Blaring Jazz and the White Boy that "Saves Jazz"
Smooth jazz, hypnotically annoying '80s music and something comparable only to Vulfpeck fills your ears. A blur of swirling color and dancers fly out from all edges of the the screen. The booming music is so loud you can feel every word like an earthquake. Suddenly you're absorbed into a story of love, ambition and in a way, growing up. And as the real world falls away, "La La Land" begins.
Forced into the theatre by mother, I was not expecting of the emotional roller coaster that would soon overtake just about everyone in the theatre- including the sobbing couple behind me. Featuring Ryan Gosling and Emma Stone as two struggling young artists in Los Angeles, CA, "La La Land" follows the couple's troubled story through failed auditions, huge successes and all time lows.
Though "La La Land" is branded as a modern-age musical, it borders on the edge of fantastical with its kaleidoscope scenes of space. Kaleidoscope, as in you aren't sure where to look, and are slightly confused as to why they are in space and are therefore lacking a better word to describe it so- kaleidoscope. Taking place at the legendary Griffith Observatory – featured in the pivotal film "Rebel Without a Cause" -"La La Land" takes you on a dizzying tour of downtown Los Angeles.
Throughout the film, Stone and Gosling's characters, Mia and Sebastian, struggle with ambition and love. Their careers often intertwine with their relationship as they motivate each other in their respective professions. Stone, as a struggling actress, makes her way through audition after audition while maintaining her job at a cafe in Hollywood. At the same time, Sebastian, a dreamer at heart, follows a bumpy road towards the grand prize — his own jazz club. A passionate pianist and self proclaimed follower of the "pure, true jazz," Gosling shines with his deep voice and somewhat surprising piano skills.
"La La Land" hits a tender spot for many musical lovers and is a true lyrical masterpiece that blends genres and features John Legend's fantastic voice. But in reality, the film really only touches the surface of jazz culture.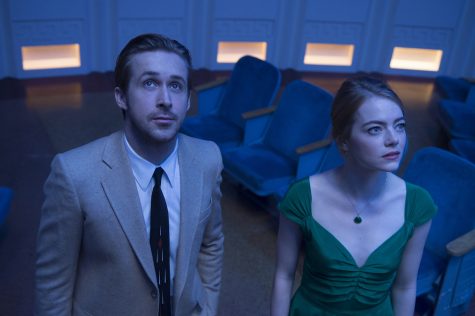 "La La Land" lacks diversity and accurate representation of the city of Los Angeles, where 47.5 percent of the city's population is Hispanic and 10 percent Asian. Los Angeles is a diverse city crawling with culture, and  "La La Land"  struggles to represent that. With two Caucasian main characters, I struggle with the idea represented in the movie of a white male "saving jazz"- as Sebastian sees it. With so much of the culture of jazz surrounding around African-American heritage and history, the concept of a white male swooping in to save it was baffling.  It felt like whitewashing. As if jazz needed the white male to save it.
Sebastian's rigid views of jazz go against my own beliefs of the genre: as an ever-ebbing, and changing construct. Jazz is sacred, it has a past, a present and most importantly a future. Jazz is an ever changing entity. But Sebastian, confronted by his friend Keith saying just about the same thing, is steadfast in his belief of a one and "true" jazz.
"La La Land" could have been amazing. It could have been a groundbreaker changing the whitewash culture of American musicals. But instead, it follows in the same pattern of many before it. Though it's fantastic music -"La La Land" boils down to being yet another romantic comedy starring two beautiful Caucasian actors in a seemingly never ending cycle.
Leave a Comment
About the Writer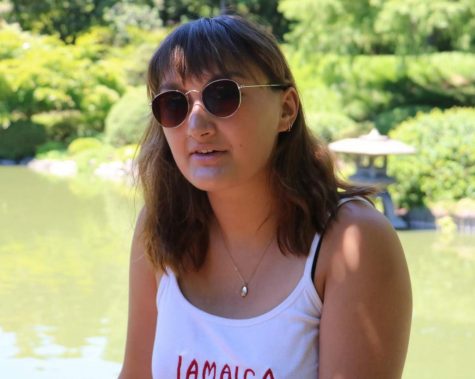 Mira Simonton-Chao, Website Editor-in-chief
Mira is a senior at Community High School and has been on staff for the last four years. She loves writing and The Communicator but also really hates writing staff profiles. She is passionate about American cultural studies, music and living the most vibrant and expressive life she possibly can. She also loves traveling and cooking yum food.