EMU Students Perform 'The Vagina Monologues'
The house lights dimmed. Voices in the audience hushed to whispers, then fell silent. An excited air filled the theater as a woman in a blazer and a purple t-shirt took to the stage. Why all the fuss? It was 8:00 p.m. at the EMU Student Center on a Friday night, and The Vagina Monologues was about to begin.
The Vagina Monologues, written in 1996 by Obie Award-winner Eve Ensler, is a play surrounding the ideas of self-confidence, female positivity, and empowerment – and yes, growing to love the vagina. This would be EMU's 16th annual production, but there were plenty of new audience members. Ava Watson, a senior at Greenhills, didn't know what to expect.
"I've never really heard of something like this," Watson said. "I'm really excited. I just want to learn something new, try something different."
Trinity Kelso and Anika Love, juniors at Skyline and newcomers themselves, had high expectations for the performance. "I'm hoping for it to be informative, but also entertaining," Kelso said. Love agreed. "I hope this gives us some insight into different situations and circumstances revolving around female empowerment. I know I get very emotional around certain topics, I'll probably get emotional if there are certain stories…I don't know, I want it to touch my heart."
However, it wasn't just newbies attending the show. Tyler Sly, Children and Youth Advocate at SafeHouse, a shelter in Ann Arbor, and a seasoned audience member recalled his first time seeing the show.  "I think it's really eye-opening," Sly said. "The first time seeing it as a guy, I was uncomfortable through the first part of the show, because I was like 'There's a lot of talk about vaginas here, I'm in the wrong spot, but afterwards I was like 'Holy s***, that was f****** amazing.'" Tyler had arrived with a group working with SafeHouse to prevent domestic and sexual violence and promote healthy relationships, called TeenVoice. This productions' proceeds were being donated to two shelter organizations in Michigan: First Step, in Plymouth, and SafeHouse in Ann Arbor. Amy Modi, a SafeHouse intern traveling with the group, hoped to take what she learned from the production and incorporate it into the program.
"I hope that we all take away knowledge that we can use for presentations and spread awareness," Modi said. "This is my first time, I'm excited."
Some stories made the audience laugh as the actresses' created funny moments during even the most absurd of stories. Some stories made the audience cry-women standing on stage sharing the stories of the abused, the raped, the surviving. There were performers who shouted, yelled and screamed. There were performers who spoke barely above a whisper. It was a show of highs and lows, ups and downs, sobs and smiles. When the actors returned to the stage for a curtain call, they were met with thunderous applause. A few tentatively rising from their seats turned into a standing ovation for the women.
When asked to describe the show in one word, there were varied responses. "Riveting," Modi said. "Awesome," Sly said. Love's response? "Empowering."
Leave a Comment
About the Contributor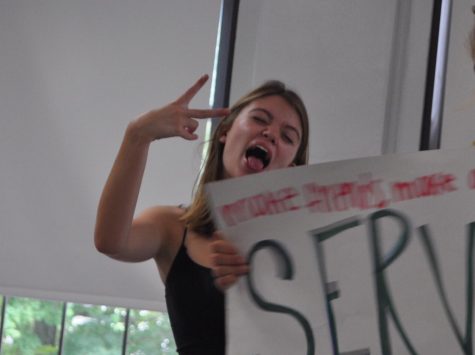 Paige Duff, Web Editor-in-chief
Paige Duff is a senior in her fourth year on Communicator staff, and one of three wonderful Web Editor-In-Chiefs. Her greatest skill is the ability to spin any fortune cookie slip, horoscope, or Magic 8-ball answer in a positive way. Paige loves the planet with her whole heart, and most of the people on it. She also loves car-singing and car-dancing — she does not love car-driving. She's looking forward to a magical year!