Who Controls the White House: Trump or the Russian Government?
The sovereignty of our country is currently being jeopardized because of President Donald Trump's relations with Russia. Trump has had a long history of financial ties with Russia that could potentially harm him as President. And it is not only the president himself; multiple cabinet members in Trump's inner circle have deep political ties with Russia, creating opportunities for Russia to blackmail our uppermost politicians and control our government.
It wasn't until Trump's campaign manager, Paul Manafort, resigned in Aug. 2016 that suspicion between Trump's relations with Russia came into focus. Manafort had a history of working with Ukraine's former pro-Russian president, Viktor Yanukovych, whom some Americans are opposed to for having pro-Russian policies. At the time, investigations were being led into Manafort's relations with Yanukovych, which pressured the campaign manager to resign under Trump's offering. The New York Times reported hand-written ledgers from Manafort to Yanukovych's campaign that amounted to $12.7 million in cash payments.
Sources recently confirmed that Manafort was blackmailed by the Russian government over an undated text to his daughter sent around the summer of last year. The text came from Ukrainian Parliamentarian Serhiy Leshchenko, who was seeking to reach Manafort through his daughter's phone, claiming he had potentially harmful information about him and Trump.
Although the sources that these rumors surfaced from were not trustworthy (a series of screenshots from a dark-web site run by hackers), they can now be confirmed thanks to Manafort himself. During an interview conducted by the online news source Politico on Feb. 21, he stated that the screenshots were authentic and that he had received similar messages from the same number affiliated with Leshchenko.
And although Trump has repeatedly mentioned he has no financial ties to Russia, his claims do not seem to be accurate.
Russia has never tried to use leverage over me. I HAVE NOTHING TO DO WITH RUSSIA – NO DEALS, NO LOANS, NO NOTHING!

— Donald J. Trump (@realDonaldTrump) January 11, 2017
Trump's financial ties to Russia started far before his announcement of running for president. Trump has had ties to the country since 1987, when he met with U.S.S.R. government officials in Moscow to discuss the possible building of a hotel. He has made multiple business trips since then to Russia to discuss building projects. "Russians make up a pretty disproportionate cross-section of a lot of our assets,"  Donald Trump Jr. told a journalist at a real-estate conference, which took place in 2008.
 "We see a lot of money pouring in from Russia," Trump Jr. said. "There's indeed a lot of money coming for new-builds and resale reflecting a trend in the Russian economy and, of course, the weak dollar versus the ruble."
Six months after Trump announced he would run for president in June 2015, Vladimir Putin congratulated him, saying he is "Absolutely the leader of the presidential race."
The suspicious actions continued in July 2016 when a national security meeting was held in Cleveland, Ohio. Trump's staff attempted to change language in an amendment that would give weapons to Ukraine, intended to be used in defending itself against Russia. In the text, Trump's staff changed "providing lethal defense weapons" to lending "appropriate assistance" to Ukraine.
Which is especially suspicious considering that this was a decision contrary to the rest of the Republican platform that had gathered that day. Under what motive did Trump's staff rewrite the amendment, a decision that went against their own political party? Possibly because Trump had ties to Russia that he did not want to disturb.
Tensions between Trump and his skeptics increased when his closest political advisor, Roger Stone, correctly 'predicted' on Oct. 1 that WikiLeaks would leak harmful info about Hillary Clinton.
Wednesday@HillaryClinton is done. #Wikileaks.

— Roger Stone (@RogerJStoneJr) October 2, 2016
Five days later, as promised by Stone, WikiLeaks released their harmful info on Clinton. That same day, Oct. 6, the U.S. Intelligence Community released a statement that the leaks were intended to hurt the Clinton campaign and that "only Russia's senior-most officials could have authorized these activities."  To further the information above, on Dec. 26 the CIA, FBI and NSA released a joint statement saying that Putin had directed the attacks himself, and intended to directly attack the Clinton campaign.
With such information given, it would be hard to say that such an occurrence was just a coincidence. It is difficult to believe that Stone just guessed that the leaks would be released on that certain date. And if you are still in denial, consider the following: previously on Aug. 9, Stone stated that he was in contact with WikiLeaks. This confirmation only strengthens the argument that Stone was involved in releasing information intended to harm Clinton's campaign.
The most controversial scandal regarding Trump and Russia stems out of Michael Flynn's resignation as security advisor on Feb. 13. Flynn had previously made a series of phone calls last Dec. to Russian Ambassador Sergey Kislyak to "establish a line of communication" between Russia and the new Trump administration.
What Flynn did not say, and more importantly relay to then-Vice-President-Elect Mike Pence, was the discussion of releasing tight sanctions that were being imposed by Barack Obama on the same day.
Under the Logan Act, which calls for the imprisonment of unauthorized citizens to negotiate with foreign governments in a dispute with the U.S., his actions are illegal. His failure to give this valuable information to Pence led to Trump asking for his resignation.
Lying to Pence – and in turn, the media – about his phone calls with Russia set Flynn up for potential Russian blackmail. This gave Russia yet another chance to control the U.S. government and to disrupt the system of our democracy. The big unknown up to this point: did Trump know beforehand Flynn discussed sanctions with Kislyak?
There is not much information that can tell us whether Trump knew, but there are a few clues. For one, Flynn's calls with Kislyak were recorded and transcribed by the Department of Justice, so it is true that more people than Flynn himself knew the truth to his lie. And it is highly possible that the DOJ relayed this information to Trump, as it is the DOJ's job to keep the people safe (and informed) through their knowledge.
If so, why did Trump not expose the truth to the public? Why would Trump have kept this information to himself? Maybe because Trump did not want to damage his presidency before he took office, which consequentially left another gap of lost information for the Russian government to take advantage of and blackmail him with.
It is imperative now more than ever that an investigation is to be conducted on Trump's inner circle and their dangerous relations with the Russian government. The last thing we want is for our President to be a puppet to another foreign government.
Leave a Comment
About the Contributor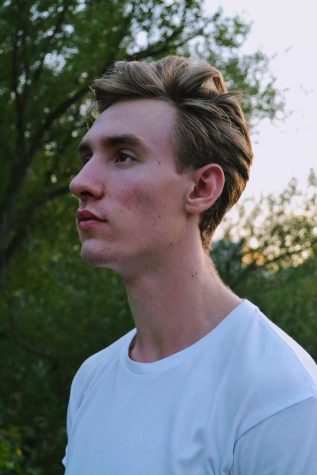 Sacha Verlon, Opinion Editor
Sacha Verlon is in his third year on staff for the Communicator. He has an attention span of one minute and is Literati Coffee's biggest fan. Verlon enjoys playing guitar and using his musical skills as a means to procrastinate doing his homework. He loathes the cold and hopes to go to college somewhere warmer, possibly in California. You can find him zipping around Ann Arbor on his red Vespa.