Deconstructed Film: The Ann Arbor Film Festival's Legacy
Cinema has been around for over 100 years, but the technology and content behind movies has evolved from the beginning of the medium to now. What 'going to see a film' meant a hundred years ago versus what it means today entails two starkly different things.
From film to digital, the Ann Arbor Film Festival (AAFF) hopes to further the art of film. The AAFF is the oldest experimental film festival in North America. It has been playing avant-garde films since 1963.
"What was meant by film then was celluloid… the physical piece of stuff," said Leslie Raymond, the Executive Director of the AAFF. "You could still say you were going to see a 'film' over at the theater, and it has maybe been completely shot on digital and edited on digital."
Raymond has been the Executive Director of the AAFF for three years and an on-and-off volunteer member for 25. Being a filmmaker herself, she hoped that she could give back to the film community by directing the film festival.
"When the opportunity came up to apply for the job of Executive Director, it was really an opportunity for me to give back to this cultural icon of an event that really defined a lot of who I was as an artist," Raymond said.
This year will be the 55th annual AAFF event, which will take place from March 21 until March 26. Along with showing ten movies shot on film, the festival will feature 120 independent films that focus on pushing the boundaries of mainstream cinematography.
"It will not be like when you go to the Cineplex, there is kind of a standard formula," Raymond said. "And it's not to say it's not entertaining or worthwhile, because it certainly is. But that part of the bold vision of our filmmakers, these are artists who are looking to try to say something in a different way, or is there something about the medium that can be used to express that."
For many, this alternate approach to cinema is what makes the festival appealing. Eric Hughes, a sophomore at Community High School, has attended the AAFF for the last two years. He believes film appreciation is the common denominator that brings people together for the AAFF.
"With the AAFF, a lot of local people get to submit their films," Hughes said. "And I think it really encourages film literacy, because people can understand the medium more by realizing you can do so much more than just tell a story about a person. People realize that you can do so much more. Also, it helps bring the community closer because people from our own community are submitting movies into it."
The AAFF was founded by George Manupelli, who was a Professor of Art at the University of Michigan. He was a painter and collage artist who made films and taught film to his art students at U of M. Manupelli was involved in the 'ONCE Group,' a group of artists based in Ann Arbor in the late fifties and early sixties. Through artistic collaboration between a variety of composers, musicians, architects and filmmakers, the AAFF was born.
Manupelli passed away in Sept. 2014, but his legacy lives on. The following year, the 53rd AAFF was a tribute to his works and accomplishments. "A lot of people who had been involved with the festival in the early days and had known George came here to speak at the tribute, and it was incredible," Raymond said. "And these are people that would never consider going to a reunion, so this is the closest thing that they would ever have. It was really moving."
When Manupelli first started the AAFF, it only exhibited works captured on 16mm film. During its early days it also featured nudity in a multitude of its films, which led to accusations by the media of showing public pornography in 1965.
"I know that our founder always said that he'd like to see a lot more sex and nudity in the films again," Raymond said. "And when we celebrated the 40th [film festival], I remember calling up filmmaker Bruce Bailie and asking him 'We are celebrating the 40th, and we are going to do a parade' and stuff, 'What do you think would be a good way to celebrate?' And he said, 'Oh, put in naked roller skaters!'"
The AAFF dared to be different from the start, and the prevalence of nudity in its films arose out of the counterculture of the time. Throughout the years, it has featured prominent artists like Andy Warhol, Yoko Ono, George Lucas and many more influential filmmakers.
Unlike other film festivals, the AAFF strives to showcase the work of artists while maintaining an atmosphere that is not driven by outside business interests. With many film festivals, Raymond said that the distributors play a large role in the type of films that are showcased. "Part of it is the prestige, but a big part of it is that's the marketplace," Raymond said. "You have got an audience of people that are not only interested in looking at your work, but of people interested in distributing it, by whatever means."
The AAFF receives about 2,500 submissions per year, which eventually gets narrowed down to about 120 films that will be shown in the festival. Last year, Raymond said that about 40 percent of filmmakers were invited to showcase movies in the film festival but never had their movies go through the screening process.
This year, Raymond wanted to make the screening process more democratic by reducing that percentage of 40 percent to under 10 percent, which would allow for a larger range of filmmakers to be entered into the festival.  
"I think in our recent past, the process kind of got a little bit narrower, and corners got cut a little bit," Raymond said. "With our bringing in a new associate director of programs [Katie G. McGowan] on board, we have a chance to reset our process."
The selection process is especially narrow because the festival wants to showcase the best of the best. And according to Hughes, creating the perfect experimental film is not easy to get right. "I think it depends on how well it's done, because in the world of experimental film, you really have to show technical merit," Hughes said. "And you also have to have some real themes and coherence for it to really feel like it moves together well. Because I think that with experimental [film], it's such a broad category that you can pretty much do whatever the heck you want and just slap the title 'experimental' on it."
And for those who are apprehensive about getting into experimental film, Raymond recommends going to the animated films and competition program. "Last year we had 1,000 people show up for that program," Raymond said. Raymond believes that the animated films and competition program is well suited for those skeptical about watching experimental films because of its more recognizable form. The animated films and competition program is on Friday, March 24 at 9:30 p.m at the Michigan Theatre.
For skeptics and movie-fanatics alike, Raymond hopes that viewers will come away from the festival with a new perspective on film as an art form. She believes that watching experimental film is no different than staring at a painting on a wall in the way it should be interpreted. And, like a painting, people can connect to the films they watch on an emotional level.
"You and I might see a film together, and we might see some of the same things, but we also might have a completely different experience," Raymond said. "It's like the film or the artwork is a mirror, and that you reflect yourself into it. So what you see is partly the film, and it's also partly you."
Leave a Comment
About the Contributor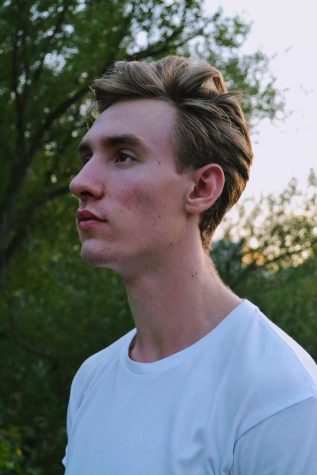 Sacha Verlon, Opinion Editor
Sacha Verlon is in his third year on staff for the Communicator. He has an attention span of one minute and is Literati Coffee's biggest fan. Verlon enjoys playing guitar and using his musical skills as a means to procrastinate doing his homework. He loathes the cold and hopes to go to college somewhere warmer, possibly in California. You can find him zipping around Ann Arbor on his red Vespa.