Oregon Escapes Upset-Minded Michigan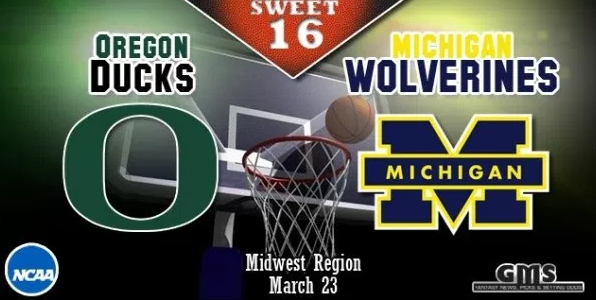 The Michigan Wolverines came out of the gates in a similar fashion to their previous two NCAA Tournament games. Their highflying offense looked to be in a daze as they struggled, possession after possession, to find high percentage shots.
  With Pac-12 Player of The Year, Dillon Brooks, being shutdown by Wolverine forwards Zak Irvin and D.J. Wilson, and Oregon's leading tournament scorer, guard Tyler Dorsey, shooting poorly throughout the first minutes, the Ducks looked elsewhere for offensive help. Big man Jordan Bell answered the bell, dropping in a number of nifty finishes around the rim, and winning the the matchup with Michigan center, Moritz Wagner.  
  After picking up a second foul with seven minutes to go in the first period, D.J. Wilson headed to the bench, propelling Michigan's Derrick Walton Jr. into attack mode. After trailing by five, Walton Jr. led the Wolverines on a run as he knocked down several contested jump shots and racked up an assortment of assists, the most impressive of which coming on a broken play as he picked up a loose ball and flung it behind his back to a streaking Zak Irvin for an and-one basket. However, Oregon battled back in the closing minutes of the half as guard Tyler Dorsey, found his shot, showcasing an array of offensive moves from all over the court.
  After a back and forth first half, where neither team gained more than a five point advantage and both the Ducks and Wolverines shot well under forty percent. Oregon entered the break with a 35-33 lead.
  With no team gaining a distinctive edge, Oregon came out firing to start the second period. Tyler Dorsey continued to backup his teammate-given nickname of "Mr. March," and after a disappointing first half, Dillon Brooks picked it up, hitting a pair of three-pointers early. Jordan Bell continued his monstrous performance, throwing down a ferocious alley-oop slam as well as bringing down several key offensive rebounds. On the defensive end, he showed his prowess which earned him the Pac-12 Defensive Player of The Year, as he stonewalled Michigan's hero vs Louisville, Moritz Wagner, holding him to seven points on three of ten shooting from the field.
  With under ten minutes to go, Michigan's seniors, Irvin and Walton Jr. ignited the lifeless Michigan team in hope of extending the Wolverine's magical run and their careers along with it. Like so many times in years past, the duo single handedly brought their squad back. They hit deep three pointers, incredible, off-balance mid-range shots and finished tough layups in the face of Oregon's shot blockers.
  With two minutes to go, the Wolverines held a three point lead after a Walton Jr. made a jumper. Soon after, Jordan Bell flew in, collecting an offensive rebound before laying it back in for his 15th and 16th points of the game. On the Duck's next possession, Tyler Dorsey darted through the lane for a quick layup to give his team a one point lead with a minute remaining. Jorden Bell collected a crucial offensive rebound on Oregon's final possession, forcing the opposition to foul, sending guard Dylan Ennis to the line and after missing, the Wolverines were gifted one final chance.
  The Detroit native and heart and soul of the Michigan Wolverines, Derrick Walton Jr., pounded the basketball onto the arena's well lit, hardwood floor. He slowly sized up his opponent before crossing the ball over while simultaneously stepping back. His defender fell back on his heals and Walton Jr. had the perfect opportunity. He rose and let the ball fly. His final college shot. It clanked off the side of the rim, and just like that, Jordan Bell collected his game leading 13th rebound as the buzzer sounded. Oregon won 69-68.