It's On Us
When thinking about inspirational songs, "It's On Us" by AJR is definitely one that comes to mind. The indie-pop group, formed by Adam, Jack, and Ryan Met, created their band back in 2006 in their New York apartment, starting with their first "big" single being "I'm Ready." However, AJR's newest song "It's on Us" was made to support Barack Obama and Joe Biden's organization It's On Us, which campaigns for women's rights and changing the conversation on sexual assault.
When AJR first heard of this organization, they knew they wanted to be part to be part of the conversation, as stated by MSN's interview with the group. So the group started helping in the only way they knew how: making a song. They have been crafting this song since 2014 and debuted it on Jan. 14, 2017 at President Obama's Final Star-Studded Party. However, the group decided to hold back on the release of the song until March 31, the final day of the group's tour, tantalizing fans with sneak peeks of the song.
Over the three years the AJR has spent crafting the song, they met with sexual assault survivors and made their song for these people. In the verses, the group takes an approach of apologizing and as the song moves to the pre-chorus, the lyrics talk about trying to fix the past and moving forward. "Nobody knows what you're going through / Come out of the cold, we'll take the load / And if they hurt you with words so cruel / Here's what we'll do, we'll all fight for you".
AJR, who broke onto the scene as a pop group, has slowly moved into the electronic pop world. However, on this track, you can feel their roots of pop music and the respect they have for not only for the song but for the people listening to it as well.
AJR's newest song "It's On US" talks to the listener about changing the way sexual assault is perceived in our society. This song achieves SOTD status for one reason and one reason alone: It attempts to give hope to those who have suffered sexual assault and makes people who have not want to do everything they can to stop it. Since my vocabulary will not give this song justice, have a listen to it for yourself.
Leave a Comment
About the Contributor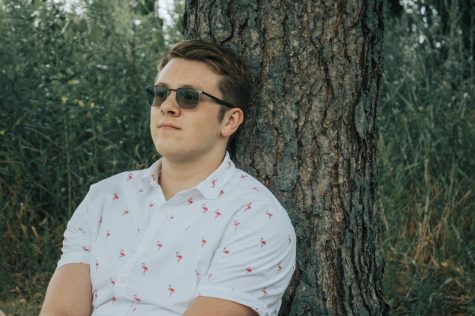 Atticus Dewey, Print Editor-in-chief
Atticus Dewey is a senior at Community High School and is more than excited to start his fourth year on The Communicator staff. This year, he is one of the four Print Editors-in-Chief, but believes that the entirety of the staff is more skilled than any other year prior.
His life outside of journalism is completely absorbed by one thing: water polo. While Atticus doesn't have any free-time because of it, he wouldn't have it any other way. While Atticus has felt stressed and like time has been flying by, he's grateful that he has three other wonderful editors to help him through the process.