1-800-273-8255
Robert Bryson Hall II— more popularly known by his stage name Logic —came out with his song, 1-800-273-8255 on April 28, 2017. The song's name "1-800-273-8255" is the phone number to the National suicide prevention hotline; which makes sense to due to the song's topic of suicide. The song shows a conversation between a person who feels like they have no option other than suicide, and a suicide prevention operator.
In the first verse, a person who feels as if they have nowhere else to turn calls the hotline and expresses why they wish to commit the act. In the second verse, the song covers the words of the hotline operator. The operator proves that committing suicide is a permanent solution to a temporary problem. Finally, in the third and final verse, the caller's voice comes back on the line to talk about their new perspective on the world around them.
In a collection of tweets, Logic responded to the feedback he got about the song. "I met these people on tour, just fans that I met randomly, and they've said things like, 'Your music has saved my life. You've saved my life.' I was always like, 'Aw so nice of you. Thanks.' But then I was like, 'Man I wasn't even trying to save nobody's life.' And then it hit me, the power that I have as an artist with a voice. I wasn't even trying to save your life. Now, what could happen if I actually did?"
Since Logic debuted his song, calls to the hotline have risen up by 33% and Google searches by over 100%. The website which was getting around 300,000 unique visitors now gets up to 400,000 people per month and those numbers continue to rise.
Leave a Comment
About the Contributor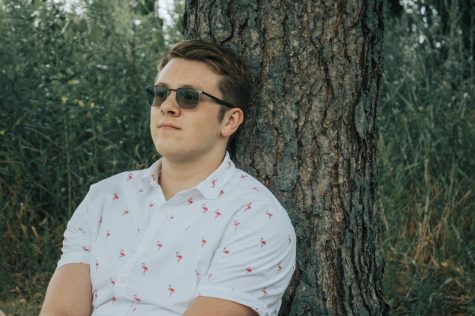 Atticus Dewey, Print Editor-in-chief
Atticus Dewey is a senior at Community High School and is more than excited to start his fourth year on The Communicator staff. This year, he is one of the four Print Editors-in-Chief, but believes that the entirety of the staff is more skilled than any other year prior.
His life outside of journalism is completely absorbed by one thing: water polo. While Atticus doesn't have any free-time because of it, he wouldn't have it any other way. While Atticus has felt stressed and like time has been flying by, he's grateful that he has three other wonderful editors to help him through the process.