Before and After Irma, Dominican Republic
Irma and Maria. Two weeks ago those names meant nothing. Now, they will never be forgotten. Causing devastating damage in the throughout the Caribbean and into the United States. However, almost all of the main stream media is just covering the (minimal) damage in the US.  
No, I do not want to undermine the suffering and damage caused by these Hurricanes in Florida and up the east coast, but compared to the damaged caused in the countries in the caribbean — Puerto Rico, the Virgin Islands, Barbuda, Turks and Caicos, Cuba, Dominican Republic – the damage was minimal.
Hurricane Irma made landfall in the US Virgin Islands around 6 AM on Tuesday, Sept. 12 as a category 4 hurricane. Irma was still a category 4 hurricane as it hit Dominican Republic. By the time it made landfall in Florida, Hurricane Irma was labeled as a category 2 hurricane.
When searching "Hurricane Irma" on Google, 6 of the first 10 articles are about destruction and damage in Florida. 1 of them is the Wikipedia page. And the other 3 are about the caribbean islands that took the brunt of the storm.
Over last summer, I spent two weeks in the Dominican Republic on a service trip building homes for people who lived in tin shacks. Over the two weeks, we made one home – for seven people. There are thousands of people in the DR living in an impoverished community.
The houses that were hit in Florida were much beyond the structural level of those in Dominican Republic and surrounding countries.
"The bad news is that this is some big monster," Donald Trump said on September 10, 2017. What he meant by that was, that winds can range from 131 to 155 mph and can cause catastrophic damage to property, humans, and animals.
According to the National Weather Service website, well-built framed homes can sustain severe damage with loss of most of the roof structure and/or some exterior walls. Most trees will be snapped or uprooted and power poles downed. Power outages will last weeks to possibly months and most of the area will be uninhabitable for weeks or months.
However much of a "monster" Hurricane Irma was to the United States, it only hit the tropical islands as a Category 4 Hurricane.
Despite the fact that after Hurricane Maria, 100 percent of Puerto Rico is without power, the fact that Puerto Rico is a territory of the United States, the fact that there was no evacuation route possible for the isolated islands, the fact that the structure of the homes there at exponentially worse than those in the United States, and the fact that there was (point blank) more damage caused in these islands, there has been minimal reporting, support and aid provided for those countries.
Seeing images and videos of post hurricanes, the airport I once landed in 12 weeks ago is now unrecognizable, leaves me shocked.
But knowing that the people I met and helped better their lives, have now lost everything they own and love,breaks my heart.
An island of 3.4 million American citizens (more than many states) has been in complete darkness for the foreseeable future. On Tuesday, six days after Maria hit Puerto Rico,  Trump (finally) made disaster statement during a press conference with the Spanish foreign minister at the White House.
"All available resources, including the military, are being marshaled to save lives," he said. He went on to say that the people of Puerto Rico "are important to all of us."
The president's comments were very delayed and somewhat insincere. It has been over a week and Trump have yet to visit the American Territory.
All in all, the damage in these impoverished countries is devastating for any country, but especially for these isolated islands with unstable structured homes.
Leave a Comment
About the Contributor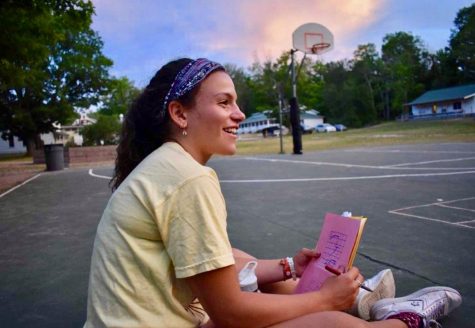 Cammi Tirico, Print Editor-in-chief
Cammi is in her fourth year on staff and is a senior at Community. This is her second year making up 1/4 of the print editor-in-chief team. When not working on The Communicator, she can be found playing golf and basketball for Skyline, lawyering at Mock Trial, singing camp songs off key at Camp Al-Gon-Quian or climbing trees. Cammi's favorite part of journalism is when an interviewee says something special or powerful out of the blue. Two averagely fun facts about Cammi are that 1 ) she is scared of lightning but loves rain and 2) her favorite shape is a triangle.