My Happiest Place
Chava Makman-Levinson is happiest perched in the loft that overlooks her bedroom wrapped in cozy blankets with a warm cup of tea, 2008 Taylor Swift music playing, and a good friend.  Makman-Levinson sat in her loft on Sunday, Sept. 10 for the first time since the summer.  She began every morning and ended every night she was home in June, July, and August in the loft, but with all the business of school and homework she had not been up to her special place in almost a week.  
Makman-Levinson wishes she had been able to spend more morning in her loft, but she spends the majority of her summers out of town.  
There are few places dearer to Makman-Levinson than camp Al-gon-quain, where she has spent part of her summer for four years. "I've been going there forever and it's like my second home." Makman-Levinson said.  Her favorite part of camp is being constantly surrounded by good friends in a naturally beautiful place.
In contrast to the month Makman-Levinson spent at camp surrounded by peers constantly in July, she spends August in Montauk, New York with her mom, dad, nine year old brothers, and grandparents.
She wishes she were closer with her twin little brothers, Jonah and Elijah Makman-Levinson, but finds it hard to relate to them, given the six year age gap.  Chava Makman-Levinson is lucky enough to have found friends her own age in Montauk, through art classes she takes on an old beached ship, turned into a studio, called "The Art Barge."
Makman-Levinson loves spending time in New York and is very thankful for the opportunity to form a close relationship with her grandparents and to spend time in such a beautiful and desired place, but has trouble being away from home for so long.
Makman-Levinson is very attached to her friends which makes it hard for her to be away from them.  Even though she misses people back home she loves the beautiful New York beach.  "I love the beach so much.  We go every day that it's sunny, it's the most beautiful place in the world." Makman-Levinson said.
"The best and most anticipated moment of my whole summer was when I got back from Montauk and all my friends were there at my house waiting to greet me.  It was so nice and sweet and made me feel so loved and excited to be home." Makman-Levinson said.
"Freshman year was the best year of my life, and I bet sophomore year will be even better."
While Makman-Levinson is enthusiastic for the upcoming school year, she worried that people she used to enjoy spending time with have gone down paths she does not want to go down.  She wishes with all her heart that her old friends would realize that they don't need drugs or alcohol to have a great time. "Sober fun is by far the best fun, I wish everyone would realize that." Makman-Levinson said.
Makman-Levinson recognizes that high school is a time of massive change, good and bad, and is excited to navigate the next three years with the help of her good friends and caring family in the comfort of her little, grey, cozy loft.
Leave a Comment
About the Writer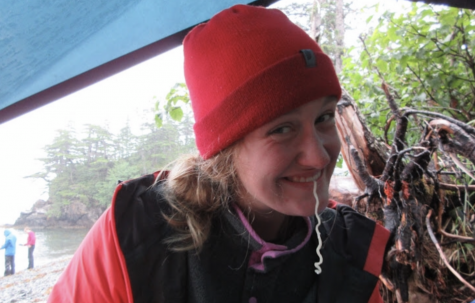 Ruby Taylor, Managing Editor
Ruby Taylor is a senior, and is currently in her sixth semester on Communicator staff. She loves all living things with every ounce of her being... except she hates creepy crawly crustaceans. She works as a barista at Argus Farm Stop, Mock Trials (yes it's a verb!) at CHS, and reads Reese Witherspoon's book picks in her free time. She is an INFP and her favorite word is cozy. She is a Gemini, but if you really want to understand her, recognize that she is a Pisces moon. She loves rain and the arb and her friends and taro milk tea.