The George Washington University Experience
With the Common App deadline in sight on Jan. 1 and the early admission deadline right around the corner on Nov. 1, some Community High upperclassmen are yanking their hair out over which colleges to apply to. Luckily, many colleges come to Community in search of prospective students, which can make the choice a lot easier.
George Washington University's assistant director of admissions, Connor Luong, visited the school last Thursday on Oct. 12. To an admissions counselor like Luong, schools with a unique structure stand out amongst the plethora of standard schools.
"For me, when I am typically looking at schools to visit, I don't like to look at run-of-the-mill, cookie cutter schools," Luong said. "I like to reach beyond the bounds and try my best to find a variety of schools to visit and a variety of schools to come visit."
On the other hand, what does George Washington (G.W.) have to offer that other schools do not? Firstly, the university has one of the highest ranked journalism programs in the country; it was ranked 10th on USA Today College last year. It was also been named the top school for internships by the Princeton Review in 2015 and 2016.
"Because of the resources we have around us, we are allowed to provide our students with really world class internships, part-time jobs and research opportunities that really aren't available anywhere else," Luong said.
G.W. is a medium-sized research school that has about 10,000 students. It is a relatively selective school, admitting only 39.5% of those who apply. Although G.W. is a strong academic school, Luong believes that college isn't just about going to class, eating, and sleeping. The G.W. experience extends beyond the classroom.
"College is also going to class and having experiences outside of the classroom," Luong said. "Join a club or organization, get a job, have an internship, do research… I would also say don't be afraid to make friends. That is a lot easier said than done, but I think that people tend to hold onto one social group in college, but there are so many people in college to meet that you can constantly be making friends and meeting new people."
One of the most stressful things about the college search is filling out the applications. Luong, who has previously visited and read the applications of many students from Connecticut and Northern California, believes that the personal essay is the most important part of the application. But don't get too hung over about sounding as smart as possible; colleges still want to read applications that sound like they are written by young adults.
"I think sometimes students write an essay and they get really stressed about it, so they have a million people read it and edit it to the point where it doesn't sound like them anymore," Luong said. "One big piece of advice to kids who are filling out the application is at the end of the day, reread your college personal essay and make sure it sounds like you."
Leave a Comment
About the Contributor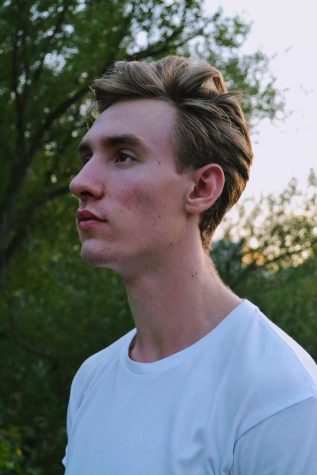 Sacha Verlon, Opinion Editor
Sacha Verlon is in his third year on staff for the Communicator. He has an attention span of one minute and is Literati Coffee's biggest fan. Verlon enjoys playing guitar and using his musical skills as a means to procrastinate doing his homework. He loathes the cold and hopes to go to college somewhere warmer, possibly in California. You can find him zipping around Ann Arbor on his red Vespa.