Life in the City
Growing up in Manhattan, New York was the best experience of Maria Esposito's live. "I was a city girl," Esposito said. "We were living in the center of the city; we had central park as our back yard."
Esposito grew up on the west side of Manhattan in a neighborhood where everyone knew each other. "People never had to lock their doors, it was so safe," Esposito said.  "And knowing everyone in the neighborhood, they knew all of the children. So there was always someone watching out for us. We were able to play in the city streets, the boys used to play kickball in the streets."
Alongside her three siblings, she attended Blessed Sacrament Grammar (elementary and middle) School, a Parochial, as now referred to as Catholic schools, school just two blocks from their 4th story apartment.
In 7th grade, Esposito had a nun named Sister Jofifa Roser and they became "best buds." At that point in Esposito's life, she was attending mass every morning, and the nuns came to believe that she had a calling; the nuns would ask if Maria was available on the weekends for her to come to the convent and help out with chores. This evolved into the Sisters informing Maria on all of the things that a novice could do.  "I would say, I love God and I am super religious but I don't know if . . . I could ever do that," she said. By the time Esposito was in eighth grade, she had convinced them that Sisterhood was not a passion of hers and she was going to go on and further her education.
After Esposito graduated Blessed Sacrament Grammar School, she went on to attend the all girls Blessed Sacrament High School. Esposito attend BSHS for two years before transferring out and enrolling at Thorpe Secretarial School on the east side of Manhattan.
During eigth grade, Esposito's family moved from Manhattan to Whitestone, Queens. Not wanting to change schools, Maria made the hour long commute to school every morning. "I hated Queens, I hated it," Esposito said. "I cried every night coming home because I felt like I was in the wilderness."
While attending Thorpe, Maria worked part-time at a department store. After graduation and 12 years of perfect school attendance, Esposito was offered a position on the Human Relations department. She worked there for six years until her son, Michael Todd Tirico, was born.  
Maria and Mike moved across the street from her childhood house to a two bedroom townhouse in Whitestone. Esposito said she started to like Queens when she began to work full time and realized the city was changing culturally and Queens was becoming more and more developed.
Raising Tirico alone, Esposito wanted to have a job that matched school hours. She went to work as a bank teller. Before work every morning, Mike would go across the street to Maria's mom's house, eat breakfast there and get ready for school. "That was the only way I had peace of mind — going to work, knowing that grams was taking care of him," Esposito said.
Being a single parent, Maria had to "play the role of the mom and dad."
Growing up Mike constantly struggled with Asthmatic Bronchitis, food allergies and dental problem, but despite that, Maria says her son made life very easy. He was well behaved, polite, a good student and a hard working kid.
Through just the two of them lived in the house, "It wasn't easy raising him alone, I had such a loving family surrounding that little kid. They supported him with whatever he wanted to do" Maria says.
From a young age Mike knew he wanted to become a sportscaster. And he chased that dream. With the help of the entire family, Mike was able to attend Syracuse University. "When he went to college, I was devastated because he was my right arm." said Esposito.
"It was an unbelievable experience," she said, reflecting on her life. "When you look back you say. . . how'd I do it?  But you do and it makes you stronger and bolder. And when you are the only person, you do it all. You don't even think about it, you just do it."
Leave a Comment
About the Contributor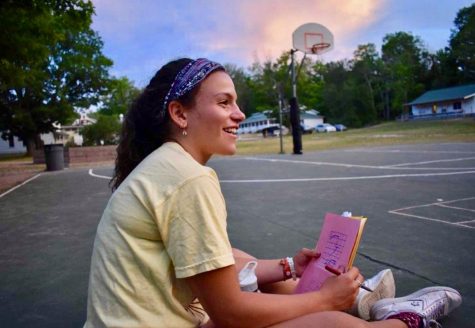 Cammi Tirico, Print Editor-in-chief
Cammi is in her fourth year on staff and is a senior at Community. This is her second year making up 1/4 of the print editor-in-chief team. When not working on The Communicator, she can be found playing golf and basketball for Skyline, lawyering at Mock Trial, singing camp songs off key at Camp Al-Gon-Quian or climbing trees. Cammi's favorite part of journalism is when an interviewee says something special or powerful out of the blue. Two averagely fun facts about Cammi are that 1 ) she is scared of lightning but loves rain and 2) her favorite shape is a triangle.