NBA Rookies To Watch Out For During The 2017-2018 Season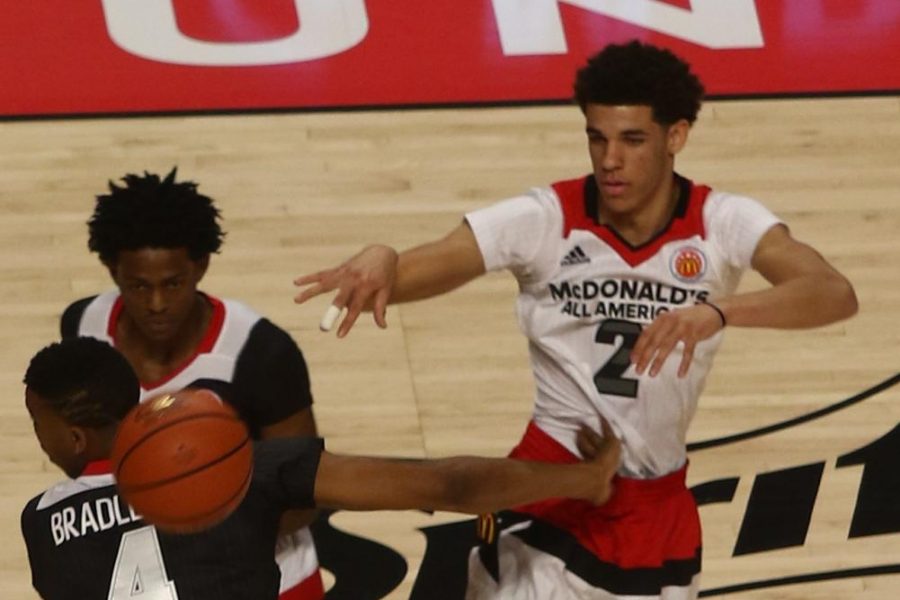 The 2017 draft class is definitely the most hyped draft classes in recent years, with the most star power and high profile athletes since the 2003 draft— which produced multiple hall of famers, all-stars, and all-NBA players: Lebron James, Carmelo Anthony, Dwyane Wade, Chris Bosh, etc. Even though there is a huge surplus of talent in this freshman class, there are some who outshine the rest; these are the NBA rookies you need to watch out for in the 2017-18 NBA season:
Lonzo Ball is the most hyped NBA prospect since Lebron James, and for rightful reasons. He possesses unmatched court vision and passing ability, already receiving comparisons to a young Jason Kidd—a Hall of Fame point guard—and has an impact on team success that can't be taught. He is in an ideal situation with the Los Angeles Lakers, where he can take the reins of the franchise right away while learning from Magic Johnson, who is widely considered the best point guard to ever play. He has an unorthodox jump shot and a slight frame, which may cause him to have difficulty scoring against NBA length and athleticism. However, his game and passing ability translate to so many scoring opportunities for his teammates, that his potential scoring deficiency can be overwritten. Although the Lakers' roster doesn't necessarily jump off the page, watch out for them to win more games than expected this season with Ball's help.
Dennis Smith Jr. was the consensus first choice point guard prospect in the class of 2016 going into his senior year of high school. Unfortunately, he tore his ACL before his senior season, which plummeted his draft stock heading into his one and only year at NC State. Like many uber-athletic prospects who had similar serious injuries, many NBA front offices had apprehension when deciding if they wanted to draft him early in the lottery. Despite scout concerns, Smith played well at NC State, even though he was surrounded by subpar talent and a bickering coaching staff. Like Ball, Smith is ready to take the reins of his franchise, the Dallas Mavericks, and lead them out of their rebuilding phase.
Jayson Tatum is the most developed rookie heading into this season. He possesses the skills, technique, and isolation footwork that make him look like a five year NBA veteran. At times, he can be a ball stopper, with an isolation-heavy game that he displayed primarily at his one and done season at Duke, but he proved during the summer league that his scoring is not only efficient but effective. Standing at 6'8", with a standing reach of 8'11", Tatum has the defensive potential and physical gifts to be effective on both sides of the court. Although not an exceptional athlete, Tatum does have surprising speed because of his length in the open court and has the ability to blow by his defender and finish at the rim, which widens his scoring versatility immensely. In coach Brad Stevens' (Boston Celtics' head coach) position-less offensive scheme, Tatum should work beautifully switching between the forward positions, scoring inside and outside.
Ben Simmons was the first choice pick in the 2016 draft but didn't play all last season because of a foot fracture. Now he's back, and with reports from multiple sources that he grew at least 2 inches since he was drafted—was measured at 6'10" with shoes in his freshman year of college—he will most definitely be a force leading the Philadelphia 76ers as the primary facilitator. He was already coming into the NBA being heralded as a fantastic rebounder, but his extra size now gives him even more of an advantage. Simmons' unique mix of passing ability, size, ball handling, rebounding, and naturalness to his game is a bonafide goldmine to any NBA team. He is a terror in the open court, with his natural finishing ability and passing IQ, and will most definitely create problems around the basket on the defensive end. Still, the one drawback to Simmons' game is his jump shot, which has been suspect, to say the least. Not only will this weakness take away from his driving ability,—the defense will sag off, making it harder for him to get to the rim—it will also severely limit his offensive ability in the half court setting.
De'aaron Fox headed quite an exceptional draft class for the Sacramento Kings. Not only did they draft a potential star talent in Fox, but they also surrounded him with versatile, young talent, such as Harry Giles, Justin Jackson, and Frank Mason III. Fox is quite possibly the fastest player drafted since John Wall was picked #1 overall in the 2010 draft. His speed in the open court is unmatched and can pick apart defenses with his pull up mid-range jumper and his combination of runners and floaters. He is also a two-way player; not only can he get hot offensively, he can also lock down the other team's best scorer at the same time. Although Fox was a fantastic shooter in high school, his 3-point jumper was inconsistent at best during his freshman season at Kentucky, and the adjustment to the NBA 3-point line will be a challenge for him. Furthermore, he lacks some physicality around the basket. He tends to avoid contact, due to his smaller frame, and will not get the usual foul calls that he could if he initiated contact.
Bam Adebayo, drafted 17th overall by the Miami Heat, is an interesting prospect at the center position. When he was first being scouted, Adebayo drew many comparisons to a young Dwight Howard; he is an athletic defensive force, who would be a reliable lob target and finisher in the pick and roll. However, Adebayo showed during Summer League that not only could he do the traditional duties as a center, but so much more. Although he does not possess the overwhelming size that many traditional-center prospects have, standing at only 6'10, he has a certain fluidity and versatility to his game that is unmatched by many players at that position: he can handle the ball up on the fast break, finish in traffic, block shots, lock down on the defensive end, rebound, shake his man, and pull up for the mid-range jumper. In addition, he is also abnormally fast and agile for his size, allowing him to outrun his defender in the open court, which creates easy baskets for him and his teammates. If he reaches his potential, Adebayo could easily become a 6'10" Draymond Green—an all-star level player, a defensive stopper, and a key component of a championship team. Even though there are not many weaknesses in his game, Adebayo has not shown the ability to shoot the 3, which could severely limit his success in the long term. He will not have difficulty scoring, but the absence of a 3-point jumper will not stretch the floor for his teammates, making the defense more concentrated in the paint. Although Adebayo never takes 3-pointers, he has a good-looking form on his jumper, and could easily expand his range to behind the line.
Although the 2017 NBA Draft was jam-packed with young talent and potential stars, only time will tell whether these prospects live up to their expectations. However, out of all of the players drafted, these are the ones who will best translate their game to the NBA level.