Mitch Albom's "The Five People You Meet in Heaven"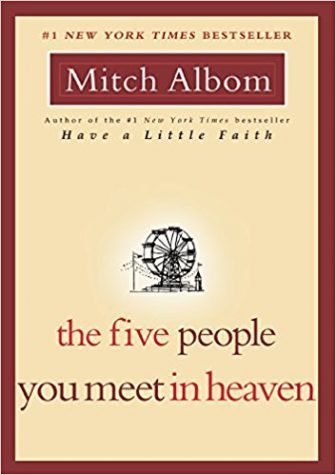 Mitch Albom–an amazing writer of books, plays, and even films–delights us with a melancholy story, that proves to be just as inspiring as his other creations.
This is a tale of man whose life has just come to an end unexpectedly and he suddenly meets five people in Heaven who explain his life. Each character becomes more than just a person in a story. Mitch Albom really brings his characters to life in his writing. They become people that could be your oldest friends. The main character Eddie goes through a process of knowing and learning what his life meant in the world. He also learns the stories of the others he meets.
Within the story, Eddie and the reader are sent through emotional journey of understanding the main character's life meaning. As the reader you feel like Eddie's shadow, experiencing the story with him, feeling his anger, confusion, and sadness as though you are him. Many of Mitch Albom books cover deep topics and bring hard emotions to the surface. One of his other books "Tuesdays with Morrie" retells the same message of having someone teaching and explaining life to you.
Eddie is a maintenance man at a local pier and has been there for years, but he is dreaming of another place. After he dies, he believes that his life was useless. He was expecting Garden of Eden, instead he came to the place he wanted to leave the most. That's when he meets his first person and they taught him the lesson of "No life is a waste." He goes on to learn about selfless sacrifice, lives rewinded, love, and his purpose in the world. The story ends with him finding his heaven and waiting as one of five for the next person.
A timeless tale defines the book perfect. I find the story heartwarming, hopeful, and soulful. Any deep thinkers out in the world would love this book. It really grabs you and makes you really feel emotions that–at some moments–are overwhelming. It makes you really think about your life and legacy, wondering if you are important in the grand scheme of things. The ending really shocks you, but you walk away feeling complete in life, knowing that it will be ok in the end. The story really shows just how everyone is connected by one big story.