Skyline's Brandon Wade Commits to Duquesne University
Star point guard for Skyline High School basketball Brandon Wade recently committed to Duquesne University in Pittsburgh this October. Wade has started for Skyline's varsity team all three years of high school. He plays for One Nation for his father Keith Wade during the Amateur Athletic Union season in the spring. He also received offers from the University of Toledo, Eastern Michigan, Central Michigan, and Akron University.
During Wade's freshman year, he started at small forward. Mainly being a defensive specialist while learning how to score, he won defensive player of the year for SHS. Averaging six points per game as the Eagles went 14-6 and lost in the first round of districts.
That summer, Wade received his first Division one scholarship to the University of Toledo. His father Keith Wade played there and is still third in the school's all time assist leaders. During the Amateur Athletic Union season, Wade played for the Gators, who were the state's best AAU team and were top 25 in the country.
Wade's sophomore year started with a lot of hype for him. The team's two leading scorers from the previous year Jonathan Muir-Cotton and Marshall Alexander White had graduated, leaving Wade and guard Jack Ammerman as the only returning starters. Wade led his team to a 13-7 record and averaged 17.2 points per game. He was all-SEC first team and began picking up more scholarships throughout the year.
SHS lost to Pioneer High School in the districts. But three of the five starters were sophomores and the other two were juniors. 2017 was going to be the year for SHS basketball.
Wade's junior year was when his true potential began to shine through. Averaging 20.2 points per game, scoring 34 against top ranked Belleville High School, and winning the Ann Arbor player of the year were all signs that Wade was a star. SHS went 15-5 and won the conference championship in the regular season.
However, SHS was upset by rival Huron High School in the district semifinal. SHS did not play well as a team and lost by eight.
Earlier this month, Wade committed to Duquesne University via Twitter.
"The coaching staff, players, and city life just felt like home," Wade said about Duquesne after he committed.
Wade is about to play his senior season and is looking to lead SHS to a district title. Skyline looks like it will contend for a regional championship with their lineup this year, with coach Mike Lovelace, who has been coaching since the school's creation in 2008. Wade's decision on Duquesne may seem like the end of his high school career, but he is still far from giving SHS basketball the district title he wants.
Leave a Comment
About the Writer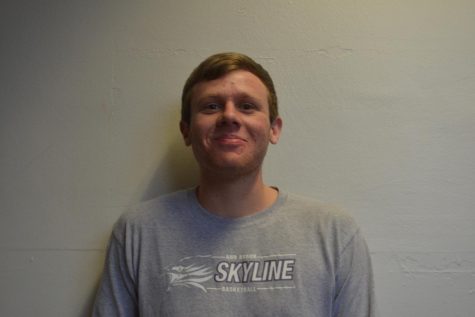 Spencer Morgan, Journalist
Spencer is a Junior at Community High School. This year is his first year on the Communicator. He is very into sports and is a diehard fan for any professional sports team that plays in Detroit. Basketball is his favorite sport and he plays it at Skyline High School. Spencer has binge-watched "The Office" twice and still watches it every day because he can't get into any other TV show. He is very into 90s rap, action movies, and his favorite restaurant is Knights. Spencer wants to be a detective when he grows up because he has always wanted to kick in a door.