A leader in the making: Rebecca Westrate's first year as dean
In 2007, Rebecca Westrate, the newly employed assistant principal at Hamtramck High School in Wayne County, stepped foot into Community High School's main office: her job was to analyze what made a successful school. Her previous knowledge with Community High School – an alternative high school in Washtenaw County – was that it was a school able to create a safety net for all students with its unique open campus and Forum class. She was intrigued as to how the students were learning, and met with teachers across the school.
Even a decade later, after her initial visit, she remembered meeting with CHS' esteemed English teacher Judith Dewoskin. She remembered the feeling of a cohesive network of students and teachers working together to create something different: the feeling that all students had access to the support they deserved. Westrate knew that the staff, students, and learning program were something exemplary.
So when the position for assistant dean opened up, she applied.
10 years after her initial visit, Westrate became the new assistant dean of CHS starting in the 2017-2018 school year.
Westrate grew up in Grand Rapids, Mich., and was raised by her father, who was a social worker, and her immigrant mother who was a public health nurse. Both were passionate about social justice, and Westrate said that they were giving and respectful people who imprinted lifelong values on her.
"People that were different, or even people that my parents didn't agree with x-y-z, never were put down," Westrate said. "Everybody deserves respect. Differences between us are strengths."
Growing up with her parents, Westrate attended Calvin Christian High School in Grand Rapids. Westrate was able to frolic on the beaches and enjoy the outdoor life of Lake Michigan. But her joyful high school experience contrasted with the schools she worked with in the lower-income Metro-Detroit area at Highland Park Community School and Hamtramck High School.
In 2015, Highland Park had the highest percentage of residents aged 18 or older living under the poverty line, at 44.7 percent. The city of Hamtramck came in second at 25.5 percent. Schools like Highland Park District were thousands of dollars in debt, and enrollment had dropped almost 70 percent after a district overtake in 2012.
When Westrate worked for both Hamtramck and Highland Park, her team of principals, teachers, and administrators focused on academic support, high-achievement scores, and the way students learned. She found what lacked in these poorer Metro-Detroit areas was the relationship between students and teachers: relationships she found back at Community. Westrate asked herself what strategies, techniques, and structures made students feel supported. Looking at programs like Forum, she found herself entranced with the support Community offered students.
Creating a supportive system of support for these students was one of the qualities Westrate found unique at Community, and one that still excites her in her first year at Community. After wrapping up her first year at Community, Westrate has encountered the restless nature of Community, and hopes to exemplify it in her future years as dean. "I was impressed with the way Community never stops, never rests, and never feels like they've reached the top," Westrate said. "They are always striving to be better, to provide more, and every single day it's making sure that the child is getting what they need."
After her first tumultuous day at Community, she found a pink sticky-note on her desk. It was addressed from the Stapleton forum, wishing her good luck with the school year. She didn't feel like the stranger observing the ways of Community, or an outsider. In her second-floor office of a job of what seemed like a chance encounter, Westrate was welcome.
Leave a Comment
About the Writer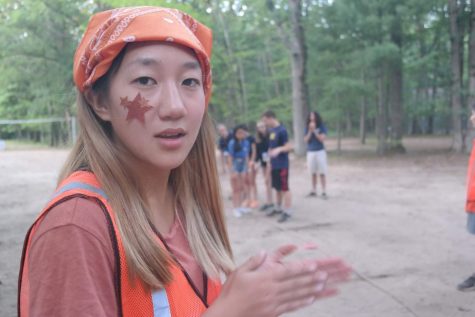 Gina Liu, Website Editor-in-chief
Gina Liu is a senior and is currently serving as a co-Website Editor-in-chief for the second year. She hopes that her experiences junior year will help guide her not only in web design/management but in life. She still loves mockumentaries, playing cello and playing varsity tennis over at Pioneer in the springtime. Additionally, she has problems remembering to drink water, and problems remembering things in general. She also placed second in The Communicator's first "Sliced" challenge.