Granger Avenue's Halloween Spirit
Granger Avenue in Ann Arbor is a popular spot on Halloween. The houses in the neighborhood decorate well for the holiday festivities. Trick-or-treaters can find giant pumpkins, ghosts, skeletons, and many more decorations, as well as candy of all kinds and warm, friendly neighbors. Each family has a unique story behind their decorations and Halloween spirit.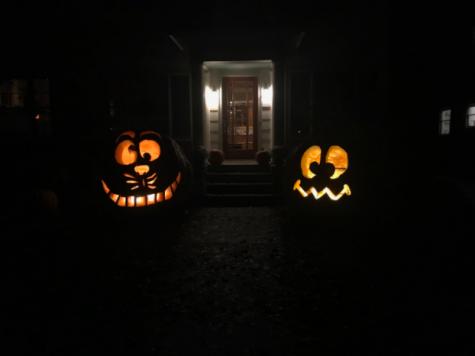 "We've lived here on Granger for 21 years.  When we bought the house all the kids thought it was haunted.  The first year we put candy and a pumpkin on the porch, but none of the kids came up to get it, they were all too scared.  After that we decided that every year we'd do something special for Halloween.  We'll make it a happy house. Now, here we are, 21 years later, with two 1500 pound pumpkins on our lawn," said Jim Smiley.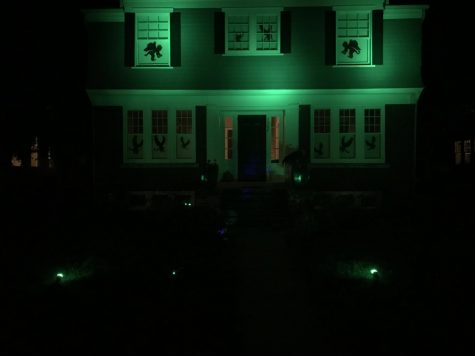 It is Rachel Ufer's first Halloween on Granger.  Her four year old daughter is dressing as Dorothy, in Ufer's sister's homemade costume from the '90s.  To go along with her costume, the family applied a "Wizard of Oz" theme to the whole house.  Ufer's husband cut out flying monkeys that are pasted in the front facing windows, and there is green light projected all over the house.  Under the stoop lies the Wicked Witch of the East's legs.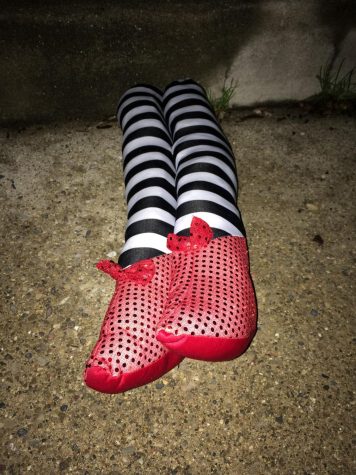 The Wicked Witch of the East's legs lay at the steps of the Ufer household, going along with their "Wizard of Oz" themed decorations. "She'd never seen "Wizard of Oz" but we showed it to her and now she's a really big fan," Rachel Ufer said about her daughter.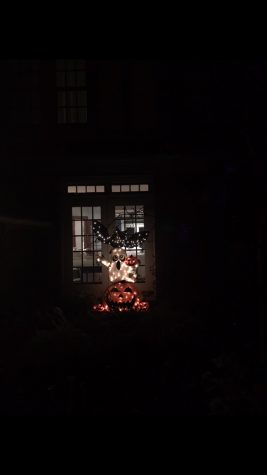 A light-up decoration stands on Phoebe Danziger's lawn. With a new baby, the family didn't put up as many decorations this Halloween as they had in previous years. "Definitely living next door to the giant pumpkin house [has inspired us]," Danziger said. "It feels like we've got to do something to decorate, although it's sort of hard to live up to their Halloween standards. Our decorations feel sort of dinky in comparison."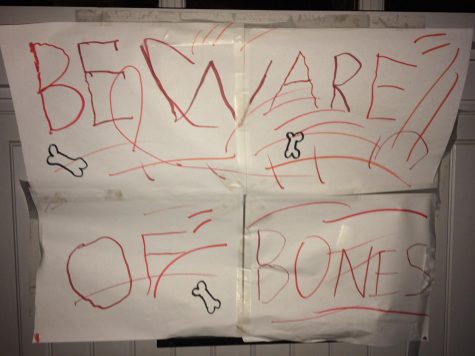 A sign displays the message "Beware of Bones" on the front door of Hazel D's house. "Me and my friend made it, isn't it cool!" Hazel, 8, said.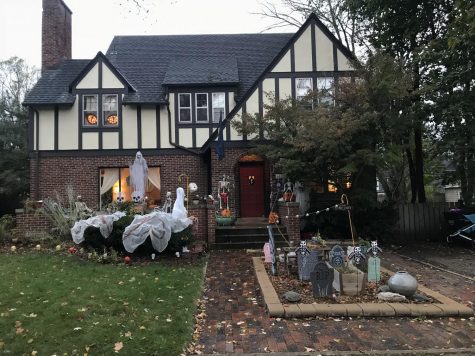 Residents on Granger for about five years, Kyle Cuneo's family adds more decorations to their house every year. Before living on Granger, they didn't tend to decorate for Halloween, but the neighborhood has inspired them. "Everyone seems to really get into Halloween," Cuneo said. "We get a lot of trick-or-treaters, so it's fun to get the house ready. The kids like it."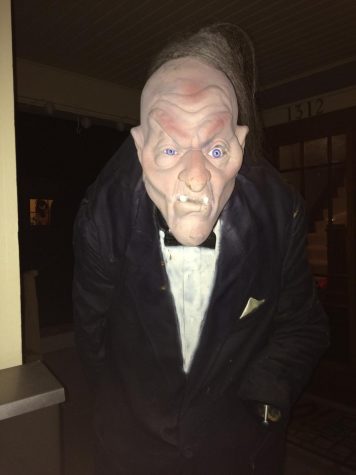 Emma Avsharian and her family have lived on Granger for about two years. Their decorations are named. The family hasn't named the 'ghoul' above yet, but they're considering Fred, as suggested by a friend of Avsharian's daughter. "The two figures that we had that were the most prominent were given to us around the time that we moved, so we were like, 'Perfect! We're going to go really big on Granger, why not?'" Avsharian said. The family reported getting around 800-900 trick-or-treaters every Halloween.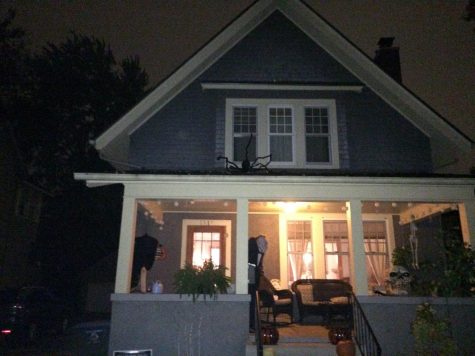 Even though the Avsharian household has many decorations on their porch, they still feel as if theirs are minimal in comparison to the house across the street. "Megan has been complaining that we don't have enough compared to them," Emma Avsharian said. Accompanying the ghoul near the steps, who is currently in the process of being named, is Penelope, the spider on the roof, and Boris, the skull head.
About the Contributors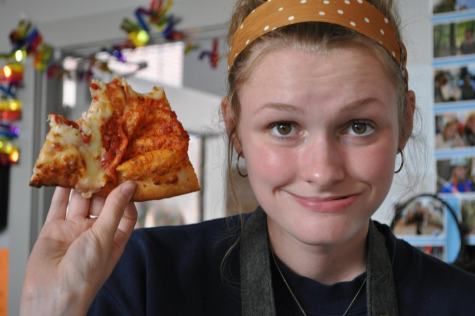 Loey Jones-Perpich, Web Editor-in-chief
Loey is a senior at Community High and is very excited about starting her third year on
staff
! This year, she is one of the Website Editors-in-Chief. When she is not in the computer lab, you can find her in the black box for theatre, in her room petting her cat, or in her car listening to country music. Her favorite foods are burritos and sushi, and she's probably eating one of them right now!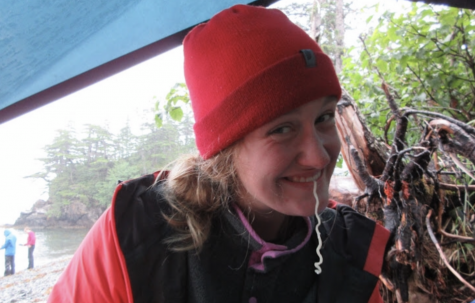 Ruby Taylor, Managing Editor
Ruby Taylor is a senior, and is currently in her sixth semester on Communicator staff. She loves all living things with every ounce of her being... except she hates creepy crawly crustaceans. She works as a barista at Argus Farm Stop, Mock Trials (yes it's a verb!) at CHS, and reads Reese Witherspoon's book picks in her free time. She is an INFP and her favorite word is cozy. She is a Gemini, but if you really want to understand her, recognize that she is a Pisces moon. She loves rain and the arb and her friends and taro milk tea.