Former Student Cassidy Moravy-Penchansky Returns to CHS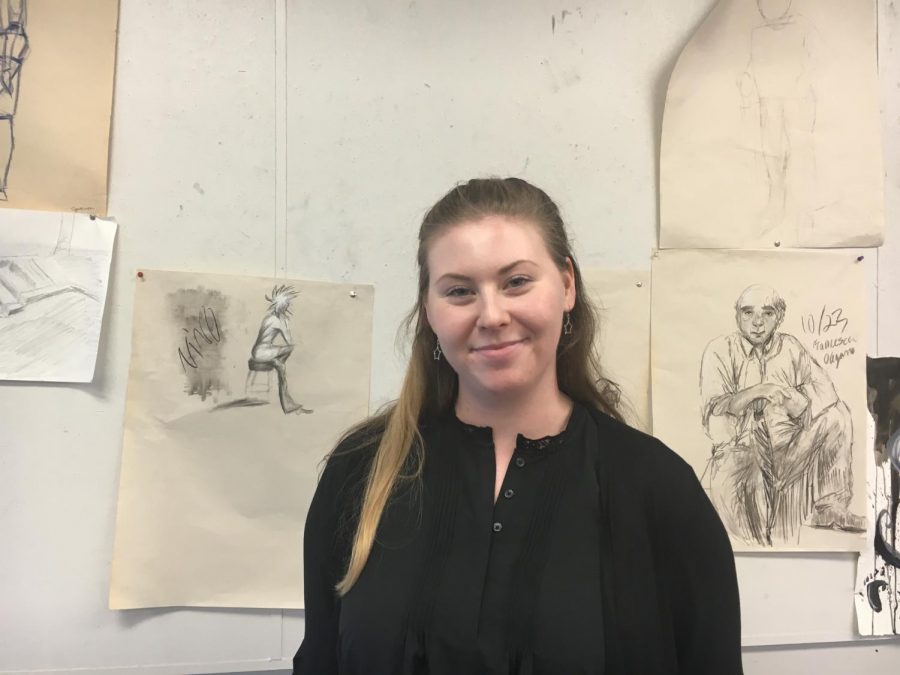 Steve Coron's new student teacher Cassidy Moravy-Penchansky finds joy in teacher-to-student connections. "It's like my smile can't be big enough, like my face can't put the emotion on it," said Moravy-Penchansky. "It fills you up and makes you content and it gives you a purpose. You're like, 'this is what I'm here for, this is why I do this.'"  
Moravy-Penchansky, class of 2012, realized she wanted to be an art teacher while a student at Community High School (CHS). Moravy-Penchansky had never realized that her love of art and mentoring others could put herself in her dream career, but she says one day "it clicked." She watched Coron express his love for art and explain it to students back when she was a student at CHS. He was a big influence in her pursuit of becoming an art teacher.
Moravy-Penchansky differentiates herself from most artists. She uses art in other ways, rather than sitting around and doing art by herself.  "Having teaching to help me experience and educate myself on different mediums is really fun, because then I get to learn it and teach it to other people, and they get the same enjoyment that I get out of it," Moravy-Penchansky. "Being able to give that joy to somebody else is probably my favorite part about art."  She still considers herself an artist, but is now using her skills through teaching instead.
Before returning to CHS, Moravy-Penchansky student-taught at Ann Arbor STEAM, a K-8 school focused on Science, Technology, Engineering, Art, and Math. There, she met a lot of children who didn't speak English. She worried that she wouldn't be able to explain what she wanted from them in their art, because they couldn't understand her. She wanted to help encourage these kids, so they could blossom and open up. One day Moravy-Penchansky pulled out her Google Translate app and spoke into her phone, "Hi, my name's Ms. Cassidy." The students "took off" and their connection with her flourished due to the effort she was making to speak their language. One of the lessons that impacted Moravy-Penchansky most from STEAM is that art transcends language.
Moravy-Penchansky hopes to successfully improve student's art skills at CHS while graduating from Eastern Michigan University. After her experiences in student teaching, finding a job at a high school in Ann Arbor will be the next goal on Moravy-Penchansky's list.
"To be back, and giving back to this population of students that are here because of the [same] reasons that I was here, is going to be rewarding," Moravy-Penchansky said.