Men's Varsity Hockey- Skyline vs. Saline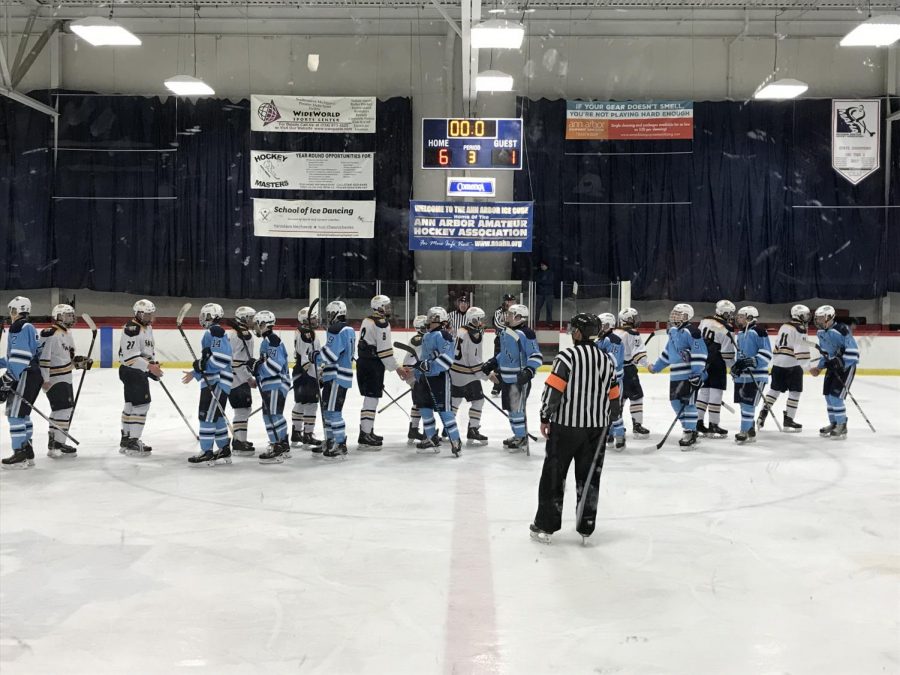 Going into this game Saline (6-0) and Skyline (8-1) both considered by most as two of the best teams in the area. As everyone awaited the puck drop at 5:15 you could hear both student sections get louder and louder. As the clock struck 5:15 and the puck hit the ice, chants and cheers filled the rink. Only four minutes into the first period Saline's #8 scored. Saline student section erupted with cheers. Skyline's Ryan Schmunk #7 had a couple good shots but was later put in the penalty box.
Both teams skated onto the ice as both student sections and the parents sat awaiting the face off. Two minutes in to the second period saline scored their second goal. Skyline came back strong with a couple shots but couldn't get one in the back of the net. With six minutes left in the second period Saline scored again. Less than a minute after, Skyline came back strong with #16, Skyline's Sei Nakamura, slipping the puck by Saline's goalie. Only four minutes left in the second period Saline put another one on the scoreboard. At this point Saline's student section was louder than ever. As for Skyline's, not so much. With the score 4-1, Saline with the lead, the second period came to an end.
Saline came onto the ice seeking more goals and they got one four minutes into the third period. Two penalties were given out and the game got a lot more physical with one injury and some pretty big hits that left some players rattled. Saline slipped another one passed Skyline's goalie #30 Tommy Letke, leaving Saline up 6-1. The sound of the horn ending the third and final period sent Saline's fans into applause and screaming. Skyline walked out with their heads hanging low, as they knew this was not their best game.