Love. Overcome. Stay.
On the evening of December 21, 2017, Skyline High School's auditorium lights flashed, signaling the end of intermission. As audience members and choir students alike flocked back to their seats, the Bel Canto Treble Choir assembled in the hallway. The 25 students, between tenth and twelfth grade, stood patiently in their black floor length gowns, waiting to perform.
In the few seconds of silence before they took the stage, each member of Bel Canto had a moment to focus. In less than a minute, the choir would be on stage singing their set, "Songs for Mothers." The set, sung in Latin, Spanish, Georgian, and English, was made up of four songs (the fifth to be premiered at the Michigan Music Conference in January) that embodied the ups and downs of motherhood.
Lindsay Ciechanski, Director of Vocal Music at Skyline, chose this set for Bel Canto because it portrays the role of a mother, one which she shares with billions of other women in the world. "Those pieces are really important to me," Ciechanski said.
After displaying love, anger, hilarity, strength, and many other emotions in their four-song set, Bel Canto moved off of the choral risers and down to the main stage. There, they performed "Rise Up" by Andra Day, an anthem for rising above challenges and heartbreak.
As Bel Canto filed offstage and into their auditorium seats, A Cappella Choir took to the stage, wearing a mixture of blue-skirted gowns and tuxedos. The room fell silent, and the choir began to sing the first song in their set, "Please Stay" by Jake Runestad.
Ciechanski heard this piece over the summer at the Michigan School Vocal Music Association (MSVMA) summer conference. The piece is a song of hope, and was written with the purpose of destigmatizing mental illness and bringing awareness to suicide prevention. This song was a significant inspiration for Ciechanski, and allowed her to come up with the concert's theme: Love. Overcome. Stay.
"I think that 'Please Stay' and the other pieces that are kind of embedded in the Stay theme are really important to me because teen suicide is a very real and prevalent problem, and our own building had to face the really difficult situation of the loss of life to suicide last year," Ciechanski said. "It's a really positive and powerful message."
As A Cappella choir continued to sing "Please Stay," teens and adults alike were left in tears. The sniffles ringing through the auditorium became more prominent as the choir members started to move down from the risers to perform spoken lines over the soft singing of the rest of the choir. The lines embodied reasons why it's important to keep going and to keep living.
A Cappella continued their set with equally powerful songs of togetherness, and then the other choirs joined them onstage. Choir alumni were invited to the stage, and the concert was finished with the annual performance of "River in Judea."
In addition to a musically hopeful and moving concert, Ciechanski wanted to add a small tribute to those lost to suicide. In small print on a page that contained lyrics and explanations of songs, she dedicated the concert to ten people lost to suicide and all others impacted by it.
"I included a couple names of my own and other choir family members and choir students submitted some names that are featured as well," Ciechanski said. "It's just a kind of way to remember people that are important to us."
Choir students and family members left this monumental concert feeling emotional and moved. "It was so poignant to see the students come up and support each other," one choir parent said. "It was a very moving experience on a tired and cold winter night."
About the Contributor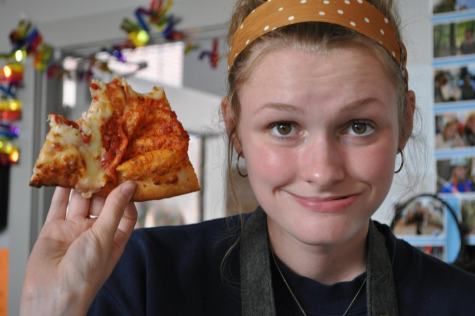 Loey Jones-Perpich, Web Editor-in-chief
Loey is a senior at Community High and is very excited about starting her third year on
staff
! This year, she is one of the Website Editors-in-Chief. When she is not in the computer lab, you can find her in the black box for theatre, in her room petting her cat, or in her car listening to country music. Her favorite foods are burritos and sushi, and she's probably eating one of them right now!