Field Hockey Recruiting: Friend or Foe?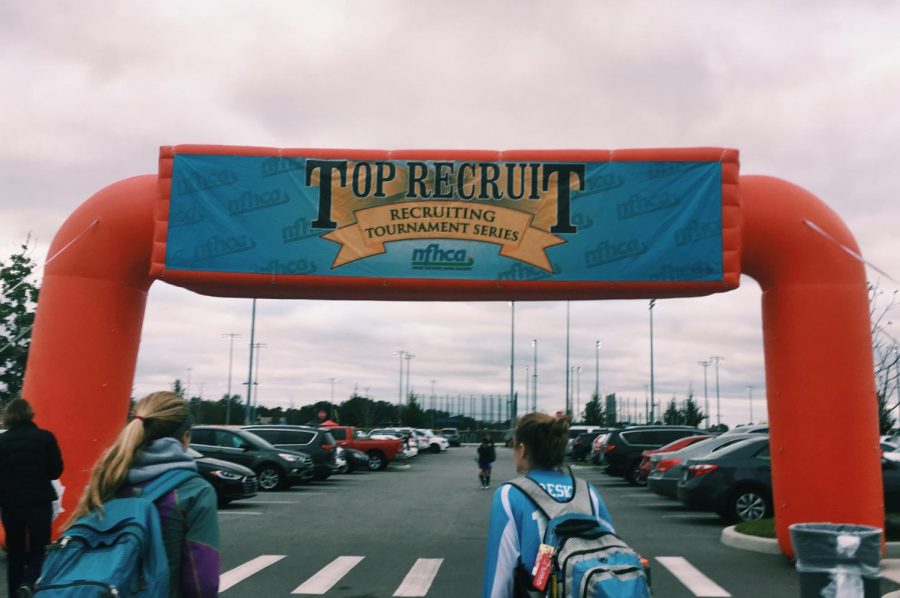 ORLANDO – At 9 p.m. on Jan. 12, 2018, Ann Arbor's Pinnacle Field Hockey stepped onto the field for their first match of 2018 — a 50 minute tournament game against New Jersey's Total Dutch Hockey. The tournament, known as Top Recruit Winter Escape and located outside Orlando, Fla., kicked off with a intensive goalkeeping training and exposure session that morning. Since then, the turf fields at Boombah Sports Complex had been flooded with people. Players, family members, club coaches, and college coaches surrounded every field, where 83 field hockey clubs and 222 colleges were in attendance.
Unlike most large field hockey tournaments, which are typically run by USA Field Hockey, Winter Escape was run through the National Field Hockey Coaches Association. True to its name, this Florida tournament was more for recruiting than for team competition — players even wore armbands to signify their graduation year and whether or not they were already committed to a college field hockey team.
College recruiting for field hockey has changed from what it was previously, with many players now beginning the process while still in middle school.
"All my friends who don't play sports haven't even given a thought about college," said Isa Keen, a student at Pioneer High School and one of four freshmen on Pinnacle Field Hockey's Winter Escape team. Keen, like many of her field hockey peers, began the recruiting process a year ago. "It's stressful, having to worry about college when I'm so young and just want to have fun all the time."
Many field hockey athletes have different ideas as to whether recruiting tournaments are good or bad for teenagers. Payton Doan, a junior at Chelsea High School and one of Pinnacle Field Hockey's goalkeepers, believes that it promotes a showy playing style which can be toxic to a team as a whole. "At those tournaments, individualism is what matters, not teamwork, which is what the essence of any sport is: working together to achieve something as a whole," Doan said.
Though Keen is on the younger side of those working to be recruited, she believes it is good that recruiting allows her to be exposed to the many options available to her. In addition, she has a more optimistic outlook on recruiting tournaments than Doan. "You want to go out there and not just prove yourself worthy, but also prove your teammates worthy," Keen said. Since Winter Escape does not affect a team's national rankings, she views it as an opportunity to both show off her skills and provide chances for her team to do the same. "Your team's a family, so you want the best of them," she said with a smile.
Both Doan and Maggie Jones have to deal with additional stress due to their position as goalkeepers. Most college field hockey teams only keep two to three goalies at a time, so Doan and Jones have limited options. "Sometimes you could be really good and not get recruited to a certain team because they don't need a goalie in your year," Jones said. Additionally, goalies are not guaranteed to be able to show off their skills at tournaments. Doan recalls having spent an entire tournament without touching the ball, saying that although her team won medals, as an individual, she felt unaccomplished. "If you are on a good team, you sacrifice your own exposure for your teams success," Doan said.
According to the NCAA rules of recruiting, Division I college coaches are not allowed to contact players until after their sophomore year. This means that many players, such as sophomore Claire Vaughn, are unsure about where they stand in colleges' eyes. "I don't know if the coaches are interested in me, and even if I really like the school, I don't know if I'm going to get recruited there," said Vaughn, who also reminisced on how difficult calling coaches was because they were unable to reach out to her.
In addition, with so many athletes looking to be recruited, players often try creative ways of getting coaches to watch them compete. Doan, a Chelsea, Mich. native, once bought 40 boxes of Chelsea's Jiffy corn muffin mix and sent them to colleges, beginning her letters with "I know this might be corny, but…"
"Junior year comes along, and you expect to receive all these letters and calls from coaches because it is legal now, only to find out that the coaches are now looking at sophomores and are done recruiting your grade," Doan said. "It's disheartening learning that the recruiting process is moving earlier and earlier, and you're not successful even though you started contacting colleges at the age of 12."
Winter Escape is typically branded as one of the places to be recruited. While players often find it helpful to have so many college coaches in one place, it can also cause huge amounts of stress. "It gives the players the wrong idea that recruitment is solely based off of this one weekend," said Doan. "While these tournaments may help with recruiting, they aren't everything."
Despite Winter Escape not being everything, it can definitely be an impactful event due to the sheer size of the event. With 62 Division I schools, 34 Division II schools, and 126 Division III schools in attendance, players are able to get huge amounts of exposure in just three days. By comparison, the National Field Hockey Festival, branded as a "premier playing opportunity," was attended by only 104 colleges — less than half of those at Winter Escape.
Even if recruiting is a stressor for high school athletes, Winter Escape proved positive for many athletes and their teams. Players from all over the country gathered to "escape" the cold northern weather and to do what they love—play field hockey. "It's not just about the field hockey, it's about the life skills. [These experiences] teach you to [be] a powerful woman," Keen said.