A Sweeter Kind of Change
How Scott Newell, high school dropout, and now business owner, transformed his life by opening a bakery.
On the corner of Miller Avenue and Spring Street stands a yellow brick building that houses Big City Small World Bakery. Inside, the smell of baked goods and freshly brewed coffee fill the air as owner Scott Newell works. He opened the bakery in 2001 for selfish reasons: so his sister would have the financial stability to stay at home and take care of their grandmother so he didn't have to.
As a highschool dropout, Newell never had a solid plan for his life. He spent years trying to find a passion, eventually finding a love for film video studies — a combination of literature theory, drama, psychology, art, and technology. That passion was enough to inspire him to go back to school.
He attended the University of Michigan at nearly 30-years-old. Just before graduation, he saw an opportunity to rent out the space in the main level of the irregularly-shaped building  and he seized it.
"[Opening the bakery] was not a linear, proactive, pre-planned kind of approach," Newell said. "It was an opportunistic, seize the moment, seat of the pants situation."
The hardest part for Newell has always been finding staff. It's hard for him ­— as well as many other local business owners around Ann Arbor — to get good help from people. The biggest change that they've noticed is the number of college students that are working. When Newell attended U of M, most of the kids found jobs in order to support themselves. He's noticed that in 2017, there are significantly less college kids working at local businesses.
To him, the only thing worse than having a boss is being a boss. A business owner has to be responsible for everything that happens in the shop, even when they're not physically present. The bakery is always in the back of Newell's mind.
For the past two years, Big City Small World Bakery has closed for the month of January for possible renovations and to give the workers a break. For that month, Newell can relax; he doesn't have to worry about paying bills, or making sure there is someone in the store working. The break is a nice change, but Newell is always happiest when the bakery opens again in February.
Despite all of the challenges of starting and owning a business, Newell loves it.
"Owning your [own] business is rewarding in a lot of ways," Newell said. "There's aspects of logistics, of responsibility that are not fun, but it is cool to make a thing happen — which is what you do when you have a business."
Although he had believed he would spend his life making documentaries and traveling the world, Newell has never regretted opening the bakery. He serves as an example of someone who turned his life around later than others did.
His advice? Don't be hard on yourself, and do what you want to do.
"You can change your life at 20, you can change it at 30, you can change it at 40," Newell said. "You can do totally different things. So don't be afraid, and it will all work out."
About the Contributor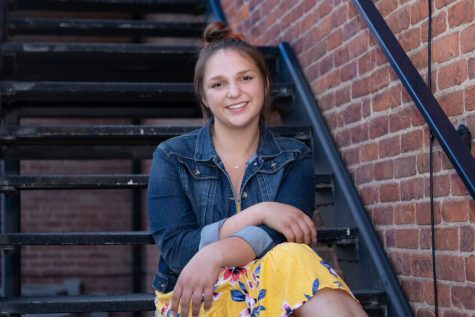 Isabel Espinosa, Managing Editor
Isabel is a senior at Community High School and has been on staff since her sophomore year. Through her stories for The Communicator, she has found a love for writing (especially with the Oxford comma) and photography. She spends most of her time, when she isn't in Tracy's room, either in the Theater working on the latest CET show or with her Yellow Lab, Nala.