Kneeling for What You Believe In
As the stadium announcer asked for the parents, students, fans, and players to stand for the national anthem, Brandon Bedinger instead took a knee. Alongside three Skyline football players Bedinger — known to all as Coach B — knelt.
"I knelt with the players to show that I supported them and what they believed in," Coach B said. "I wanted them to know I support them no matter what."
The issue of standing or kneeling has been in and out of the national news for the last year. Recently, tensions have been heightened and highlighted by President Trump's comments at a rally in Alabama: "Wouldn't you love to see one of these N.F.L. owners, when somebody disrespects our flag, to say, 'Get that son of a bitch off the field right now. Out! He's fired. He's fired!'"
Right now, there are no MHSAA (Michigan High School Athletics Association) rules or regulations on the national anthem protocol during high school games and matches. The rules on standing and placing a hand on his or her heart are — at the moment — on a school to school basis, with the decision in each school's Athletic Director's hands.
Currently, for most high schools throughout the state, the "Star Spangled Banner" plays before the varsity game. Often in high school, the junior varsity teams plays preceding the varsity game, and thus before the national anthem.
There are many arguments that the national anthem should be played before all games, no matter the level. According to MHSAA Director of Broadcast Priorities John Johnson, it is up to the schools, but a vast majority only perform the Star Spangled Banner before the varsity game, including all of the three main Ann Arbor high schools — Pioneer, Skyline, and Huron.  
"Ladies and gentlemen: The privilege of this event was made possible by those who have fought – and continue to fight for — the freedoms we enjoy," reads the Regulation for Introduction for the national anthem. "Let us now honor and respect their efforts and our country. Civilian gentlemen, please remove your hats. All veterans — we encourage you to render the appropriate salute, and everyone able — please stand at attention, placing your hand over your heart, as we proudly sing our National Anthem."
Despite the fact that not all players or spectators stand at attention and/or place their hand over their hearts, the MHSAA script will not change, according to Johnson.
What was once a forgetful act of patriotism, now sparks debates. "I welcome those debates, because at least it causes people to think," said MHSAA Executive Director Jack Roberts. "My biggest complaint for many years has been the lack of thought that goes into most occasions when the national anthem is a part of sporting events. How casual we often are."
Currently, there is no denying that more and more thought is going into the national anthem. Everyone from news outlets, entertainment TV, sports magazines, and everywhere in between have been talking about the nearly two minute song.
But it was not always this way: "The national anthem is so frequent and routine at most high school events that, sometimes, spectators barely notice," said Roberts in a 2016 blog post.
"Honestly, not too many people noticed or cared, but we did not do it for a reaction, we did it for us," Coach B said.
Colin Kaepernick — the first NFL player to protest during the national anthem — said he could not show pride in a flag for a country that oppresses people of color. "To me, this is bigger than football, and it would be selfish on my part to look the other way," Kaepernick said to NFL.com reporters.  "There are bodies in the street and people getting paid leave and getting away with murder."
Those in objection argue the national anthem pays tribute to the soldiers who have fought and continue to fight for the United States, and have given us the protection to have freedom of speech.
"I respect everyone's first amendment rights, but I am the son of a World War II veteran and believe that soldiers lay down their lives for the country, and the least we can do is stand with our hands over our hearts," Johnson said. "But, I also respect those who chose to kneel and what they stand for."
Leave a Comment
About the Contributor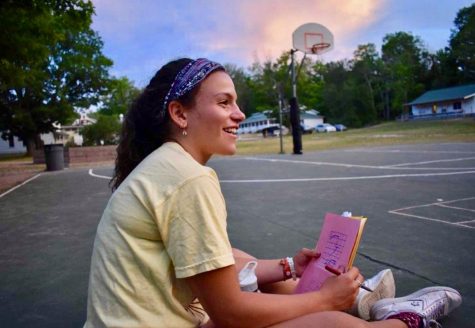 Cammi Tirico, Print Editor-in-chief
Cammi is in her fourth year on staff and is a senior at Community. This is her second year making up 1/4 of the print editor-in-chief team. When not working on The Communicator, she can be found playing golf and basketball for Skyline, lawyering at Mock Trial, singing camp songs off key at Camp Al-Gon-Quian or climbing trees. Cammi's favorite part of journalism is when an interviewee says something special or powerful out of the blue. Two averagely fun facts about Cammi are that 1 ) she is scared of lightning but loves rain and 2) her favorite shape is a triangle.