For the Culture
Despite the University of Miami's football program's polarizing reputation and felonious history, the turnover chain reminds us of the true spirit of college sports, and why we love them so much.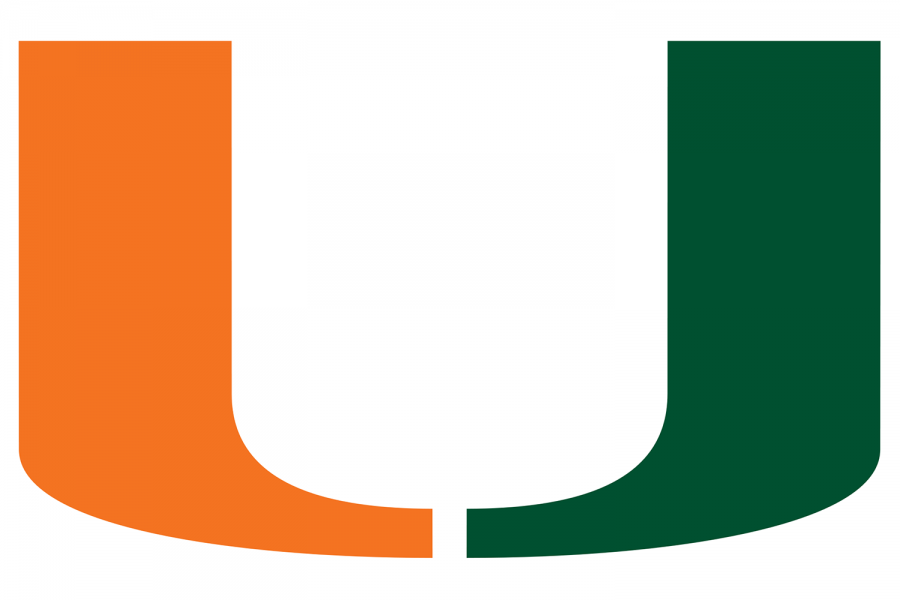 The U" is back, and this time they have a new toy.
   According to the Sun-Sentinel, two weeks prior to the 2017–18 college football season, the Miami Hurricanes' defensive backs coach Mike Rumph approached a local Miami jeweler about creating a rope chain that the team's defensive players could wear after forcing a turnover. The finished product was much more gaudy than Rumph originally had in mind, yet the Miami-style — a five-and-a-half pound gold chain branded with an orange and green sapphire studded "U" insignia — perfectly embodied the team, the culture, and the city.
   Entering the 2017–18 season, the 'Canes were ranked 18th in the nation in the Associated Press Top 25 Poll. As the season progressed, however, Miami steadily rose through the ranks with win after win. An inconsistent offense was carried through several close wins as Miami's defense showed they were one of college football's elite. While not dominant in all defensive characteristics, they became the leaders in one of the most game-changing statistics; they finished number one in the nation in turnover differential. Whether you believe the chain has directly contributed to Miami's abundance of turnovers and 11-2 season, or see it as just a coincidence, many 'Canes players seem to have made up their mind.
   "It's amazing," defensive back Michael Jackson said to a reporter in a post-game press conference. "We're like, 'Who's going to get the turnover chain this week?' No matter what happens, no matter what time in the game, we all want that chain. I know everybody else in the country wants that thing."
   "It goes to whoever gets the turnover," said Shaquille Quarterman sophomore linebacker after a 41-13 win against Bethune-Cookman. "You get to rock that huge Miami-style chain. It was just another incentive."       
   In the past, other schools have rallied around an object like this for motivation. Most notable is Alabama football's "ball-out belt," a UFC-style championship belt which players don after a takeaway on defense. After its debut in week one, the turnover chain grabbed national attention due to the likes on Twitter and various other social media platforms. Win after win, turnover after turnover, it began to take a life of its own as the legend only grew. Fans began creating their own chains, and companies produced licensed turnover chain-themed shirts. Celebrities such as Jennifer Lopez and Alex Rodriguez have also been seen sporting chains.
   Along with the outpouring of support has come a torrent of criticism. Much like Miami teams of the past, the in-your-face style of play and over the top celebrations — which once helped brand "The U" as "thugs" and "criminals" — have returned. Predictably, so have the racial stereotypes, and the blingy Cuban link chain is only fueling the skeptics.
   Billy Corben, director of "The U" and "The U Part 2," which chronicled the glory days of the university and the controversy that came along with it, took to Twitter to give his take.
   "When the racists come out, you know THE U is back," Corben said in a tweet. He certainly has a point. Along with his tweet, he attached a collage of various tweets from others:
   "So the Miami thug-canes have a gold chain as a reward [sic] isn't that like giving a drug dealer a reward for selling the most drugs to kids."
   "Can't even control their team. Classless. Overrated. Thugs. #TheU."
   "Tried to watch Miami-VT, to root against VT… but the thugs of Miami make it hard to watch."
   All three of those tweets, and many more, demonstrate both the jealousy that arises along with success, as well as the hatred which forms when individuals display an inability to recognize others' actions as "different" instead of "wrong." Quite simply, it is an example of implicit racism.
   "The U" certainly has a reputation, and a poor one at that, but it is imperative to not let that cloud your perception of the new- age Miami Hurricanes. It can be argued that the past 'Canes teams were deserving of some of the slanderous name calling that went on, due to their past players' on-field antics, felony chargers, and drug possession. However, fans around the country must also acknowledge that the present program is different and no longer permeated with these same issues. Yes, many of the players are Florida natives. Yes, many of them are black. Yes, they are winning a lot of games. And yes, they are doing it with style and swagger. But what about that is wrong? Criminal? Goonish?
   Young men playing at a elite level, rallying around an object that embodies the culture of a city that some of them are from ­— and all of them have embraced — personifies the beauty of college sports. They aren't all pros on or off the field, and that in a way makes it even better. Everyone is prone to mistakes, yet on any given Saturday, a student athlete has the opportunity to electrify a stadium, a city, a nation. College sports are unpredictable, and that's what makes them so special. Who would have seen something as simple as a gold chain take Miami from a good team to a top-10 team? The turnover chain is just the latest reminder that college sports are — and will be for the foreseeable future — some of the most entertaining and controversial sports in the world.
"Do it for the culture / They gon' bite like vultures …" – Quavo, from Migos' 2017 "T-Shirt"