Baking the Basics: Bread
This basic recipe makes a healthy, hearty loaf of whole wheat bread.
Ingredients:
5 ½ cups warm water
1 ½ tablespoons yeast
3 ½ tablespoons honey
1 ¼ tablespoons salt
3 tablespoons vegetable oil
6 cups whole wheat flour
4 ½ cups white flour
Instructions:
1. In a large mixing bowl, combine the water, yeast and honey, then let sit for 5 minutes.
2. Then add the salt and whole wheat flour and mix together.
3. While mixing, slowly add the white flour.
4. Split the dough in half, then turn it out onto a hard surface.
5. Knead one half until smooth, adding more white flour if the dough is sticky
6. Repeat the process with the second half, then combine the two.
7. Put the dough in a well oiled bowl, and let rest in a warm place to rise for 60-90 minutes
8. When done rising, punch the dough down and turn out onto the counter
9. Split into 3 equal pieces and place each in an oiled loaf pan.
10. Bake at 350 for one hour.
Leave a Comment
About the Writer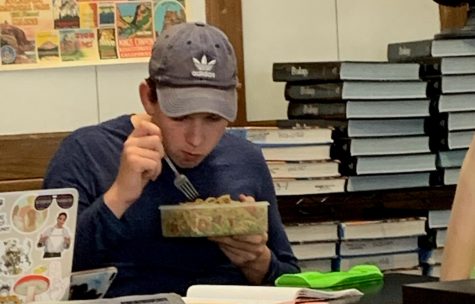 Ethan Gibb-Randall, Journalist
Ethan Gibb-Randall is a senior at Community and is in his fourth year on staff. He spends most of his class time making or helping others create videos and other multimedia for the website. Ethan doesn't have much free time because he spends almost every day rowing on the Huron River, but on the off chance he's not there, he enjoys cooking, hiking, reading and overanalyzing movies.