Il Mare
Each summer, Delia Binetti finds herself walking along the same rough path to her favorite beach. She takes in the familiar sight of the large rocks she likes to jump off of into the clear water. Colorful umbrellas dot the beach like a George Seurat painting.
However, Binetti's summers are much different than her friends'. For about a month, she travels with her family to Molfetta, Italy. Binetti visits both of her grandmothers, and her older sister, who moved to Italy after she graduated college. Returning to Italy each summer never bores Binetti, and she realizes how lucky she is to have the opportunity to do so.
Binetti's father grew up in Molfetta, Italy. He moved to the United States when he was 28 years old to attend Harvard University. He met his wife in Chicago, Illinois, and they had two children together. Once they moved to Ann Arbor, Michigan, they had their youngest daughter, Delia. The Binetti's have not lost touch of their Italian heritage since moving to Ann Arbor.
"I want to be here with my friends, but being in Italy, I can be in a different surrounding environment." Binetti said, "I can visit a different culture that I can experience, which is really cool. I think being in Ann Arbor, and never going anywhere else kind of makes you less involved with everything in the world."
Italy has provided Binetti with many good memories, especially ones spent with her favorite aunt. "They used to live out in the countryside, and I think our favorite was we were picking fruit together." Binetti said, "I just spent the day with her, and it was really nice." Binetti's aunt has passed away, but the memories they made together will always hold a special place in her heart.
Binetti lived in Italy for a year when she was younger, and attended first grade there. The school was much more strict than the schools are here, but she learned a lot. When she gets older, she hopes to move back to Italy, and accomplish great things like her older sister has.
Since she was born, Binetti has been bilingual, speaking English and Italian. "I just really like it because I have my own language that I can speak, and no one really knows what I'm saying." Binetti said, "I just like to have another language that I can speak to with my friends and family."
Being able to speak Italian and being able to visit Italy help Binetti escape the stress of day-to-day life. Her favorite word to say in Italian is 'mare', which means beach. When Binetti visits Italy, she finds herself saying 'mare' a lot, because going to the beach is one of her favorite things to do.
Spending summers at the beach in Molfetta, or communicating to her family in Italian are things Binetti cannot imagine being absent in her life. "… I really don't want to lose touch of living there," Binetti said.
Leave a Comment
About the Contributor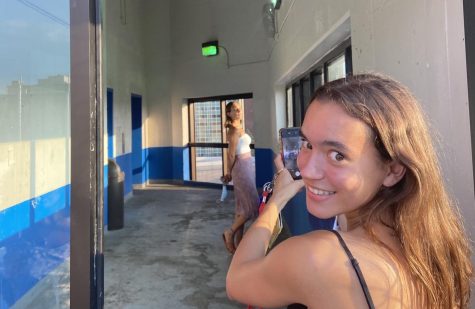 Tai Tworek, Print Editor-in-Chief
This is Tai's fourth year on staff and second year as a member of the Print Editor-in-Chief team. When she's not designing pages or writing articles, she is usually spending time with her grandma, playing soccer for Skyline or Detroit City FC, working at Dairy Queen, or trying to become TikTok famous. She has a strong love for oatmeal, the word "swag" and overalls.