Oscars 2017: Best Picture Nominees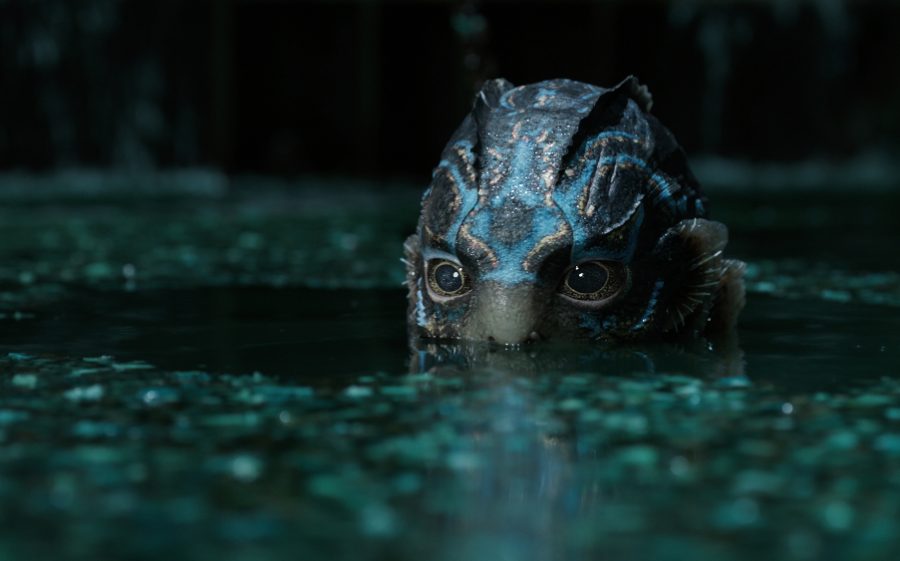 For the Oscars this year, the race for best picture is much closer than in years past according to critics. Movies range from coming-of-age tales to horror movies tackling race issues to war movies. Not only are the stories told widely varied, they all are brilliantly unique with nothing else quite like them, as this category should represent. My pick for best picture is The Shape of Water, although it was not my favorite as just a viewer. The most enjoyable purely from a viewer perspective was Call Me by Your Name.
The front runners
The Shape of Water:
The Shape of Water combines sci-fi, comedy, and drama into a beautifully executed period piece taking place in 1960's Baltimore. The story focuses on Elisa (Sally Hawkins), a mute cleaning lady at a government laboratory. Her repetitive day-to-day life changes when a top secret specimen arrives at the facility. The creature is a tall, human-like amphibian (Doug Jones) from South America that is violent towards its captors at first. While cleaning up the aftermath of his attack on an employee, Elisa befriends the creature and eventually falls in love with him. The rest of the movie follows their strange love story through a dark, green-tinted world. Even when the amphibian man is outside of the water, you never forget his connection to it through the colors in the movie. The most impressive part of the movie to me was the prosthetic and makeup work done on Jones to transform him into the amphibian man. There is barely any CGI done to create the creature and it is almost entirely makeup. I think this movie has the best shot at best picture because of its unique and well-told story. This story is held together by Hawkin's amazing acting, allowing you to connect to her character even though she does not say a word. She is also assisted by Richard Jenkins who plays her neighbor and best friend Giles who helps convey Elisa's feeling to the audience even more. Even if you are not a sci-fi person, this movie is visually stunning and draws you into the story.
Three Billboards Outside Ebbing, Missouri:
Three Billboards is an intense and dark story following Mildred Hayes (Frances McDormand) on her quest for justice for her teenage daughter that was raped and murdered seven months before the movie begins. After there have been no arrests in the case, Mildred takes matters into her hands, renting three billboards on the outskirts of town demanding answers from Ebbing's Chief of Police Bill Willoughby (Woody Harrelson). Not only is Chief Willoughby involved as is Officer Jason Dixon, an alcoholic, mamas-boy (Sam Rockwell). In this movie, none of the characters are all good or bad, they're a mix. Mildred simply wants justice for her daughter but isn't afraid to do whatever it takes. Officer Dixon starts the movie in the hot-seat for allegedly torturing black citizens while they were in custody and continues to be a dark presence in the movie until about the last half-hour. The head-to-head battle between Mildred and the Ebbing Police Department is lined by darker humor and excellent dialogue. Three Billboards does a great job to conveying grief, anger, and empathy through the abrasive Mildred. Although the case never gets solved, the movie wraps up nicely and lets the viewer determine the ending, while leaving room for a sequel. This movie shows raw humanity and isn't afraid to show the darkest parts of characters and their lives.
Darkest Hour:
Darkest Hour is a true story taking place in the early days of World War II and Winston Churchill's (Gary Oldman) role as Prime Minister. The movie starts with Parliament demanding the resignation of Neville Chamberlain (Ronald Pickup) for being too weak of a presence in the war and filling his place as Prime Minister. It is clear that the King George VI and Chamberlain want Lord Halifax (Stephen Dillane) to be the next Prime Minister although Halifax says he is not ready. The second choice, to their dismay, Churchill comes into office and is immediately thrown into the politics of the war. The movie captures Churchill's relationship with his secretary Elizabeth Layton (Lily James) to humanize him and give the viewers a chance to see him as more than just a politician. A highlight of the movie is the amazing makeup work done on Oldman to transform him into Churchill, the prosthetics on his face are so detailed you would not know it was makeup. Oldman is able to transform into Churchill beyond just the makeup, the way he moves both his body and face is so accurate to how Churchill really was, it is moving to watch. It is to no surprise he was nominated for best actor for this role. My favorite part of the movie are the creative shots used, you can feel the pressure on Churchill just from the dark shots used
The middle ground
Call Me By Your Name:
In terms of enjoyability, Call Me By Your Name is my favorite of the nominees. It's a coming-of-age and love story centered around 17-year-old Elio (Timothée Chalamet) during the summer of 1983 in his family home in northern Italy. The summer changes with the arrival of doctoral student Oliver ( Armie Hammer) his father's assistant for six weeks. Elio and Oliver explore their beautiful surroundings together and eventually their sexuality. The movie begins slow, just showing the day to day life of the main characters. The movie shifts when Elio and Oliver go to a dance party and Elio sees Oliver dancing with a woman, this is where Chalamet's acting shines through. He is able to convey his feelings of longing and love for Oliver without saying a word. The scene is beautifully shot and colorful (accompanied by Love My Way by Psychedelic Furs) while making you feel like you have a pit in your stomach watching Elio. After this, Elio becomes more upfront with his advances on Oliver. They continue to spend time together exploring by bike, and eventually the countryside becomes a character, reflecting Elio and Oliver. Making the movie visually soothing and sticks in your mind. Elio and Oliver are only in a relationship for less than half of the movie, but it doesn't feel rushed into the story. Everything in the movie feels natural and realistic. The movie is fun and joyful and leaves you wanting more after the ending guts you. It captures true love in a way another movie hasn't before
Lady Bird:
Lady Bird is another coming-of-age story set in 2002 Sacramento, California. The main character is 17-year-old Christine, who renames herself 'Lady Bird,' played by Saoirse Ronan.  She goes through the typical teenage struggles of friendship, love, fitting in, and college applications. The main focus of the story is Christine's relationship with her mother and the rest of her family. She longs to go to a college on the east coast, although her mother (Laurie Metcalf) says they do not have the money for that and she's ungrateful for what she has in California. The comedic and entertaining tale keeps with viewer engaged for the whole movie. In the end, this is a very simple story and has wonderful acting that allows it all to come together. Just like classic John Hughes' movies it has something the majority of viewers can look back on their high school experience and relate to. As Greta Gerwig's directing debut, the movie uses color, symbolism, and emotion to make a lasting impression and impact.
The outliers
Dunkirk:
If you have no prior in-depth knowledge of World War II, you will be lost for the majority of Dunkirk. The movie is set around the battle of Dunkirk and Operation Dynamo in which 300,000 ally soldiers were trapped on a beach in Dunkirk, France, surrounded by German troops. The movie uses historical context and the beautiful setting as a crutch for the story. Characters and dialogue are sparse but still add to the story. Three distinct timelines are followed in the movie: the mole (ship pier), the sky, and the water. Most of the time is spent on the water in which a civilian vessel is headed for Dunkirk to evacuate soldiers. Every operational civilian and naval vessel that could be found was used to evacuate the soldiers to England. Eventually the father and son crew on the boat come across a plane that crashed coming back from the battle of Dunkirk. They rescue that pilot and continue on to Dunkirk to save soldiers.
Overall, I liked this movie, but if you are not into war films, or having to read between the lines to figure it out, you will be bored. I learned more about the evacuation from Darkest Hour and it was only a fractional part of the movie. The visuals and soundtrack are stunning and keep the movie interesting even when it has been five minutes without dialogue.
Get Out:
When I first saw Get Out, I thought I was watching a different movie than everyone was talking about. I found the story to be slow and was confused as to how this was a 'horror' movie. The movie starts with an interracial couple that has come to the milestone of meeting parents. Chris is worried about meeting his girlfriend Roses' parents since she had not told them he was black. Upon arrival to Roses' family home, Chris gets a weird feeling both from Roses' parents and their maid and gardener, both of whom are black. After a family dinner party in which an auction is hidden, Chris makes a discovery that everything with this family isn't what it seems. Daniel Kaluuya makes a slightly above average performance as Chris, he does a good job showing emotion under the sleep paralysis like condition he is put in at one point.
The movie was sure enjoyable to watch and put together the puzzle of this family, but I was not blown away by it like many others were. The movie isn't scary and doesn't come across as a 'horror' movie like it is presented. All the shots have a high exposure something that does not seem scary or threatening. The scariest part of the movie is Betty Gabriel as Georgina. Gabriel, I think, is the only actor who is able to correctly convey the creepiness this story was trying to accomplish. With all the other characters I think it falls short of greatness. I think that if this movie did not have the political statement it has, it would not be nominated for best picture.