Review: In 'Phantom Thread,' a Gown is a Love Letter
When you come upon the exhibit of the iconic Charles James (a fashion designer from New York and popular in the 1930s through the 1950s. Pieces like his "Four Leaf Clover" gown and "Taxi" dress are viewed as legendary and instrumental to the future of fashion.), know that his legacy is continuing today. Or at least, it probably is. Daniel Day Lewis's character of Reynolds Woodcocker (a supercilious dressmaker, whose dresses are nothing short of art) is rumored to have been inspired by James in Paul Thomas Anderson's newest film "Phantom Thread."
In "Phantom Thread," Reynolds's passion for his work and mysterious personality are encaptured in the secret messages he writes and slips into the seam of every clothing piece he makes.
His world is captivating, although meticulously maintained; a world Alma (Vicky Krieps), an immigrant who stumbles into the adoring eye of Reynolds after being his waitress, calls a game, in which nothing is natural or normal.
Although I know it to be true, I struggle to call this film a love story. Phantom Thread is a story of class. It is a story about people. It's a story about love, that's true, but its non-traditional and yet utterly realistic depiction of the complexities of humans and the relationships they create goes beyond the classic romance (boy meets girl; boy orders breakfast from girl; boy makes gown).
Beginning scenes painted in jewel tones — plum and crimson and gold — immediately envelop the viewer with the beautiful extravagance of 1950's London's upper class, while cinematographic techniques place them right in the scene: a shaky shot of a lush backroad through the windshield of a bustling car. A worm's eye view of streams of seamstresses tropsing up the swirling staircase of the House of Woodcock, uniform in their white aprons, yet differing in the color and style of their hats. An up close picture of a powdered sugar and cherry pastry; a sketch of a dress; wrinkled, feminine hands sewing the rectangular label of "House of Woodcock" onto a garment.
I didn't take notes on these scenes; just their sheer elegance of simplicity has followed me like a cloud in my mind for days, and I had to pay them mention.
The character Reynolds Woodcocker is unlikeable from the start. His arrogance and disregard for anyone but himself, his sister, and his clients are made obvious early on in the film, when he calls his then-lover "stodgy" (a delightfully English, mid-20th century word meaning dull) and berates her for "confronting him" at breakfast (Woodcocker continues to view his peaceful morning meal with the utmost of importance throughout the entire film, somewhat to the chagrin of later companions). He doesn't have time for confrontations. He's simply too important.
The character Alma is likable from the start. Her almost saccharine, yet pugnacious exterior first struck me as innocent and refreshing, however it gradually dissolves to show a harsher interior, an inferno that I'd mistaken for idyllia.
Their love story at first is one of infatuation. Alma is a muse and Reynolds is a self-absorbed artist; their love was never made to last. He proclaims from their first date that the reason he has and will never get married is because he is "cursed." Although, a later scene where Alma unravels a seam of a Woodcock wedding dress, she finds a scrap of fabric embroidered with the phrase "never cursed." Perhaps that is one of the first signs that Reynolds's beginning conceptions of love are changing.
The character development and breathtaking cinematography kept me engaged even while the storyline itself became stodgy. Many love stories don't have a clear plot, but Phantom Thread was so inconsistent that, although the extreme characteristics of zealous Reynolds and stubborn Alma were not unrealistic, the combination of the two was at times perplexing and overwhelming. But, in some ways that only added to the charm.
I don't want to give away too much; suffice it to say that "Phantom Thread" is like a dress from the House from Woodcock: made by renowned artists and pleasant to view, it hides a secret in the seams that leaves the audience shocked.
About the Contributor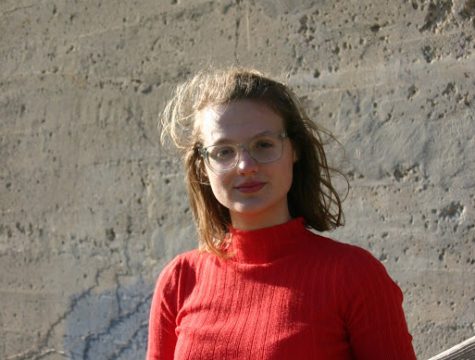 Andie Tappenden, Managing Editor
Andie Tappenden is a senior and in her third year writing for Communicator. Her favorite places to be outside Ann Arbor are Philadelphia, PA, and North Bay, Ontario. She frequently plays field hockey, and it took her a year to read "It" by Stephen King (also to write this profile). She drinks earl grey tea every morning and her favorite holiday — by far — is Halloween.