Grit
It was the fall of 2016 during halftime of a field hockey game that Mairead Erhardt and her teammates learned how to have grit. On the sidelines of the tournament in Florida, her coach, Nancy Cox, thought that no one was working as hard as they could. She told everyone to squeeze their hands as hard as they could. Everyone did. But then she told everyone to squeeze them harder, and everyone did.
"I told you to squeeze them as hard as you can," she said. "You can always work harder and have grit."
That lesson has stuck with her ever since.
Erhardt, now a senior at Community, has been playing field hockey since third or fourth grade. She played throughout middle school, and she now plays for Huron's varsity team, and has been captain for the past two years.
"I love being a part of the team," said Erhardt, who plays as a midfielder for Huron. "I love the girls; all the girls that I've met at field hockey are all super nice and really supportive."
As captain of the team, Erhardt tries to make the game as fun as possible for her teammates.
"Everyone plays field hockey for fun, so I try to keep it fun and make sure people are enjoying the sport," Erhardt said. "We came up with fun cheers. I liked to make up cheers that kinda went with commercials."
On the field, Erhardt makes many memories with her team.
"I remember two years ago, when I was with my travel team in Missouri," Erhardt said. "We won a game that was gonna qualify us to go to nationals. That was really exciting because we were the first team from Michigan to make it to that level, so that was big news for field hockey. It was a shoot-out at the end, so it was a nail-biter. [A shoot-out is when] you each have five girls from each team. They go up and they start at the 50-yard line and the 25-yard line, and then they run up, and it's like a 1-on-1 with the goalie for eight seconds. "
It was not always easy to follow through on her plan.
"I remember it was a lot to have to go meet with [college] coaches," Erhardt said. "That was really scary as a freshman, to have to be calling an Ivy League school coach and trying to talk myself up. But then, every year that I kept doing it, it got easier, and I started making connections with people. It definitely got easier as I went, but also the rejection was really hard; as a sophomore, having schools just being like, 'We don't really want you,' and having to be like, 'Alright, it will work out in the end,' and that I'd end up where I was supposed to be."
However, rejection did not mean the end of the world.
"I knew that if a school was rejecting me, then it wasn't the right fit anyway," Erhardt said.
Erhardt did not make her journey alone. She received guidance from her sister and her travel coach to help her through the process. "My older sister played field hockey in college, so she had just gone through the process a couple years before, so she was really helpful, and a good role model," Erhardt said.
Her travel coach, Nancy Cox, played a role as well.
"She just has connections in the field hockey world, so she would help me go to tournaments where I could get seen."
Erhardt does not plan on quitting field hockey anytime soon. She has plans to play for Madison and Lee University in Lexington, Va.
"I'm going to play field hockey there, but I don't know what I'm going to study," Erhardt said. She has wanted to play in college since she was a freshman in high school.
Erhardt has not only enjoyed playing field hockey, but she has also learned important lessons from it.
"I think I've learned a lot about hard work and dedication, just because getting recruited for a collegian field hockey team was a really long and stressful process," Erhardt said. "It was a three-year process, but in the end it all worked out."
Leave a Comment
About the Contributor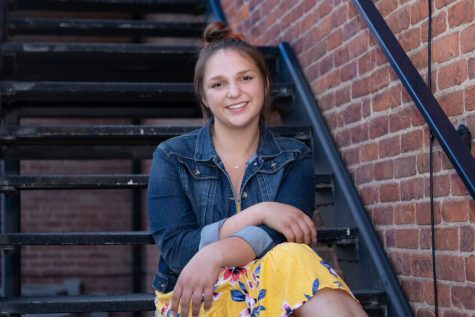 Isabel Espinosa, Managing Editor
Isabel is a senior at Community High School and has been on staff since her sophomore year. Through her stories for The Communicator, she has found a love for writing (especially with the Oxford comma) and photography. She spends most of her time, when she isn't in Tracy's room, either in the Theater working on the latest CET show or with her Yellow Lab, Nala.