Life of Folk
The classroom was silent. The sun poured through the bank of windows, illuminating the crowded room. Some of the students within, too many for the limited desks, sat on poufs and cushions.
Suddenly, the silence was broken. A guitar chord played, breaking the quiet with the soft sounds of music. The music slowly swelled and grew, coalescing into the famous, longtime favorite "This Land is Your Land" by Woody Guthrie.
 Singing and playing up front is Chris Buhalis, who is both a folk musician and home remodeler. He's been playing Guthrie's music for decades. "Woody… kind of blew up the whole idol thing for me," Buhalis said. "Although not completely, because I never got to meet him."
Buhalis first started playing and singing folk music, especially Guthrie's, when he was in his twenties. His long-lasting interest began one summer when he and his friend went to Alaska and spent the summer camping out in a tent.
"And in that time period there were people that were camped round us… and what we did was we sat around a campfire and played guitar and sang songs," Buhalis said.  "That really kind of cemented the deal for me, really."
Buhalis said that one thing in particular resonated with him about Guthrie's music: "His view on justice and his view on America, how he wanted America to live up to its promises," Buhalis said. He believes he and Guthrie cared about the same kinds of things.
Despite his interest in Guthrie, Buhalis doesn't consider him some sort of "perfect guy" like many do.
"Woody was not a perfect guy," Buhalis said. "I mean, he abandoned his family." Guthrie isn't a "hero" or anything to Buhalis — just a regular guy. Guthrie's songs, however, are special to Buhalis.
"'This Land is Your Land' is the first song I could ever really play and sing at the same time, so that's always a special thing for me," Buhalis said.
Although Guthrie is his favorite musician, Buhalis doesn't play or listen to just his songs. He listens to genres such as jazz, rock & roll, and Motown; and plays his own tunes as well as other folk musicians'. In fact, it was others' music who first led him to Guthrie's. As an young adult, he was into Bruce Springsteen. Springsteen was influenced by Bob Dylan and Guthrie. This influence is what led Buhalis to Guthrie.
"Folk music is kind of like branches that way, so I just… followed it back," Buhalis said.
Even if he listens to other genres, though, Buhalis really only plays folk music. He likes this genre — Guthrie's genre — in particular because of its intimacy. He feels that in styles such as pop and jazz, you can start to fade into the background and hide mistakes.
"But when you're out there by yourself, it's like working without a net, but it also makes this human connection," Buhalis said.
Making a human connection is something Buhalis has certainly done over his musical career. His affiliation with folk music has allowed him to make friends around the country and the world.
"I have this whole network of friends that I've met through music," Buhalis said. For instance, when most people visit another state, they'd stay at a hotel. Buhalis, however, can almost always find a friend or contact to stay with.
Buhalis's special interest in Woody Guthrie has drawn a certain set of musical friends.
"There's an extended Woody Guthrie family of which I'm a part," Buhalis said. "I've known Woody's sister [Mary Jo] for 20 years, but it was funny, a couple of months ago I got this Facebook request from a 95-year-old and I was like 'Mary Jo Facebook?' It's pretty funny. But it's pretty awesome."
Leave a Comment
About the Writer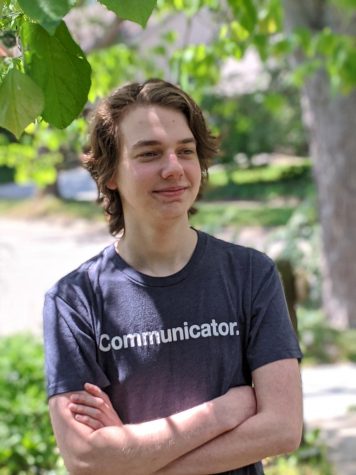 Charles Solomon, Web Editor-in-Chief
Charles Solomon is a senior at community, and this will be his seventh semester on staff. He is excited for many things about the year ahead, but the thing he is probably most proud of is the fact that he is posting this profile on time and not a year late like previous years. When not in class, Charles can often be found starting pointless debates in Mock Trial, practicing Jazz Violin for his combo, or plotting to translate the Communicator website into Tolkien's Elvish. In his scant free time, he enjoys reading books he doesn't have time for, watching bad movies, checking the news, and on special occasions spectacularly losing overcomplicated video games.